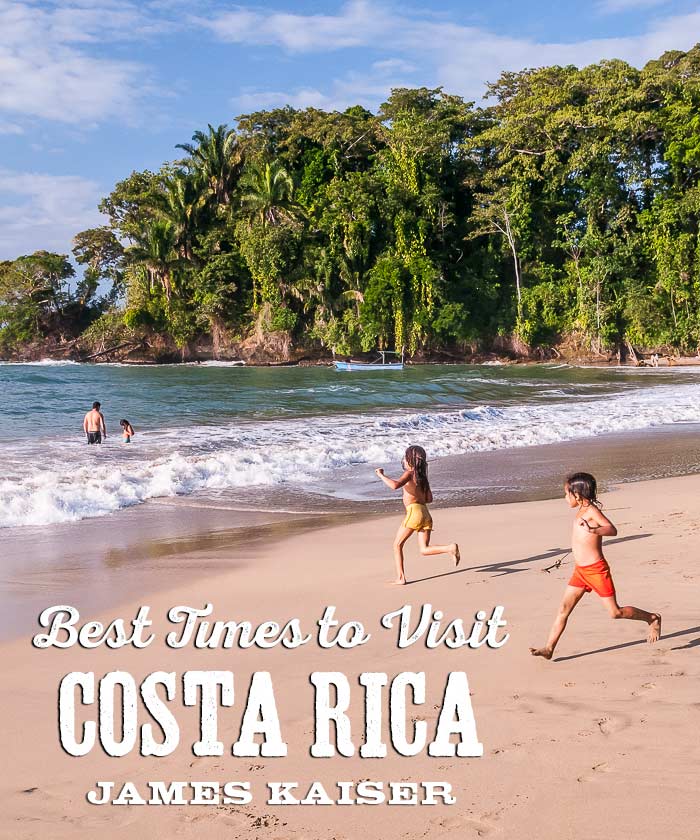 The best time to visit Costa Rica depends on two things: weather and where you go.
Costa Rica officially has two seasons: the rainy season and the dry season. But the timing of those seasons varies throughout the country.
When it's rainy on the Pacific coast, it's dry on the Caribbean coast — and vice versa. Depending on microclimates, the dry season can also last longer in some places.
The Good News: no matter when you visit, there's always someplace with great weather in Costa Rica.
The Bad News: without proper planning, it's easy to get caught in the rain.
Planning is also essential to avoid the crowds. Costa Rica's most popular destinations are most crowded during the high season, which runs from December through April. Even in the high season, however, there are plenty of great hidden beaches and national parks where few tourists go.
This guide shows you the best times to visit Costa Rica. For detailed descriptions of the best destinations, check out my full-color guidebook Costa Rica: The Complete Guide.
Best Times to Visit Costa Rica
Costa Rican Summer: December, January, Febuary, March, April
December through April is the dry season in Costa Rica, when much of the country enjoys sunny days with little rain. In Costa Rica, these months are referred to as verano ("summer").
Not surprisingly, Costa Rican summer is also peak travel season. The busiest weeks are Christmas and Easter, when many hotels charge "peak season" prices. If you visit during peak season, make your hotel reservations in far in advance as possible. December through February is also coffee picking season, making it a great time for a coffee tour.
January through March are the best months to visit the South Pacific. This lush, beautiful region experiences a longer rainy season — and a rainier dry season — than the rest of the Pacific coast.
Northwest Costa Rica, by contrast, can go months without a drop of rain. The downside: the final months of the dry season can be brutally dry in northwest Costa Rica. Many trees drop their leaves and dirt roads become extremely dusty.
Over on the Caribbean coast — one of the rainiest regions in Costa Rica — February and March are relatively drier months.
Holidays & Festivals in December, January, Febuary, March, April
Christmas
Costa Rica is very Catholic, and Christmas is one of the most important holidays of the year. See Christmas in Costa Rica
New Years
New Years is largely a family affair in Costa Rica. The stroke of midnight brings fireworks and lots of unusual traditions. See New Years in Costa Rica
Fiesta de los Diablitos – late December
Costa Rica's most famous indigenous ceremony is held in late December / early January. See Fiesta de los Diablitos
Palmares Festival – mid-January
Palmares is like a rural county fair, but for all of Costa Rica, and with a tropical twist. The two-week celebration, held in mid-January, draws over one million visitors — roughly one-fifth of Costa Rica's total population. The Palmares Festival includes concerts, dancing, games, food, bullfights, and lots of drinking. The small town of Palmares is about a one-hour drive west of San José.
Santa Cruz Festival – mid-January
Held the second week of January, this festival celebrates the ranching / vaquero ("cowboy") culture of Costa Rica's Guanacaste region. Held in the town of Santa Cruz on the Nicoya Peninsula.
Día de Santo Cristo de Esquipulas
This religious festival includes a traditional ox cart parade in Alajuelita.
San Isidro del General Fiestas – early February
San Isidro de General, located in the Talamanca foothills between the Zona de los Santos and the Pacific coast, celebrates its agricultural traditions in early February.
Fiesta de los Diablitos – early February
The Boruca in the village of Rey Curre hold their own Fiesta de los Diablitos ("Festival of Little Devils") in early February.
Liberia Fiestas – late February
The Liberia Fiestas celebrate Guanacaste's cowboy culture with a horse parade, bull riding, rodeo, and lots of live music. Held in late February.
Envision Festival – late February
Costa Rica's own version of Burning Man, Envision Festival is held in late February. Each year thousands of international soul seekers descend on the small town of Uvita for four days of yoga, fire dancing and live music.
Puntarenas Carnival – late February
The Pacific port town of Puntarenas hosts Costa Rica's largest Carnival celebration in late February.
Easter (Semana Santa)
In Latin America Easter (Semana Santa) contends with Christmas as the most popular holiday of the year. See Easter in Costa Rica
Día de los Boyeros – mid-March
Boyeros ("Oxcart drivers") are one of Costa Rica's most iconic cultural figures. For decades they guided colorfully painted ox carts filled with coffee to coastal ports. Although trucks transport coffee today, Costa Rica still celebrates its Boyero heritage with oxcart parades. Costa Rica's most famous Boyero parade is held the second Sunday in March in the mountain town of San Antonio de Escazú.
Día de San José – March 19
March 19 is the day of Saint John, honoring the patron saint of Costa Rica's capital and largest city. Special masses are held throughout the country.
Día de Juan Santamaría – April 11
Juan Santa María was a young drummer boy who played a pivotal role in Costa Rican history. Día de Juan Santamaría (Juan Santamaría Day) is one of Costa Rica's most patriotic holidays, with festivals and parades in cities and towns throughout the country.
See Also
Costa Rica in December
Costa Rica in January
Costa Rica in February
Costa Rica in March
Costa Rica in April
Costa Rican Winter: May, June, July, August
Costa Rica's rainy season (aka "green season") officially starts in May. Costa Ricans refer to the rainy season as invierno ("winter").
Rainy season is also when hotels offer low-season discounts, which are up to 30% cheaper than high season rates.
But here's a secret:
Costa Rica's six-month rainy season starts soft and gradually builds over time. The start of the rainy season is often not very rainy. May through August is also considered the "light" rainy season, which is far less rainy than the true depths of the rainy season in September and October. From May through August you can expect clear, sunny mornings with afternoon showers.
This is a great time to visit northwest Costa Rica — the driest part of the country. You can enjoy the region's terrific beaches without the crowds.
In southwest Costa Rica — the rainiest part of the country — May through August means regular afternoon rains. But mornings are generally sunny. If you don't mind waking up early, there's still plenty to see and do.
That said, you could always get lucky and hit a stretch of sunny weather. Veranillo ("little summer") is a dry weather phenomenon that brings several weeks of sunshine to the Pacific coast. The exact timing of veranillo shifts from year to year, but it often occurs around mid- to late-July. Occasionally it can stretch into early August. Veranillo is most pronounced in the northern Pacific coast. It has little to no effect in the southern Pacific coast.
Holidays & Festivals in May, June, July, August
Workers Day (Labor Day) – May 1
This national holiday is a time for workers to relax and/or protest at parades/marches held throughout Costa Rica.
Fiesta de la Virgen del Mar – mid-July
This nautical festival, held in mid-July, features a boat parade that honors the patron saint of the sea. Held in Puntarenas and Playa del Coco.
Dia de Guanacaste – July 25
"Guanacaste Day" celebrates Costa Rica's annexation of the northwest province of Guanacaste from Nicaragua in 1824. Dances and horse parades are held throughout the province. The largest celebration is in the town of Liberia.
Romeria a la Virgen de Los Angeles – August 2
The "Pilgrimage of the Virgin of the Angels" is Costa Rica's most important religious celebration. Over one million romeros ("pilgrims") travel on foot — sometimes for days — to the Basilica de los Angeles church in Cartago. There they pay homage to the Virgin de los Angeles, aka La Negrita ("The Little Black Girl"), a small black statue depicting the Virgin Mary holding the baby Jesus. The statue was miraculously discovered in the forest by a young indigenous girl in 1635.
Mother's Day in Costa Rica – August 15
El Día de la Madre ("Mother's Day") is one of Costa Rica's most important holidays. All workers get the day off, and mothers are treated to presents, serenades and special meals.
Entrada de los Santos – August 30
This parade in San Ramon features over two dozen statues of saints brought from various towns. The celebration includes live music and traditional Costa Rican food.
Afro-Caribbean Culture Day – August 31
This parade in Limon celebrates Costa Rica's Afro-Caribbean heritage. There are concerts, cultural activities, delicious Caribbean food and more.
See Also
Costa Rica in May
Costa Rica in June
Costa Rica in July
Costa Rica in August
Costa Rican Winter: September, October, November
September and October are the depths of the rainy season in Costa Rica. September brings heavy afternoon rains throughout much of the country. October is even worse – with rain that can last for days.
There is, however, an important exception to these soggy months. Over on Costa Rica's Caribbean coast, September and October are the best months to visit. Although the Caribbean is normally the rainiest part of Costa Rica, September and October offer sunny days, calm seas, low season prices! This is also turtle nesting season, when thousands of sea turtles lay their eggs on the beaches of Tortguero National Park.
November marks the end of the rainy season in Costa Rica. The transition to the dry season has officially begun. Early November is often still rainy, but by late-November things start to clear up. The start of the dry season varies by region. In the North Pacific, the dry season often starts in early November. In the wetter South Pacific, the dry season might not start until early December.
Holidays & Festivals in September, October & November
Día de las Culturas – September 12
An alternative to Columbus Day, Día de las Culturas ("Day of the Cultures") celebrates Costa Rica's ethnic and cultural diversity.
El Desfile de Faroles – September 14
The "Parade of Lanterns" is one of the most beautiful holidays in Costa Rica. Thousands of schoolchildren parade through the streets with red, white and blue faroles ("lanterns"). The parade starts immediately after the country sings the national anthem at 6pm.
Costa Rica Independence Day – September 15
The most patriotic day of the year celebrates Costa Rica's independence from Spanish colonial rule. Throughout the country, parades feature children in traditional clothes dancing and marching to drums.
Carnavales de Límon – mid-October
For years the biggest celebration on the Caribbean coast was Carnavales de Límon, a vibrant parade in the port town of Limon. Heavily influenced by Afro-Caribbean culture, the parade normally fell on the weekend closest to October 12. In 2015 Carnavales de Límon was cancelled due to lack of funding and organization. Sadly, the tradition appears to have ended.
Halloween
Over the past few decades, Halloween has become increasing popular in Costa Rica, especially among young people. The excuse to dress up in costumes and party is just too tempting to resist, although Trick or Treating has not yet caught on. Some Costa Ricans bemoan yet another cultural invasion from the US, so they've tried to co-opt Halloween with a new holiday: Dia de la Mascarada.
Dia de la Mascarada – October 31
Costa Rica's Día de la Mascarada ("Day of the Masquerade") is held on October 31. First established in 1996, it was partly a celebration of traditional Costa Rican mascaradas — and partly a way to counter the growing influence of Halloween. The largest Día de la Mascarada celebration is held in Cartago.
Mascaradas feature a troupe of dancers wearing giant paper-mache heads depicting devils, animals, celebrities and La Giganta ("The Giant Woman"). As dancers twirl around and interact with children, a band called a cimarrona plays percussion and brass instruments. Cimarrona means "wild," which accurately describes the loud, boisterous music.
See Also
Costa Rica in September
Costa Rica in October
Costa Rica in November
---
Plan the perfect Costa Rica vacation for less than the cost of lunch!
496 pages, full-color
Order Costa Rica: The Complete Guide
"This is my favorite guide book ever ... We discovered so many things we'd have otherwise missed!" —Lindzee McCain, May 2017
View on Amazon