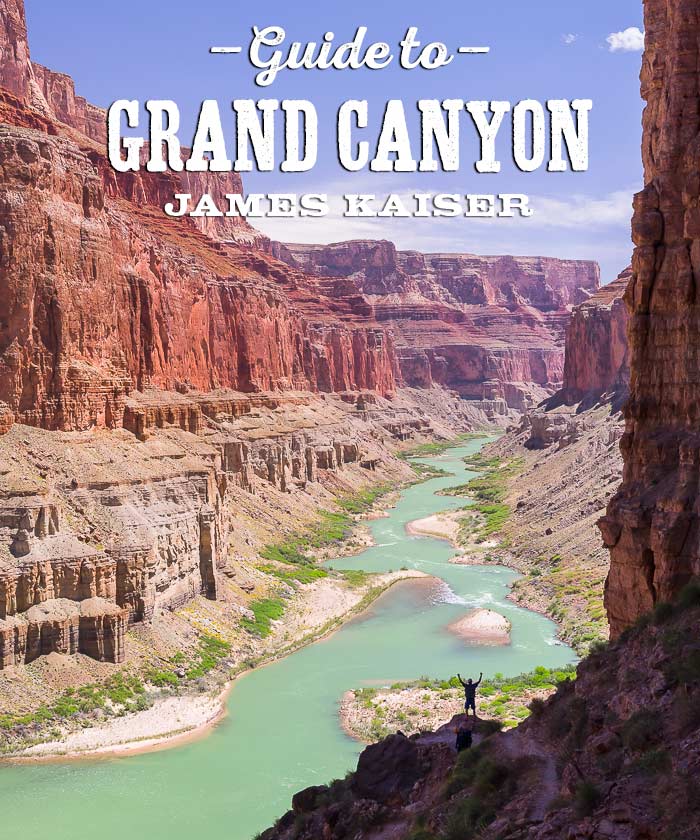 Grand Canyon National Park is packed with adventures. Hiking, biking, rafting, camping, dramatic viewpoints, scenic flights — Grand Canyon has it all. But it can be a very overwhelming place. Without proper planning you'll miss out on the best the park has to offer. Most people drive to Grand Canyon, stare over the rim, and then wonder what to do next. One of the most extraordinary places on earth and they missed it!
Don't overlook the best of Grand Canyon National Park!
My guide will help you plan a Grand Canyon trip filled with unforgettable experiences.
Use the information below for initial trip planning. For an insider guide filled with expert tips, check out Grand Canyon: The Complete Guide.
Grand Canyon National Park Travel Guide
---
---
---
---
---
---
---
---
---
---
---
---
---
---
Grand Canyon National Park
One mile deep. Ten miles wide. Two hundred seventy seven miles long. Covering 1.2 million acres in northern Arizona, Grand Canyon is a breathtaking act of geology. Teddy Roosevelt called it "the one great sight every American should see."
The panorama from the rim is one of the most impressive sights in the world, but Grand Canyon National Park is much more than just a pretty view. Hidden within its depths are fascinating creatures, geologic marvels, the ruins of an ancient civilization, and some of the best outdoor adventures in North America.
Cut by the Colorado River over the past six million years, Grand Canyon is a colossal labyrinth of towering buttes and deep side canyons. Although massive, most visitors head to one of two developed areas: the South Rim or the North Rim.
The South Rim, located two hours north of Phoenix, is by far the more accessible and popular of the two. Home to six of the park's eight lodges, it's what most people think of when they think of Grand Canyon.
The North Rim is located just south of the Arizona/Utah border—one of the least densely populated regions in the United States. Its remote location means fewer crowds, but equally stunning views.
Hiking trails descend from both rims to the bottom of Grand Canyon National Park. Along the way they pass though 11 layers of ancient rocks, ranging in age from 250 million to nearly two billion years old—almost half the age of the Earth!
At the bottom of the Canyon, near the junction of three popular trails, lies Phantom Ranch, an overnight lodge offering comfortable beds and home-cooked meals. Guided mule trips are also offered along several Grand Canyon trails, and both day and overnight trips are available.
Twisting through the bottom of the Canyon is the Colorado River. Fed by Rocky Mountain snowmelt before slicing through the deserts of Utah and Arizona, the Colorado is the most impressive river in the West. Although currently plugged by dams along much of its length, the Colorado flows free in Grand Canyon, dropping 2,000 feet in 277 miles. Over 20,000 people embark on river trips through Grand Canyon each year.
In addition to 60 thrilling rapids, Grand Canyon river trips provide access to spectacular hiking trails, stunning Indian ruins, and gorgeous waterfalls. Without question, a river trip through Grand Canyon National Park is one of Earth's most incredible outdoor adventures.
Grand Canyon Facts
Where is Grand Canyon located?
Northern Arizona in the United States.
How deep is Grand Canyon?
6,093 feet (1,857 meters) at its deepest point.
How long is Grand Canyon?
277 miles (446 kilomters) from end to end.
How wide is Grand Canyon?
18 miles (29 kilometers) at its widest point.
Which river created Grand Canyon?
The Colorado River.
How old is Grand Canyon?
6 million years old.
When did Grand Canyon become a national park?
February 26, 1919.
Plan the perfect Grand Canyon trip for less than the cost of lunch!