*Adapted from Zion: The Complete Guide
Zion is one of America's most spectacular national parks — a remarkable landscape filled with stunning geology and world-class outdoor adventures. But with a limited amount of time you've got to plan your trip wisely. Zion: The Complete Guide puts the best of Zion National Park at your fingertips, helping you plan an unforgettable adventure in southern Utah's most spectacular landscape!
Zion National Park Travel Guide
---
There's never a bad time to visit Zion, but knowing what to expect throughout the year will help you plan a great trip. Hot summers, snowy winters, spring wildflowers, autumn foliage — Zion has it all!
---
Discover the best driving routes to Zion (from Las Vegas, Salt Lake City), including natural wonders, fascinating sights, and great restaurants along the way.
---
There's no better way to put Zion's remarkable landscape in perspective than visiting a spectacular viewpoint.
---
Learn about Zion's seasonal weather patterns, including thunderstorms during monsoon season and dangerous flash floods. Understanding nature's warning signs will help you plan a safe trip.
---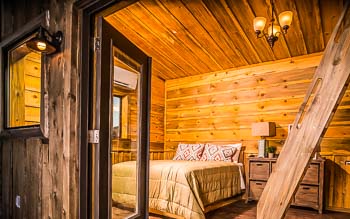 From rustic lodges to upscale B&Bs, there's no shortage of great hotel and lodging options in and around Zion National Park. Here's my guide to the best places to stay.
---
Discover the best campgrounds and campsites in Zion National Park. There's nothing like spending the night surrounded by Zion's stunning scenery.
---
When park campgrounds are full — or you want modern luxuries like hot showers or wifi — consider these great private and public campgrounds near Zion.
---
Zion National Park Overview
Located in southwest Utah, Zion is a small park filled with big adventures. Sculpted by the Virgin River over the past two million years, Zion Canyon shelters some of America's most incredible scenery.
Sheer cliffs tower above narrow slot canyons, dramatic hiking trails rise to panoramic viewpoints, and unlikely springs nourish cool, lush oases. It's as if Mother Nature gathered everything lovely about the desert Southwest and placed it into a single, scenic masterpiece.
Radiating out from Zion Canyon are additional marvels. East Zion is a sprawling expanse of wavy sandstone, easily explored along a 10-mile road. Southwest Zion marks the northeast fringe of the Mojave Desert, which is home to amazing plants and animals.
To the west, Kolob Terrace Road rises through bold canyons into an alpine forest of aspen and pine—a landscape more like the Rockies than the desert Southwest. And Zion's most remote destination, Kolob Canyons, is a rugged outpost with towering rock spires, gorgeous hiking trails, and one of the world's largest free-standing rock arches.
All this natural beauty is made possible by Zion's geology. Over the past 300 million years, Zion has hosted a head-spinning variety of unlikely environments, including tropical seas, sand dune deserts, lakes, rivers and swamps. Each environment laid down a new layer of eroded sediments, which were ultimately buried and compressed into sedimentary rocks. Tectonic forces pushed these rock layers thousands of feet above sea level, and rivers carved through the scenery to create Zion's legendary canyons and cliffs.
At 230 square miles, Zion National Park is just one-eighth the size of Grand Canyon. Although relatively small, the park's wrinkled topography is a natural jungle gym that lures outdoor junkies from around the world.
Easy day hikes and multi-day backpacks crisscross the park, opening up hidden alcoves and forested plateaus. Biking is a great way to explore Zion Canyon, and rock climbers enjoy some of America's most accessible big walls.
Perhaps most extraordinary is Zion's world-class canyoneering. Dozens of narrow canyons slice through the park, luring canyoneers who hike, scramble, swim and rappel through the psychedelic slots. You could easily spend a month in Zion and not run out of things to do. So let's get started!
Plan the Perfect Trip to Zion!
Order Zion: The Complete Guide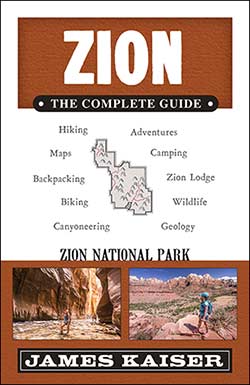 The ultimate guide to Zion National Park.Full-color and filled with insider tips.Plan the ultimate Zion adventure!