Nothing puts Zion National Park in perspective like visiting a beautiful viewpoint. From Zion Canyon to Kolob Terrace, the park is filled with gorgeous scenery. But the monumental landscape can be overwhelming. Visit any of the following viewpoints and you'll gain a new appreciation for Zion.
Zion Sunrise/Sunset Viewpoints
Zion's tall cliffs often block clear views of the eastern and western horizon. But there are several terrific viewpoints in the park where you can still enjoy sparkling sunrises and golden sunsets. To discover Zion's best sunrise and sunset viewpoints, check out my full-color, photo-filled guidebook Zion: The Complete Guide.
Best Viewpoints in Zion Canyon
Zion Canyon is the most famous and popular part of Zion National Park. Over the past two million years, the Virgin River has carved a remarkable landscape of sheer sandstone cliffs, narrow slot canyons, and seasonal waterfalls. The views from the valley floor are gorgeous, but the views from elevated viewpoints are beyond belief.
Observation Point
Perched 6,521 feet (1,987 meters) above sea level—nearly 2,100 feet (640 meters) above the floor of Zion Canyon—Observation Point offers some of the best views in Zion. From the viewpoint, you'll enjoy panoramic views above the northern end of Zion Canyon.
Spread out below are towering rock formations like Angels Landing and the Great White Throne. As you gaze south, dozens of peaks cascade towards the horizon, exposing nearly the full length of Zion Canyon.
There are two ways to get to Observation Point. The most popular is the Observation Point Trail, a strenuous, 4-mile (6.4-kilometer) hike that starts near Weeping Rock (shuttle stop #7). The trail rises nearly 2,000 vertical feet, passing plenty of amazing scenery along the way.
A far easier route to Observation Point starts from the East Mesa Trailhead near the eastern boundary of Zion National Park. This trail is just 3.3 miles (5.3 kilometers) long with a mere 250 feet (76 meters) of elevation change.
Canyon Overlook
Canyon Overlook is one of the most dramatic viewpoints in the park. Whimsical rock formations surround the viewpoint, which overlooks Pine Creek Canyon as it stetches into Zion Canyon. In the distance, the Towers of the Virgin form a 3,000-foot wall against the western horizon.
The 0.5-mile (0.8-kilometer) trail to Canyon Overlook starts just east of Zion Tunnel. From the trailhead, stone steps lead to a series of semi-exposed ledges. Metal railings provide protection at steep sections. After crossing a small bridge, you'll wrap around a shadowy, recessed alcove where springs nourish lush vegetation. The trail continues, with occasional mild scrambling, until you reach the viewpoint.
Canyon Overlook is extremely popular, and it's often hard to find parking. There's a small parking area directly across from the trailhead, but it can only be entered only after exiting the Zion Tunnel. Another parking area is located 600 feet northeast of the trailhead.
Angels Landing
Rising 1,500-feet above the floor of Zion Canyon, Angels Landing offers stunning, 360-degree views in the heart of the park. The only challenge is getting there.
From The Grotto Shuttle Stop (#6), the Angels Landing Trail heads 2.5 miles (4 kilometers) to the summit. But this hike is not for the faint of heart. The final 0.4 miles (0.6 kilometers) travels along a narrow rock ledge with thousand-foot dropoffs on either side. Chains bolted to the rock provide handholds along dangerous sections. Over the past two decades, nearly a dozen people have fallen from the trail and died. But tens of thousands more have lived—and experienced some of Zion's most incredible views.
Unfortunately, the immense popularity of Angels Landing has led to big crowds in recent years. This is particularly true during peak season. In the future, permits may be required to hike Angels Landing. Check Zion National Park's website for the most up-to-date info.
Weeping Rock
This geologic oddity is not included on many Best Views in Zion lists. But it's one of my favorite easy-to-reach viewpoints in Zion Canyon.
From the Weeping Rock Shuttle Stop (#7), a half-mile trail climbs 100 feet to Weeping Rock, where water oozes out of Navajo Sandstone to nourish ferns and flowers. As the trail approaches Weeping Rock, it dips behind a curtain of water (expect to get wet) before entering an alcove with a pronounced overhang.
From the shadowy alcove, you'll enjoy fabulous views of Zion Canyon. To the south, the Great White Throne rises like a whitewashed pyramid. Even if you're surrounded by dozens of fanny-packed tourists—not uncommon during peak season—the views from Weeping Rock feel ancient and timeless.
Best Zion Viewpoints to Avoid the Crowds
All of the viewpoints mentioned above are spectacular. But during peak season they often attract big crowds. If you're looking for peace, quiet and solitude, consider the following viewpoints in Zion.
Lava Point
At 7,890 feet above sea level, Lava Point is the highest easily accessible viewpoint in Zion National Park. You can drive to a parking area near the viewpoint, where the views stretch dozens of miles from Bryce Canyon to Grand Canyon.
Set back from Lava Point are a handful of picnic tables nestled under tall ponderosa pines. A short path heads to Lava Point Campground, which has six first-come, first-served campsites.
To get to Lava Point, head to the small town of Virgin, Utah. From Virgin follow Kolob Terrace Road roughly 20 miles (32 kilometers). Turn right onto Lava Point Road, which heads 1.5 miles (2.4 kilometers) to the viewpoint.
Lava Point is named for a lava flow that covered the region roughly one million years ago. The lava erupted from an ancient volcano at Home Valley Knoll, one mile west of Lava Point, then flowed 13 miles down the Left Fork of North Creek to the present-day town of Virgin. When the lava cooled it created a hard protective layer over soft sedimentary rocks. Over the past one million years, as the surrounding landscape eroded, Lava Point resisted erosion, leaving it perched high above the landscape.
Cable Mountain
Cable Mountain offers stunning views of Zion Canyon from its sheer precipice, which plunges nearly 2,000 vertical feet to the canyon floor. Angels Landing, Observation Point, Big Bend and dozens of other landmarks are spread out in a glorious panorama.
Why the lack of crowds? Because to get to cable Cable Mountain from Zion Canyon requires hiking 7.7 miles (12.4 kilometers), including 1,950 vertical feet (600 meters) of elevation change. Fortunately, a much easier route starts from the Stave Spring Trailhead near Zion's eastern boundary (one-hour drive from Zion Canyon). From Stave Spring Trailhead, Cable Mountain is a 3.6-mile (5.8-kilometer) hike with just 500 feet of elevation change.
In 1901, local entrepreneur David Flanigan built a cableworks on top of Cable Mountain. His cable-and-pulley system transported lumber from the rim (where trees are abundant) to the valley floor (where trees are scarce). The decaying remains of the cableworks are still perched on the edge of Cable Mountain.
Deertrap Mountain
There are plenty of beautiful viewpoints towards the northern end of Zion Canyon. But Deertrap Mountain, which rises above Zion Lodge, offers rare views of the canyon's central and southwest sections.
The trail to Deertrap Mountain starts at Stave Spring Trailhead. It follows the same route to Cable Mountain, then veers left at a junction 1.8 miles from the trailhead. Continue following the trail as it heads towards the rim of Zion Canyon.
Deertrap Mountain's first viewpoint offers expansive views stretching west to Zion Canyon's entrance. The best viewpoint, however, is yet to come. Follow the path half a mile north to a rocky promontory with panoramic views of central Zion Canyon. Among the many outstanding features is a dramatic head-on view of Angels Landing.
Northgate Peaks
The fabulous viewpoint at Northgate Peaks is reached via an easy, 2.2-mile (3.5-kilometer) trail that starts off Kolob Terrace Road. Few hikes in Zion offer so much scenery with so little elevation change. If you're traveling with children or not-so-strong hikers, Northgate Peaks is an excellent choice.
The trail to Northgate Peaks starts at the Wildcat Canyon Trailhead. After hiking through the forest you'll descend to a lava rock promontory with panoramic views. The twin Northgate Peaks frame a dramatic view of North Guardian Angel's shark fin profile, with the cascading cliffs of West Zion beyond.
Timber Creek Overlook
Timber Creek Overlook is located in the remote Kolob Canyons section of Zion National Park. From the Kolob Canyons Visitor Center, it's a 5.2-mile (8.4-kilometer) drive to Timber Creek Overlook.
From Timber Creek Overlook the Kolob Finger Canyons line up like a military regiment. The striking western orientation of the canyons is due to faults (cracks) that formed in the ancient rock. Rain and runoff flowed west down the faults, forming streams that slowly eroded the landscape. As tectonic forces pushed up this region along the Hurricane Fault, the landscape tilted and stream erosion accelerated, carving deep canyons into the Navajo Sandstone.
For even better views of the Finger Canyons follow the Timber Creek Overlook Trail a half-mile from the parking area to a beautiful viewpoint. To the southeast, you can also see the stairstep plateaus of Kolob Terrace as they march towards Zion Canyon.
Cabin Spring, West Rim Trail
This is one of my favorite viewpoints in Zion, offering stunning views above a remote canyon blanketed in undulating sandstone. Getting there, however, requires several hours of hiking along the beautiful West Rim Trail.
The viewpoint is located near Cabin Spring, nearly 10 miles from the West Rim Trailhead. From the spring, a short spur trail heads north through the woods to the viewpoint. Watch your step! There are multiple steep dropoffs along the spur trail.
Plan the Perfect Trip to Zion!
Order Zion: The Complete Guide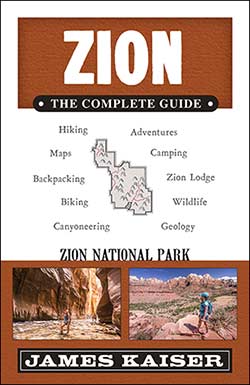 The #1 Zion guidebook.Full-color and filled with insider tips.Plan the ultimate Zion adventure!