Deertrap Mountain, which rises high above Zion Lodge, offers rare views of Zion Canyon's central and southwest sections. To the north: an impressive head-on view of Angels Landing. To the southwest: rare elevated views of Sentinel Slide and the mouth of Zion Canyon.
There are two ways to hike to Deertrap Mountain:
Hike 9 miles (one-way) and 2,100 vertical feet starting from Weeping Rock at the floor of Zion Canyon.
Hike 9 miles (round-trip) and 420 vertical feet starting from Stave Spring trailhead near the east rim of Zion Canyon.
This Deertrap Mountain hiking guide covers the second, easier option.
Deertrap Mountain Trail Facts
Rating: Moderate
Hiking Time: 5–6 hours
Distance: 9 miles round-trip
Elevation Change: 420 feet
---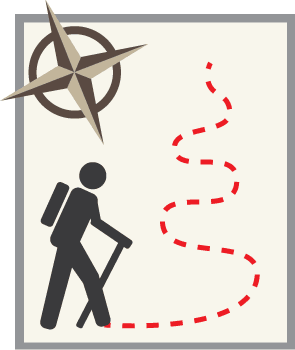 Looking for a Color Topographic Hiking Map of Deertrap Mountain?
There's one in Zion: The Complete Guide!
---
Deertrap Mountain Trailhead
The easiest route to Deertrap Mountain starts at Stave Spring Trailhead (one-hour drive from Springdale). Drive 2.4 miles east of Zion's East Entrance, then turn left onto North Fork County Road. Drive 5.4 miles to Ponderosa Ranch and follow the signs to Cable Mountain. High clearance is required just before the trailhead.
Deertrap Mountain Trail Description
The trail to Deertrap Mountain (so-named because Southern Paiute hunters once herded deer into a trap on the mountain) starts at Stave Spring Trailhead. It follows the same route to Cable Mountain, then veers left at a signed junction 1.8 miles from the trailhead.
After passing through a dense patch of Gambel oak, you'll skirt the rim of East Zion before descending toward the rim of Zion Canyon.
The first overlook on Deertrap Mountain offers expansive views stretching west to Zion Canyon's entrance. Note Sentinel Slide. This massive "rock avalanche" occurred 4,800 years ago when the surrounding cliffs collapsed.
In just 20 seconds, ten billion cubic feet of rock came crashing down. The resulting debris pile, which measured two miles long by nearly a mile wide, dammed the river and created a lake that stretched more than five miles upstream. Seven hundred years later, the Virgin River broke through the dam and drained the lake.
This viewpoint offers terrific views of the sheer sandstone cliffs that rise 2,000 feet above the floor of Zion Canyon. But Deertrap Mountain's best views are yet to come.
Follow the path north roughly half a mile to a rocky promontory with panoramic views of central Zion Canyon. You'll enjoy a dramatic head-on view of Angels Landing. In the distance, Zion's West Rim skirts the horizon. Take some time to enjoy the fabulous scenery, then hike back the way you came.
Plan the Perfect Trip to Zion!
Order Zion: The Complete Guide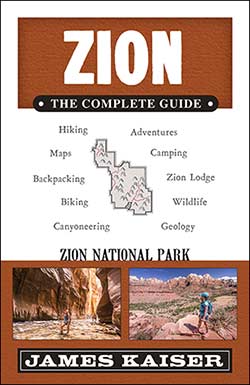 The #1 Zion guidebook.Full-color and filled with insider tips.Plan the ultimate Zion adventure!