Springdale, Utah is home to over a dozen hotels, any of which make a convenient base to explore Zion National Park.
Located next to Zion's most popular entrance, Springdale is the biggest town near the park. Although its official year-round population is just over 500, there are scores of hotels, restaurants, gift shops and outfitters catering to visitors, making the town feel much larger.
Most Springdale hotels and businesses are located along Zion Park Boulevard, which twists through the center of town en route to Zion's South Entrance. A free shuttle runs up and down Springdale's main road for much of the year.
Technically, Springdale is located inside Zion Canyon, with West Temple rising to the west, The Watchman rising to the east, and the Virgin River flowing through the center of the canyon. Many of the sandstone cliffs rising above town rival those in the park, adding an air of magnificence to Springdale.
= Recommended
Springdale Hotels – Luxury
Springdale Hotels – Moderately Priced
Private Houses for Rent
Plan the Perfect Trip to Zion!
Order Zion: The Complete Guide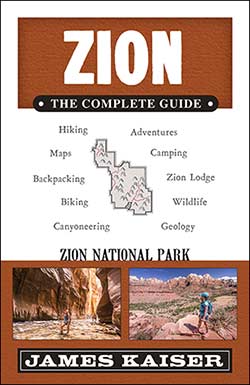 The #1 Zion guidebook.Full-color and filled with insider tips.Plan the ultimate Zion adventure!