Hiking is one of the best ways to experience Zion National Park. Nothing puts the landscape in perspective like time on the trail, getting up close and personal with the park's fabulous geology.
From mellow strolls along the Virgin River to hair-raising scrambles up rocky peaks, there's a hike for every age and ability in Zion.
Don't sell yourself short by hanging around Zion's parking areas and shuttle stops. The more physical effort you put in, the more you'll be rewarded.
Best Hikes in Zion National Park
Zion Canyon Hikes
Zion Canyon is home to the park's most famous and popular trails, including Angels Landing, Observation Point, Hidden Canyon, The Narrows Bottom-Up, and The Narrows Top-Down. But these are all challenging trails. Easier trails in Zion Canyon include the Pa'rus Trail, Watchman Trail, Riverside Walk, Weeping Rock, Emerald Pools and the Archeology Trail.
The only downside to Zion Canyon: big crowds during peak season. (Want to avoid the crowds? Check out the Best Times to Visit Zion.)
Kolob Terrace Hikes
Fortunately, there are plenty of terrific hikes in higher, cooler, less crowded parts of the park. Kolob Terrace is home to The Subway, Northgate Peaks, Hop Valley, and West Rim Trail.
East Zion Hikes
East Zion's trails include Canyon Overlook, the East Rim Trail, Cable Mountain, Deertrap Mountain, and an easy shortcut to Observation Point.
Kolob Canyon Hikes
Kolob Canyons is another great place to escape the crowds. You can enjoy nice trails at Timber Creek Overlook and Taylor Creek Trail. For a more challenging hike or backpack, check out the La Verkin Creek Trail.
Southwest Desert Hikes
Zion's lowest, warmest region is the Southwest Desert, where the Chinle Trail is a great option during the cooler months.
Plan the Perfect Trip to Zion!
Order Zion: The Complete Guide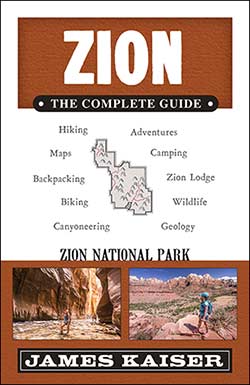 The #1 Zion guidebook.Full-color and filled with insider tips.Plan the ultimate Zion adventure!