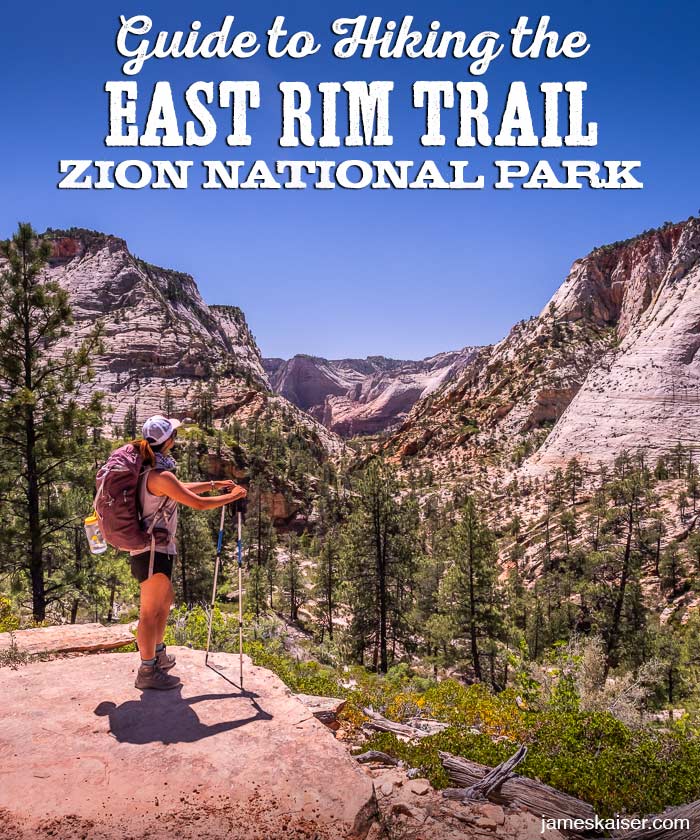 The East Rim Trail is one of the most popular backpacking trails in Zion National Park. Though not as famous as the West Rim Trail, the East Rim Trail offers similar scenery with fewer crowds.
You can hike the East Rim Trail in a single, exhausting day. But it's best done as a two-day backpack (permits required). Split the hike into two days and you'll have plenty of time to make side trips to Cable Mountain or Deertrap Mountain.
From the East Rim trailhead, the trail rises 1,000 feet above East Zion's dramatic slickrock into the forested mesa that divides East Zion from Zion Canyon. The East Rim Trail then descends into Echo Canyon, a stunning expanse of rolling sandstone, before dropping into Zion Canyon at Weeping Rock (shuttle stop #7).
East Rim Trail Facts
Rating: Strenuous
Hiking Time: 1–2 Days
Distance: 10.8 miles
Elevation Change: 2,300 feet
East Rim Trailhead
The East Rim Trail starts near Zion's East Entrance. Roughly 150 yards west of the entrance station, a short road heads north to the East Rim Trailhead. From the parking area walk past the metal gate, then follow the sandy trail, which was originally an old Southern Paiute route.
Backpacking Permits
Zion National Park requires permits for all backpackers who camp along the trail. You can apply for permits on the park's website.
Day hikers do not need permits on the East Rim Trail.
Water Sources
Stave Spring is little more than a dribble, but this tiny spring nestled among tall ponderosa pines offers reliable water for backpackers.
---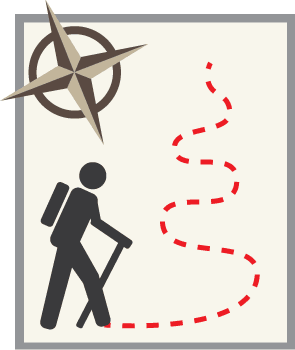 Looking for a Color Topographic Hiking Map of the East Rim Trail?
There's one in Zion: The Complete Guide!
---
East Rim Trail Description
From the trailhead, the East Rim Trail twists and turns above Clear Creek. It then starts its long ascent to the forests above. In spring, blooming cliffrose perfumes the trail.
Jolley Gulch (2.6 miles)
As the trail rounds a tight corner, you'll pass the steep dropoff to Jolley Gulch. Watch your step! There is no protective barrier and its a long way down.
In the distance you can see Checkerboard Mesa and the dramatic cliffs of East Zion. A nearly perfect line separates the top layer of Navajo Sandstone from the Temple Cap Formation above, marking the point, 160 million years ago, when the Sundance Sea washed over Utah.
Stave Spring (5.3 Miles)
Nestled among a grove of tall ponderosa pines, Stave Spring is the only reliable water source on the trail. The spring—little more than a trickle of water in dry years—flows from a pipe into a puddle. Be sure to treat or filter the water before drinking. Backpackers must camp at least 1/4 mile from the spring.
Cable Mountain Junction (5.4 Miles)
At this junction, a trail veers left (south) to Cable Mountain and Deertrap Mountain, both of which make excellent side trips if you're backpacking.
Stave Spring Trailhead Junction (5.8 Miles)
After huffing and puffing 1,000 vertical feet, you may be surprised to see energetic day hikers casually strolling along the trail. They likely arrived from Stave Spring Trailhead, a vehicle-accessible trailhead located just 0.3 miles east of this junction.
Echo Canyon Rim (6.2 miles)
From here the trail plunges nearly 2,000 feet to the floor of Echo Canyon. Along the way you'll enjoy dramatic views of sheer cliffs and rolling sandstone.
Near the floor of the canyon the trail sometimes becomes faint. Look for cairns (small rock piles) that guide hikers along the official trail.
Observation Point Trail Junction (7.8 Miles)
After rounding a corner the East Rim Trail ends at a junction with Observation Point Trail. Brace yourself. The sudden surge of Observation Point day hikers can be a shock to your wilderness-mellowed synapses.
Echo Canyon (8.8 Miles)
This dramatic slot canyon offers a bit of shade and some fascinating geology.
Weeping Rock (10.8 Miles)
Your wilderness adventure officially ends at the Weeping Rock shuttle stop.
Plan the Perfect Trip to Zion!
Order Zion: The Complete Guide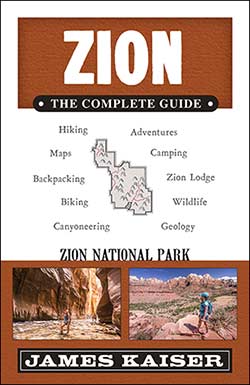 The #1 Zion guidebook.Full-color and filled with insider tips.Plan the ultimate Zion adventure!