Backpacking is one of the best ways to experience Zion National Park. There's nothing like camping in Zion's wilderness to appreciate the park's staggering natural beauty.
While there are plenty of great day hikes in Zion, backpacking reveals some of Zion's most incredible landscapes—with a fraction of the crowds!
There are backpacking trails that explore the depths of narrow canyons, and trails that meander high above their rims. Trails that pass through wide-open desert, and trails that follow beautiful mountain streams.
And then there's the ultimate backpacking experience: the Trans-Zion Trek. Stringing together four beautiful trails, the Trans-Zion Trek is a 50-mile, 3- to 5-day adventure that crosses the entire park!
Zion Backpacking Permits
All Zion backpackers need permits to camp in the backcountry. The permit system is necessary to limit crowds in the wilderness. While it can seem frustrating at first, when you're enjoying a beautiful campsite with zero crowds, the Zion permit system makes total sense.
Advance Permits
Over half of all permits can be reserved on the park's website up to three months in advance. March permits become available January 5 at 10am MT, April permits become available February 5 at 10am MT, and so on throughout the year. Cost: $5 online reservation fee plus $15–25 depending on group size.
Walk-in Permits
About one-third of permits are reserved for walk-in permits and cannot be reserved in advance. Those permits become available at park visitor centers the day before a trip.
Learn more about Zion backpacking permits
Zion's Best Backpacking Trails
West Rim Trail
The West Rim Trail is one of the most famous backpacking trails in Zion. And with good reason. Starting near Lava Point (one of the highest and best viewpoints in the park), it follows Zion's spectacular West Rim before dropping into Zion Canyon. Along the way you'll pass high plateaus, tall ponderosa forests, and hidden sandstone canyons that rival Zion Canyon in visual drama. Eight lovely campsites are scattered along the trail.
Learn more about the West Rim Trail
East Rim Trail
Although not as famous as the West Rim Trail, the East Rim Trail is no less spectacular. Starting near Zion's eastern boundary, it ascends high above the striking canyons of East Zion en route to a lovely ponderosa forest. Dispersed camping is allowed near Stave Spring, the only reliable water source on the trail. Side trails radiate out to Cable Mountain and Deertrap Mountain, both of which make fabulous day trips. The East Rim Trail finishes with a dramatic descent through Echo Canyon before finishing on the floor of Zion Canyon at Weeping Rock.
Learn more about the East Rim Trail
The Narrows – Top Down
The Narrows bottom-up, which starts at the northern tip of Zion Canyon, is one of the most popular day hikes in the park. But day hikers are only allowed as far as Big Spring. Past that point, The Narrows is the exclusive realm of backpackers with permits. Those who explore The Narrows top-down are rewarded with the same remarkable scenery—but with zero crowds! A dozen riverside campsites are spread out along the trail.
Learn more about The Narrows top-down
La Verkin Creek
Wrapping around the base of Zion's remote Kolob Canyons, the La Verkin Creek Trail explores a fascinating – and overlooked – part of Zion National Park. Sheer sandstone cliffs tower above, while beautiful La Verkin Creek bubbles below. Ten riverside campsites are spread along the trail. About 6.5 miles past the trailhead, a side trail heads to Kolob Arch, the largest rock arch in Zion—and one of the largest freestanding rock arches in the world!
Learn more about the La Verkin Creek Trail
Hop Valley
Stretching between Kolob Terrace and Kolob Canyons, Hop Valley has a flat valley floor surrounded by tall sandstone cliffs. It's like a mini-Zion Canyon without the crowds. In fact, both Zion Canyon and Hop Valley formed the same way: ancient rockfalls dammed the canyon, forming ancient lakes that deposited sediments over hundreds of years. When the lakes drained, the flat lakebed became a flat valley floor.
In summer, when crowds and temperatures are peaking in Zion Canyon, higher, cooler Hop Valley makes a terrific escape.
Learn more about the Hop Valley Trail
Chinle Trail
Passing through Zion's low elevation Southwest Desert, the Chinle Trail is like no other backpack in Zion. Most Zion trails pass through narrow canyons or along canyon rims. The Chinle Trail passes through wide-open desert. Dramatic sandstone peaks pierce the horizon, adding plenty of visual drama. Due to its low elevation, the Chinle Trail is hotter than other trails. Although sweltering in summer, the warmer temperatures are a blessing in the cooler months.
Learn more about the Chinle Trail
Trans-Zion Trek
Stringing together four popular trails, the Trans-Zion Trek is the ultimate Zion backpacking adventure. Starting in Kolob Canyons, the 50-mile trek follows La Verkin Creek to Hop Valley, then continues along the West Rim Trail to Zion Canyon. From there you'll hike up the East Rim Trail to Zion's eastern boundary. Most backpackers complete the trek in three to five days.
The hardest part: getting permits. During peak season it can be tough to get permits for any of the four trails that make up the Trans-Zion Trek. Obtaining all four at the same time can be particularly difficult. Consider going off-season in May or October, when you'll also enjoy beautiful spring wildflowers or gorgeous autumn foliage.
Zion Backpacking Tips
Hiking in southern Utah presents several challenges, most notably hot summer temperatures that can top 100˚F in Zion Canyon. When temperatures spike, consider hiking in the cooler morning or evening hours. Another option is hiking in higher, cooler parts of the park such as Kolob Canyons, Kolob Terrace or East Zion.
Always carry and drink plenty of water (rangers recommend one gallon per person, per day), and protect your skin from harmful UV rays with high SPF sunscreen and a wide-brimmed hat. To cool down, a wet bandanna on the back of the neck works wonders.
Hiking / Backpacking Shuttles
Many of the trails listed above start at remote trailheads. Unless you have two cars, transportation can be tricky. Fortunately, private shuttles can drop you off at popular trailheads. I list the best, most reputable shuttle companies in my guidebook Zion: The Complete Guide.
Plan the Perfect Trip to Zion!
Order Zion: The Complete Guide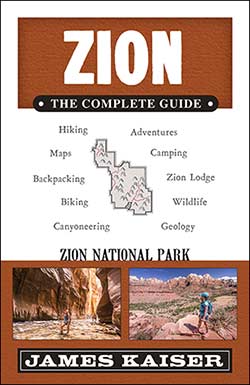 The #1 Zion guidebook.Full-color and filled with insider tips.Plan the ultimate Zion adventure!