Weeping Rock offers fascinating geology, lush hanging gardens, and terrific views in the heart of Zion National Park. The paved trail to this shady alcove is short but steep, making it one of the best easy hikes in Zion.
Weeping Rock is also the start of two terrific, strenuous hikes: Hidden Canyon and Observation Point.
Weeping Rock Trail Facts
Rating: Easy
Hiking Time: 30 minutes
Distance: 0.4 miles, round-trip
Elevation Change: 98 feet
Weeping Rock Trailhead
The trail to Weeping Rock starts at the Weeping Rock Shuttle Stop (#7). Toilets are available near the trailhead.
Weeping Rock Trail Description
From the Weeping Rock parking area, cross the small footbridge and bear left. A half-mile paved trail climbs nearly 100 feet to Weeping Rock, where water oozes out of Navajo Sandstone. The trail is short but steep. Interpretive signs point out fascinating plants along the way.
As the trail approaches Weeping Rock, it dips behind a curtain of water. Expect to get a little wet! The trail then enters a moist, overhanging alcove with mineral deposits that form dramatic zebra stripes. Terrific views of Zion Canyon spread out below. The pointy white peak of the Great White Throne rises just south of Weeping Rock.
During the warmer months, the area around Weeping Rock is often filled with beautiful wildflowers like shooting stars, cardinal monkeyflower, and western columbine (above).
A small waterfall fed by Echo Canyon trickles over Weeping Rock. During rainstorms or periods of heavy runoff, the trickle turns into one of Zion Canyon's most beautiful waterfalls.
The water dripping out of Weeping Rock is over 1,000 years old. Around A.D. 800 it fell as rain or snow on the Navajo Sandstone high above. Because sandstone is porous and permeable, the precipitation soaked into the rock and spent the next 1,200 years percolating down.
When the ancient water reached the bottom of the Navajo Sandstone, it encountered the relatively impermeable Kayenta Formation rock layer. Unable to flow down farther, the water flowed horizontally along cracks and emerged at Weeping Rock. Scientists call this "fossil water" because it's so old.
The water emerging from Weeping Rock is rich with calcium and other minerals, which precipitate out to form a limestone rock called tufa. The striped overhang at Weeping Rock is actually a large tufa deposit.
After enjoying the fabulous views and marveling at the fascinating geology, return the way you came.
Plan the Perfect Trip to Zion!
Order Zion: The Complete Guide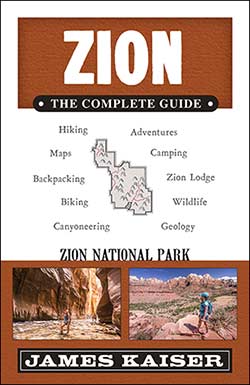 The #1 Zion guidebook.Full-color and filled with insider tips.Plan the ultimate Zion adventure!