Hidden Canyon is a lovely slot canyon located halfway up the steep cliffs of Zion Canyon. If you're looking to escape the crowds on Angels Landing and The Narrows, hiking Hidden Canyon is an excellent option.
It's easy to stroll along Hidden Canyon's flat, sandy floor. But getting there requires hiking over 800 vertical feet, then traversing a short ledge with steep dropoffs. Chains bolted into the rock serve as handholds.
Once past the steep ledges, the trail tucks into Hidden Canyon, which cuts between Cable Mountain and the Great White Throne. Steep sandstone walls rise hundreds of vertical feet on either side of the narrow canyon, treating hikers to fabulous geology reminiscent of The Narrows.
Unlike many Zion hiking trails, which culminate with spectacular viewpoints, Hidden Canyon can seem anticlimactic. But Hidden Canyon has plenty of visual drama — it just comes halfway through the hike! After that, you're rewarded with a beautiful, peaceful side canyon.
Hidden Canyon Trail Facts
Rating: Strenuous
Hiking Time: 3 hours
Distance: 2.8 miles round-trip
Elevation Change: 850 feet
Hidden Canyon Trailhead
The trail to Hidden Canyon starts at Weeping Rock (shuttle stop #7) towards the northern end of Zion Canyon.
Trail Description
From the Weeping Rock parking area, cross the small footbridge and follow the same trail that leads to Observation Point and the East Rim Trail. Over the next 3/4 of a mile, you'll ascend the steep side canyon via a series of switchbacks. As you rise higher and higher, dramatic views of Zion Canyon unfold below. This is the most physically strenuous part of the hike.
Hidden Canyon Junction (0.7 miles)
Bear right at the junction, marked by a metal sign, then follow the paved trail between two well-crafted stone walls. The Hidden Canyon trail zigzags up a series of short, steep switchbacks, then ducks into a narrow canyon dotted with evergreens.
Narrow Rock Ledges (0.8 miles)
Here's where the trail gets interesting. To get to Hidden Canyon, you'll need to traverse a series of narrow ledges with steep dropoffs. Chains bolted into the rock serve as handholds during particularly challenging sections.
The first set of chains, which are relatively short and easy, offer a taste of what's to come. If you have a fear of heights and feel uncomfortable, consider turning around. If not, follow the impressive stone steps to an even more intimidating chained section. This is the most mentally challenging section of the hike. But as you traverse the ledge, you'll enjoy dramatic views of Zion Canyon below.
Hidden Canyon's exposed ledges are significantly shorter and less intimidating than the chained sections on Angels Landing. If you're unsure about hiking Angels Landing, consider hiking Hidden Canyon first.
---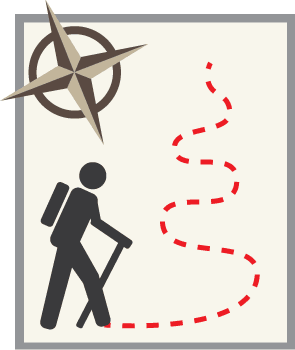 Looking for a Color Topographic Hiking Map of Hidden Canyon?
There's one in Zion: The Complete Guide!
---
Hidden Canyon (1 mile)
After traversing a final steep ledge, you'll round a corner and make a quick descent into Hidden Canyon. The most challenging part of the hike is now behind you.
Geologists consider Hidden Canyon a classic "hanging valley." Like Zion Canyon, it was carved by flash floods. But the floods that carved Hidden Valley did so at a much slower rate, so Hidden Valley was ultimately left "hanging" high above the floor of Zion Canyon.
The floor of Hidden Valley is mostly flat and sandy, but at times you'll need to scramble over some small rocks and logs.
Rock Arch (1.3 miles)
About 0.3 miles down Hidden Canyon there's a ground-level rock arch on the right.
Just beyond the rock arch, a metal sign marks the point where further travel is prohibited. The remainder of Hidden Canyon is off-limits to protect endangered Mexican spotted owls.
Plan the Perfect Trip to Zion!
Order Zion: The Complete Guide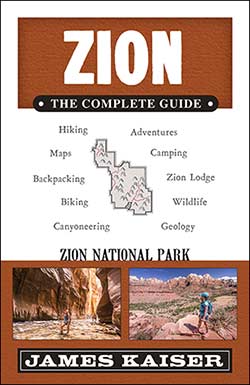 The #1 Zion guidebook.Full-color and filled with insider tips.Plan the ultimate Zion adventure!