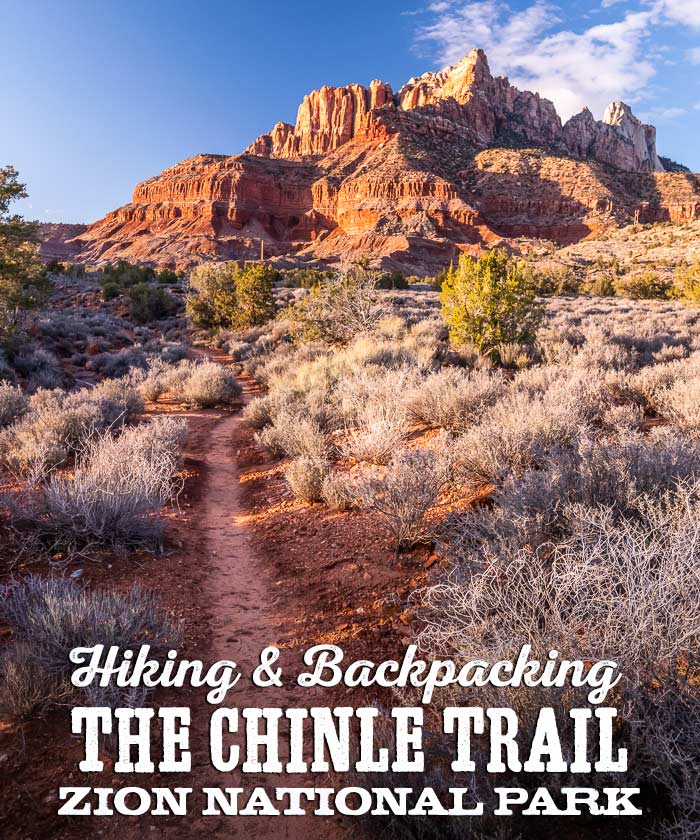 The Chinle Trail offers some of the most unique hiking in Zion National Park. Unlike most Zion trails, which twist through dramatic canyons, the Chinle Trail passes through the broad, open desert near the park's southern boundary. Massive sandstone peaks pierce the horizon, adding plenty of visual drama.
At roughly 4,200 feet in elevation, the Chinle Trail passes through some of the park's lowest elevations. Temperatures can be brutally hot in summer—but the trail is delightful in the cooler months. Backpackers can camp at one of six campsites along the trail.
Note: the Chinle Trail can get very muddy after heavy rain.
Chinle Trail Facts
Rating: Moderate
Hiking Time: 2–8 hours
Distance: 8.1 miles, one-way
Elevation Change: 200 feet
Chinle Trailhead
The Chinle Trails starts from a dirt parking area just below the Anasazi Way Subdivision. The turnoff is located four miles southwest of Zion's South Entrance off State Route 9.
Backpacking Permits
Backpackers can camp at one of six campsites along the Chinle Trail. All backpackers require permits, and campsites must be reserved in advance. You can apply for permits on the park's website.
Day hikers do not need permits on the Chinle Trail.
---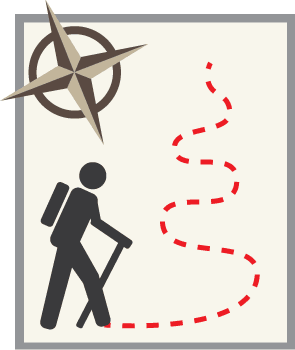 Looking for a Color Topographic Hiking Map of the Chinle Trail?
There's one in Zion: The Complete Guide!
---
Chinle Trail Description
From the trailhead, the Chinle Trail twists along a wash, meanders through a high-end housing development, and crosses a bridge before heading towards open, undeveloped wilderness.
The Chinle Trail wraps around the base of Mount Kinesava, whose sandstone cliffs rise 7,285 feet above sea level. En route to Coalpits Wash you'll pass a mix of cacti, shrubs and piñon/juniper forest. Huber Wash, a deep gully that adds a bit of visual drama to the flatlands, makes a great destination for day hikers (3.3 miles one way, 3–4 hours).
Beyond Huber Wash, the Chinle Trail passes through Chinle Formation rocks, which formed roughly 210 million years ago. Back then, Zion was a humid swamp filled with ferns and conifers. Some of the trees were buried and mineralized, forming fossil logs. Today fragments of this petrified wood line both sides of the trail.
Enjoy the colorful petrified wood, but please leave it where you find it. Not only is it illegal to remove things from national parks—it robs future hikers from enjoying the trail's fascinating geology.
The trail continues past juniper trees and pinyon pines, passing Scroggins Wash before ending at Coalpits Wash. Coalpits Spring, the region's only dependable water source, is located 0.2 miles down Coalpits Wash. Be sure to purify the water before drinking.
Plan the Perfect Trip to Zion!
Order Zion: The Complete Guide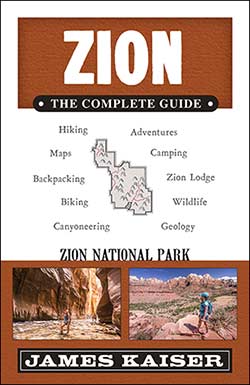 The #1 Zion guidebook.Full-color and filled with insider tips.Plan the ultimate Zion adventure!