The La Verkin Creek Trail is the longest, most beautiful hike in the Kolob Canyons section of Zion National Park. The trail parallels La Verkin Creek as it wraps around the dramatic Kolob Finger Canyons.
Strong day hikers can hike to Kolob Arch—the largest rock arch in Zion and one of the largest freestanding rock arches in the world. Backpackers can camp at one of 13 beautiful campsites along the trail. (Permits required, see below.)
La Verkin Creek Trail Facts
Rating: Moderate
Hiking time: 8 hours
Distance: 14 miles, round-trip
Elevation Change: 1,037 feet
Backpacking Permits
Backpackers can camp at one of the 10 campsites along La Verkin Creek below the junction with Hop Valley. Three additional campsites are located along La Verkin Creek past the junction. All backpackers require permits, and campsites must be reserved in advance. You can apply for permits on the park's website.
Day hikers do not need permits on the La Verkin Creek Trail.
---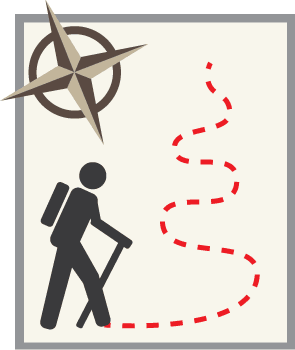 Looking for a Color Topographic Hiking Map of La Verkin Creek Trail?
There's one in Zion: The Complete Guide!
---
La Verkin Creek Trailhead
The La Verkin Creek Trail starts at Lee Pass, 3.6 miles from the Kolob Canyons Visitor Center. (Lee Pass is named for Mormon renegade John D. Lee, who hid out in this area after the 1857 Mountain Meadows Massacre.)
La Verkin Creek Trail Description
From Lee Pass, the trail drops to Timber Creek, which flows below Kolob Canyons Road. Near the southern tip of the Finger Canyons, the trail cuts east along La Verkin Creek ("La Verkin" is a corruption of the Spanish La Virgen).
About 6.5 miles past the trailhead, a 0.5-mile spur trail heads north to a viewpoint below Kolob Arch. Measuring nearly 300 feet long and 75 feet thick, Kolob Arch is one of the world's largest free-standing rock arches. It formed due to a geologic process called exfoliation where slabs of rock peel off like layers of an onion.
Plan the Perfect Trip to Zion!
Order Zion: The Complete Guide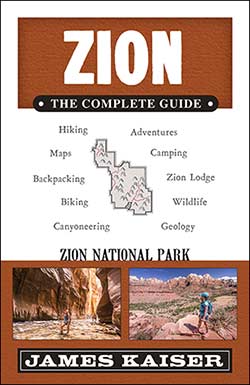 The #1 Zion guidebook.Full-color and filled with insider tips.Plan the ultimate Zion adventure!