The Hop Valley Trail offers great hiking and backpacking in a beautiful, overlooked part of Zion National Park. Located between Kolob Terrance and Kolob Canyons, Hop Valley is situated 6,000 feet (1,800 meters) above sea level, making it cooler and more pleasant in the hot summer months.
Like Zion Canyon, Hop Valley boasts a flat floor surrounded by dramatic sandstone cliffs. Unlike Zion Canyon, there are no crowds.
Hop Valley is a wonderful, long day hike. If you'd like to spend some more time exploring nearby sights — including Kolob Arch, the largest rock arch in Zion — you can also backpack and camp. (Permits required, see below.)
Hop Valley Trail Facts
Rating: Moderate
Hiking Time: 6–8 Hours
Distance: 13 miles round-trip
Elevation Change: 1,050 feet
Best Times to Hike & Backpack Hop Valley
In summer, when crowds and temperatures are peaking in Zion Canyon, higher, cooler Hop Valley is a great escape. Wildflowers are abundant in spring, and beautiful foliage lights up the trail in fall.
Backpacking & Camping Permits
Zion National Park requires permits for all backpackers who camp in Hop Valley. You can apply for permits on the park's website.
Note: although a small creek flows through Hop Valley, its water is contaminated by cattle droppings. Backpackers and campers can find better water at Beatty Spring, just off the La Verkin Creek Trail.
Day hikers do not need permits on the Hop Valley Trail.
Hop Valley Trailhead
The Hop Valley Trailhead is located in a roundabout parking area off Kolob Reservoir Road. The turnoff is 13 miles north of the junction with Route 9 in the town of Virgin.
---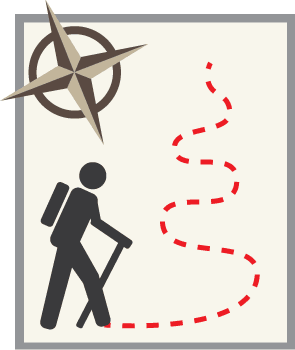 Looking for a Color Topographic Hiking Map of Hop Valley?
There's one in Zion: The Complete Guide!
---
Hop Valley Trail Description
The Hop Valley Trail starts out as a lovely stroll through a broad sagebrush valley with patches of Gambel oak. To the west, you can make out the distant peaks of the Pine Valley Mountains, which rise thousands of feet above the city of Saint George.
First Gate (1.5 miles)
Continue along the sandy trail. After 1.5 miles you'll come to a metal gate. Parts of the Hop Valley Trail pass through a private ranch, which allows hikers and backpackers to pass through. Once past the metal gate, follow the broad dirt road as it descends into a piñon/juniper forest. Nice views of Hop Valley and Kolob Canyons appear through the trees.
Hop Valley (3 miles)
After three miles you'll enter the southern end of Hop Valley. Beautiful sandstone walls rise up on either side of the flat valley floor. A small creek meanders through the center of the valley.
Note: Expect multiple stream crossings in Hop Valley. Hiking poles are helpful.
As you hike through Hop Valley, you'll probably see lots of cattle. The southern portion of the valley does not belong to Zion and is open to ranching. Which is why some locals jokingly call the trail "Plop Valley."
Second Gate (5 miles)
Towards the northern end of Hop Valley, you'll pass through a gate that marks the end of the private ranch. From this point forward you're in Zion National Park. Two park campsites are located among the trees to the east.
At the northern end of Hop Valley, the trail ascends through a lovely patch of forest. This stretch is particularly beautiful in fall, when brilliant foliage lights up the trail.
You'll soon reach a nice overlook (marked by a rounded stone outcrop) with good views of Kolob Canyons. The trail then drops to La Verkin Creek. Strong day hikers can continue to Kolob Arch.
Hiking to Kolob Arch from Hop Valley
To get to Kolob Arch viewpoint, drop down to the La Verkin Creek trail, then hike 0.3 miles west. A signed intersection points the way to the viewpoint. Kolob Arch is the largest rock arch in Zion, and it's one of the largest freestanding rock arches in the world. The viewpoint is located 7.2 miles (one-way) from the Hop Valley Trailhead.
Plan the Perfect Trip to Zion!
Order Zion: The Complete Guide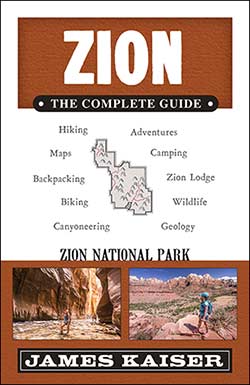 The #1 Zion guidebook.Full-color and filled with insider tips.Plan the ultimate Zion adventure!