What's the best month to visit Zion National Park? It depends what you're looking for. Zion is always spectacular, but each season comes with its own set of pros and cons.
Spring has reduced crowds and great temperatures, but snow and snowmelt can keep parts of the park closed, including The Narrows.
Summer is hot and crowded in Zion Canyon. This is a great time to visit the park's higher, cooler, less-crowded destinations: East Zion, Kolob Terrace, and Kolob Canyons.
Autumn is one of my favorite seasons in Zion. Temperatures are lovely, the crowds are manageable, and autumn foliage lights up the park.
Knowing what to expect will help you plan a great trip, no matter when you visit Zion.
Zion Temperature & Precipitation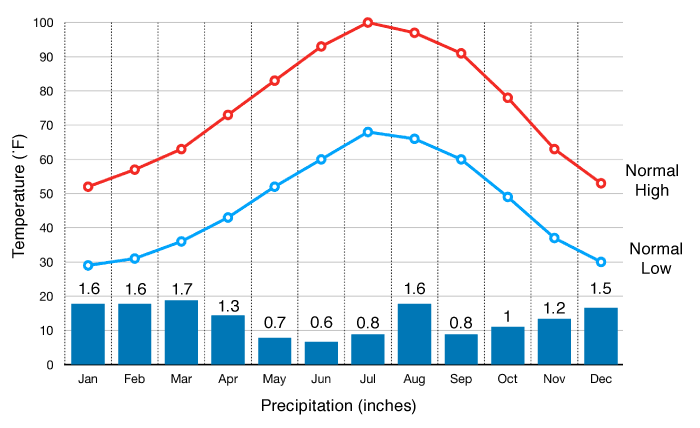 See also: Weather in Zion National Park
Spring in Zion: March, April, May
Long days, pleasant weather and reduced crowds make spring a great time to visit Zion.
Early spring (late March, April) can still be chilly, but snowmelt often forms beautiful waterfalls in Zion Canyon. The snowier the winter, the bigger the waterfalls. Unfortunately, big snow years can also limit high elevation hiking and keep The Narrows closed until June due to heavy runoff.
May is one of my favorite months, filled with balmy temperatures and beautiful wildflowers.
Memorial Day weekend (the busiest weekend of the year) heralds the arrival of big crowds and hot temperatures for the next several months.
Summer in Zion: June, July, August
Summer in Zion Canyon is hot and crowded, with long lines for shuttles and temperatures often topping 100˚F. Book hotels and campsites as far in advance as possible.
To escape the sweltering heat and tourist hordes in Zion Canyon, head to lesser known, higher elevation parts of the park like Kolob Terrace and Kolob Canyons, which are gorgeous in summer.
Be aware that monsoon season, which brings regular afternoon thunderstorms, starts in July and can last through September.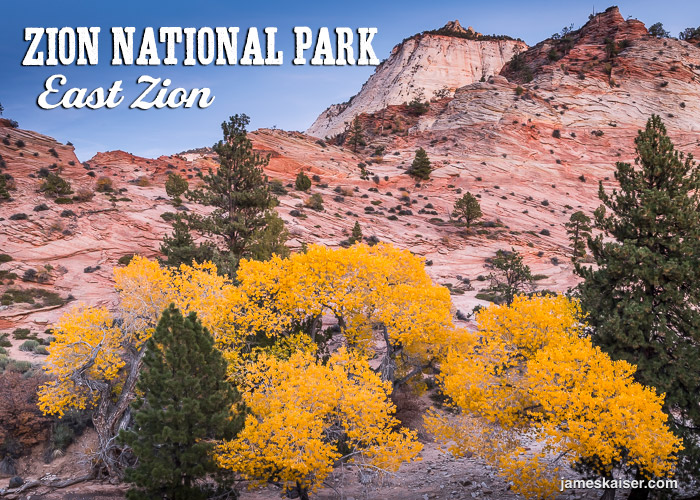 Autumn in Zion: September, October, November
Autumn is one of my favorite times to visit Zion due to comfortable temperatures, slightly reduced crowds, and—best of all—stunning foliage.
After Labor Day, crowds and temperatures drop, making September a wonderful month to visit Zion.
In late September/early October daytime temperatures are often divine.
Peak foliage starts in early October at the park's highest elevations, then shifts to progressively lower elevations over the next few weeks. Foliage in Zion Canyon peaks in late October/early November.
Winter in Zion: December, January, February
Cold temperatures keep most visitors away during Zion's slowest season, but the park is never more beautiful than after a fresh dusting of snow.
If you don't mind the cold, this is a great time to visit Zion. Nearly all of the park is open with the exception of Lava Point, which is often inaccessible due to deep snow.
The biggest downsides to visiting in winter: limited outdoor adventures and ranger programs. The biggest upside to visiting in winter: private vehicles are allowed in Zion Canyon when the shuttle isn't running.
---
Plan the Perfect Trip to Zion!
Order Zion: The Complete Guide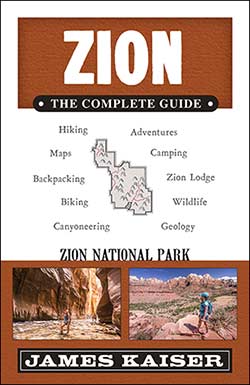 The #1 Zion guidebook.Full-color and filled with insider tips.Plan the ultimate Zion adventure!