Timber Creek Overlook has terrific views of the Kolob Canyons in Zion National Park. Most visitors enjoy the viewpoint at the parking area, but a short, easy trail leads to even better views—with fewer crowds!
Timber Creek Overlook Trail Facts
Rating: Easy
Hiking Time: 1 hour
Distance: 1 mile, round-trip
Elevation Change: 100 feet
Timber Creek Overlook Trailhead
The trail starts at Timber Creek Overlook, at the far end of Kolob Canyons Road. The overlook is located five miles from the Kolob Canyons Visitor Center
Timber Creek Overlook Trail Description
From the west end of the Timber Creek parking area, follow the dirt path one half-mile to a beautiful viewpoint. To the east, the Kolob Finger Canyons line up like a military regiment. To the southeast, the stairstep plateaus of Kolob Terrace march across the horizon towards Zion Canyon.
The striking western orientation of the Kolob Canyons is due to faults (cracks) that formed in the ancient rock. Rain and runoff flowed west down the faults, forming streams that slowly eroded the landscape. As tectonic forces pushed up this region along the Hurricane Fault, the landscape tilted and stream erosion accelerated, carving deep canyons into the Navajo Sandstone.
Each finger canyon is like a miniature Zion Canyon, with a wide mouth tapering to a narrow slot canyon in the upper reaches. Note how the Navajo Sandstone in Kolob Canyons is more reddish than in Zion Canyon. This red coloration is due to iron leaching down from overlying rock layers.
To the southeast Shuntavi Point rises like a chubby missile below Timber Top Mountain. Many of the peaks to the north are based on Paiute words: Nagunt ("bighorn sheep") Mesa, Tucupit ("wildcat") Point, Paria ("elk") Point. Just left of Paria Point you can catch a glimpse of Horse Ranch Mountain, which at 8,926 feet is the tallest peak in Zion.
Plan the Perfect Trip to Zion!
Order Zion: The Complete Guide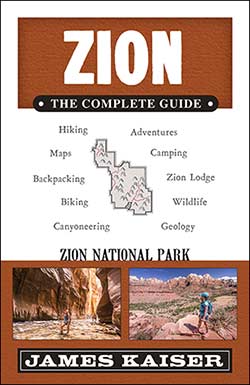 The #1 Zion guidebook.Full-color and filled with insider tips.Plan the ultimate Zion adventure!