The Taylor Creek Trail is the best moderate hike in the Kolob Canyons section of Zion National Park. The hike follows the banks of the Middle Fork of Taylor Creek to a remote canyon with a rare double rock arch. Known as Double Arch Alcove, it's one of the geologic highlights of Kolob Canyons.
Taylor Creek Trail Facts
Rating: Moderate
Hiking Time: 4 hours
Distance: 5 miles, round-trip
Elevation Change: 450 feet
Taylor Creek Trailhead
The Taylor Creek trailhead is located 1.9 miles past the Kolob Canyons Visitor Center. Look for a paved parking area with toilets near the trailhead.
Taylor Creek Trail Description
From the trailhead, wooden stairs descend to Taylor Creek. Over the next 2.5 miles, you'll crisscross the creek over a dozen times. Hiking poles are helpful, particularly when the creek is swollen with rain or snowmelt. The trail ascends a relatively easy, consistent gradient.
Along the way, you'll pass Larson Cabin, built in 1930 by pig farmer Gustav Larson.
A short distance past Larson Cabin you'll pass Fife cabin, built in 1930 by goat farmer Arthur Fife.
The trail ends at Double Arch Alcove, where two stone arches are stacked on top of each other. The lower arch formed due to erosion by seeping water. The upper arch formed along natural cracks in the rock.
Stepping into the wavy, multicolored alcove feels like entering a Georgia O'Keeffe painting, while dark desert varnish drips down like Jackson Pollock splatter. 
Plan the Perfect Trip to Zion!
Order Zion: The Complete Guide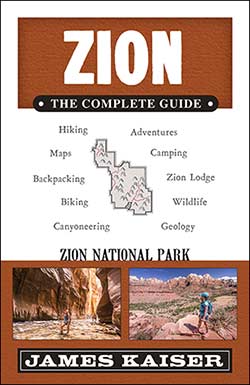 The #1 Zion guidebook.Full-color and filled with insider tips.Plan the ultimate Zion adventure!