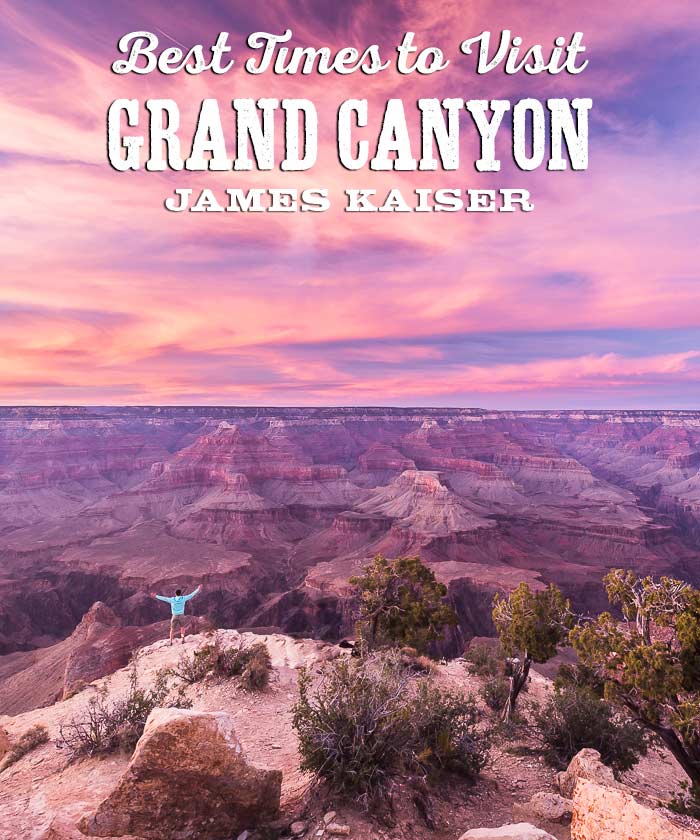 What's the best month to visit Grand Canyon's South Rim? It depends what you're looking for. Grand Canyon is always spectacular, but conditions vary considerably throughout the year.
Summer brings high temperatures, regular thunderstorms and big crowds. But hot summer nights are great for Grand Canyon camping.
Winter's freezing temperatures scare most visitors away, but this is one of my favorite times to visit. Grand Canyon covered in snow is a beautiful sight.
Spring and fall offer mild temperatures, limited crowds and great hiking. It's also easier to book a room at popular Grand Canyon hotels.
Know what to expect before you go, and you can plan a fantastic trip to Grand Canyon.
Grand Canyon South Rim Temperature & Precipitation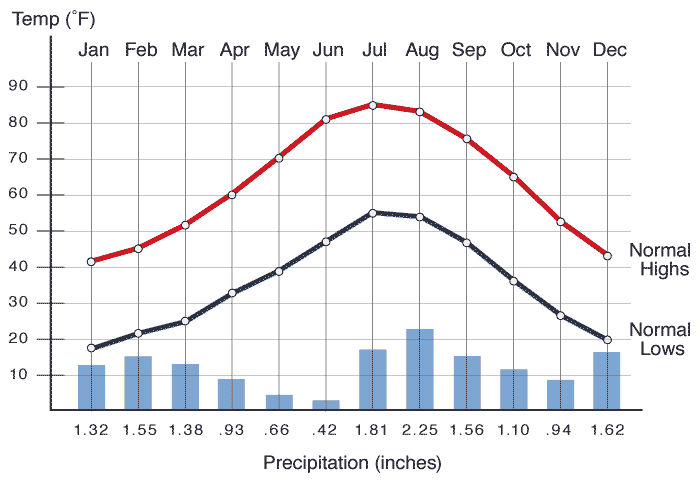 Spring on Grand Canyon's South Rim
March, April and May are some of the best months to visit Grand Canyon's South Rim.
In general, temperatures are mild, precipitation is light and the crowds are manageable. Early spring is also a great time to hike in Grand Canyon. The park's Inner Canyon trails, which are hot and uncomfortable in summer, are far more pleasant in spring.
By June daily highs on the South Rim can top 80˚F, but snowfall has been recorded as late as mid-June. Spring is also wildflower season, although the intensity of the blooms depends upon the amount of precipitation that fell in the winter. Some years the blooms are spectacular; other years they are far less dramatic.
Plan the perfect trip to Grand Canyon!
Order Grand Canyon: The Complete Guide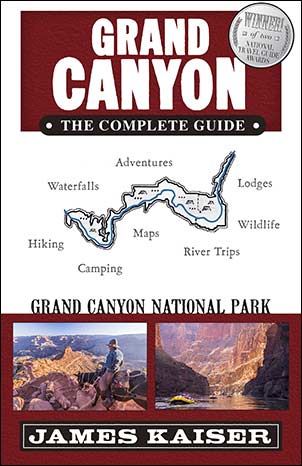 "Head and shoulders above the rest of the books on the Grand Canyon. Simply the best there is on this subject."
— S.M. Jenkins
"Worth its weight in gold … In savings of time and trouble, that more than paid for the cost of the book!"—Ken Kardash
Summer on Grand Canyon's South Rim
June, July and August are the most popular months to visit Grand Canyon's South Rim. But large crowds, hot temperatures and late-summer thunderstorms all combine to make summer a less than ideal time to visit.
Despite these minor annoyances, the view from the rim remains spectacular, and watching a thunderstorm pass over Grand Canyon will leave you breathless.
Thunderstorms, which generally occur in the afternoon, are most common during "monsoon season," which lasts from July through mid-September. Be sure to bring a rain jacket or umbrella.
Also be aware that scorching midday temperatures in the Inner Canyon make many of the park's popular hiking trails unbearable in July and August. Phantom Ranch, at the bottom of Grand Canyon, has recorded summer highs of 120˚F!
Fall on Grand Canyon's South Rim
September, October and November are great months to visit Grand Canyon's South Rim. The crowds drop off dramatically after Labor Day, and the climate starts to dry out after the summer monsoons end, usually around mid-September.
As the days grow shorter, the Canyon is bathed in gorgeous autumn light. Like spring, fall is a great time to hike the South Rim's Inner Canyon trails due to milder temperatures and reduced crowds.
Fall weather can be unpredictable, however, so be sure to bring plenty of warm cloths and rain gear. By mid-October, nighttime temperatures usually start to drop below freezing on the South Rim.
Winter on Grand Canyon's South Rim
In my opinion, December, January and February are the most underrated months to visit Grand Canyon's South Rim. Yes, you'll contend with daily highs in the 40s and freezing temperatures at night, but winter also means minimal crowds, reduced rates at park lodges, and the possibility of snow.
The South Rim averages about five feet of snow each winter, and if you're lucky enough to visit during a snowstorm you'll witness one of Grand Canyon's most beautiful sights.
Although you'll need to bundle up in warm clothes on the rim, the bottom of the Canyon often experiences spring-like temperatures in late winter, making this a great time to spend the night at Phantom Ranch or Bright Angel Campground.
Plan the perfect trip to Grand Canyon!
Order Grand Canyon: The Complete Guide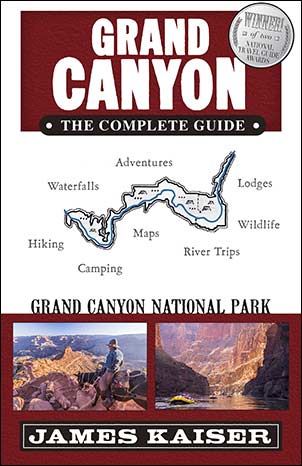 "Head and shoulders above the rest of the books on the Grand Canyon. Simply the best there is on this subject."
— S.M. Jenkins
"Worth its weight in gold … In savings of time and trouble, that more than paid for the cost of the book!"—Ken Kardash