*Best Hikes in Grand Canyon adapted from Grand Canyon: The Complete Guide
Grand Canyon is home to some of the best hiking in the Southwest. The range of scenery is incredible­, from cool pine forests to narrow slot canyons to everything in between. There are trails that skirt the edge of the rim and trails that plunge thousands of feet to the Colorado River. And don't forget Grand Canyon's two billion years of amazing geology—arranged chronologically for your viewing pleasure.
Sound too good to be true? Not at all. But before you hit the best hikes in Grand Canyon, there are some important things you need to know. First, there are two types of hikes in Grand Canyon: day hikes and backcountry (overnight) hikes. Day hikes are very straightforward—just pick a hike and go. Backcountry hikes require a bit more planning. Due to the large number of visitors interested in backcountry hiking­, the National Park Service limits the total number of backcountry hikers allowed on each trail. This reduces crowding and helps maintain the wilderness experience. Backcountry hikers must apply for permits.
Unlike most places on earth, many of Grand Canyon's trails start at the top and end at the bottom. This "mountain-in-reverse" style of hiking poses several unique challenges. For starters, a hike into the Canyon seems deceptively easy on the way down. Each year park rangers rescue hundreds of hikers who overestimate their hiking ability and become stranded in the depths of the Canyon. In general, it takes about twice as long to hike up as it takes to hike down.
Another factor is temperature. The lower you go, the hotter it gets, with temperatures up to 20˚F hotter at the bottom of the Canyon. Despite these challenges, hiking in Grand Canyon is a fantastic experience. Just follow the rules and tips on the following pages for a safe and enjoyable trip.
If you're interested in guided hikes, the Grand Canyon Field Institute offers a variety of excellent backpacks, day hikes and rim walks. The GCFI, which works in partnership with the National Park Service, is dedicated to enhancing understanding and enjoyment of Grand Canyon through firsthand experience. Many of their trips focus on a specific subject—geology, natural history, archaeology, photography—and many of their instructors are experts in their field. GCFI classes accommodate a wide range of ages and abilities.
Best Hikes in Grand Canyon
---
---
Plan the perfect trip to Grand Canyon!
Order Grand Canyon: The Complete Guide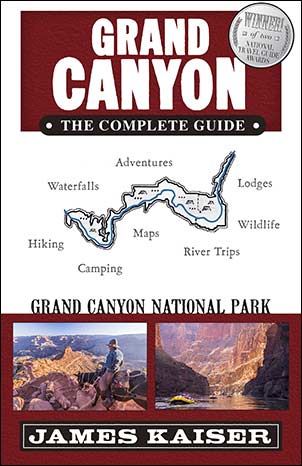 My award-winning, full-color Grand Canyon guidebook is filled with insider tips. Save time & money. Plan the ultimate Grand Canyon adventure!