*Hiking The Bright Angel Trail adapted from Grand Canyon: The Complete Guide
Hiking Grand Canyon's Bright Angel Trail
Difficulty: Strenuous
Distance: 15.6 miles, round-trip
Hiking Time: 2–3 Days
Elevation Change: 4,285 feet
The Bright Angel Trail is the most popular trail on the South Rim—and with good reason. Starting near several popular hotels, it provides convenient access below the rim, offering dramatic views of the Inner Canyon.
Although steep and challenging, it's well-maintained and makes a terrific introduction to Inner Canyon hiking. Day hikers should consider 1.5 Mile Resthouse (2–4 hours, round-trip) or 3 Mile Resthouse (4–6 hours, round-trip). Both offer clean drinking water in the summer months.
Halfway down the trail is Indian Garden Campground, and a nearby spur trail heads 1.5 miles to Plateau Point, one of the finest Inner Canyon viewpoints in the park.
Past Indian Garden, the Bright Angel Trail continues its steep descent to the Colorado River, plunging 200 feet through Vishnu Schist along Devils Corkscrew, a dramatic series of switchbacks. The trail ends at the Bright Angel Suspension Bridge, which continues across the Colorado River to Bright Angel Campground and Phantom Ranch.
Trailhead The Bright Angel Trail starts next to Kolb's Studio, just west of the Bright Angel Lodge.
---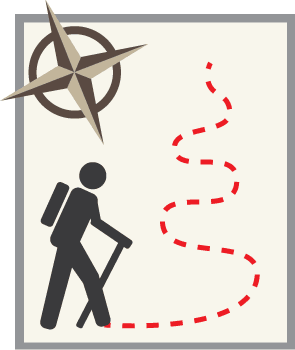 Looking for a Color Topographic Bright Angel Trail Hiking Map?
There's one inside Grand Canyon: The Complete Guide!
---
Bright Angel Trail photos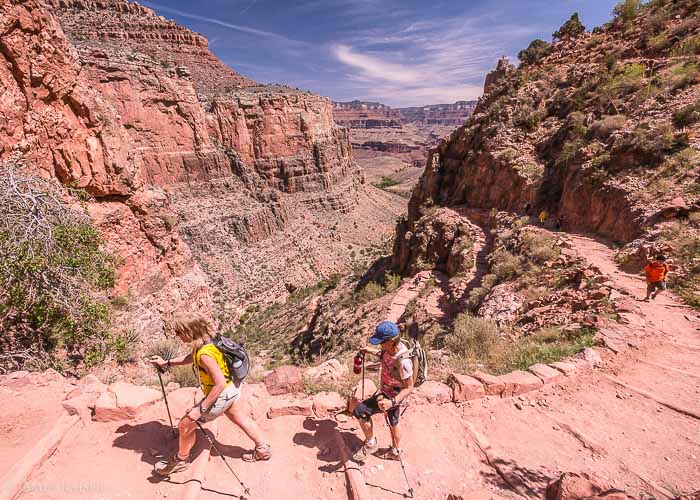 Hiking the Bright Angel Trail
Hiking above Indian Garden Campground
Devil's Corkscrew, Bright Angel Trail
Hiking above the Colorado River
Plan the perfect trip to Grand Canyon!
Order Grand Canyon: The Complete Guide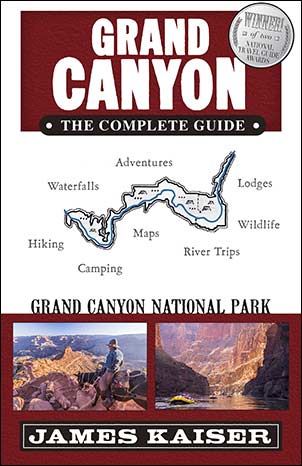 My award-winning, full-color Grand Canyon guidebook is filled with insider tips. Save time & money. Plan the ultimate Grand Canyon adventure!