*Hiking tips adapted from Grand Canyon: The Complete Guide
Grand Canyon Hiking Tips
Your first visit can be challenging, but with these Grand Canyon hiking tips you'll be ready to hit the trail.
Don't Hike to the Colorado River and Back in a Single Day
Each year the park service rescues hundreds of day hikers stranded in Grand Canyon. Hiking deep into the Canyon seems deceptively easy on the way down. By the time exhausted hikers realize how difficult the hike up will be, it's often too late. Evacuations are time-consuming and costly. Helicopter evacuations can cost stranded hikers upwards of $3,000 per flight. Plan ahead, understand the trail, and you can avoid a needless evacuation.
Bring Plenty of Water
The biggest dangers on the trail are not scorpions, rattlesnakes or mountain lions. In fact, these animals pose relatively little threat. The biggest killers are dehydration, heat exhaustion, and heat stroke. Rangers recommend drinking one gallon of water per day in the summer. Drink small amounts often, even if you don't feel thirsty. By the time you feel thirsty, you're already dehydrated. Some trails have access to water, but many do not. Ask about a trail's water availability before you start hiking. And be sure to filter or purify all water from springs, creeks, etc.
Use Extreme Caution When Hiking in the Summer
In the sweltering summer months, heat-related dangers—dehydration, heat exhaustion, heat stroke—are even more pronounced. Temperatures rise as you descend into the Canyon. Average temperatures at the bottom of the Canyon are roughly 20˚F higher than average temperatures along the rim. Try to avoid hiking during the middle of the day, and drink plenty of water.
Make Way for Mules
Mules have the right of way on all trails. If you encounter mules, step off the trail on the uphill side and follow the directions of the mule wrangler.
Bring Plenty of Food
Just as important as drinking is eating. Salty snacks replace electrolytes that the body loses through sweating. If you drink water but don't replace electrolytes, you run the risk of developing hyponatremia, which can lead to seizures and death. When hiking in Grand Canyon, eat more than you normally do and eat small amounts often. Adding electrolyte powder to your water is also a good idea.
Check Backcountry Conditions Online
Grand Canyon National Park's website has a Backcountry Updates and Closures page that lists current backcountry conditions.
Plan the perfect trip to Grand Canyon!
Order Grand Canyon: The Complete Guide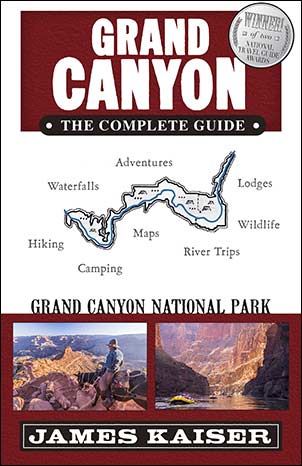 My award-winning, full-color Grand Canyon guidebook is filled with insider tips. Save time & money. Plan the ultimate Grand Canyon adventure!