Visiting Grand Canyon?
Don't go without these essential items
Grand Canyon is stunning, but it can also be challenging — or even dangerous. Each year, hundreds of people require medical attention because they underestimate this dramatic landscape. From scorching temperatures to powerful thunderstorms, there's no shortage of natural hazards.
But pack the right gear, and you'll dramatically improve both the safety and enjoyment of your trip.
Even if you're just visiting beautiful viewpoints, there are some important things to know — and some important items to bring.
Water Bottle
Grand Canyon is exceptionally dry. Located in a desert environment, temperatures soar in summer. Dehydration and heat stroke are both serious concerns. No matter when you visit Grand Canyon, visitors should always drink plenty of water. Hikers should pack at least three liters of water per day.
In 2012, Grand Canyon National Park banned the sale of disposable plastic water bottles. Fortunately, there are lots of water filling stations in the park. But you'll need your own bottle. I prefer metal water bottles or BPA-free plastic bottles. Another great option is a Camelbak hydration pack.
Sunglasses
Grand Canyon's most popular viewpoints are perched 7,000 to 8,000 feet above sea level. At such high elevations, harmful UV light is even more intense. Sunglasses are key. And not just to protect your eyes. Polarizing sunglasses cut through haze, enhancing your views across Grand Canyon.
Sunscreen
Good sunscreen protects your skin from damaging UV rays. In Grand Canyon, you'll want SPF 50 or above. I prefer sunscreen lotions to sprays, which generally cost twice as much.
A great alternative to sunscreen is UV-blocking clothing. These lightweight shirts are easier — and less messy — than sunscreen.
Wide-brimmed Hat
Skip the baseball hat, which leaves your ears exposed. A wide-brimmed hat keeps you cool and protects your entire head from harmful rays.
Many visitors like soft bucket hats. I prefer classic cowboy hats, which have been used in these parts for centuries.
Bandana
If you visit in summer, a bandana is invaluable. Soak it with water and wrap it around your neck. There's no better way to cool off quickly. And combined with a cowboy hat, it's great for robbing banks.
Rain Jacket
From July through mid-September, thunderstorms pass through Grand Canyon nearly every afternoon. Fortunately, these intense thunderstorms tend to be short-lived. It's easy to be caught by surprise, however, so you should always carry a high-quality rain jacket.
Rain jackets follow a simple rule: you get what you pay for. A cheap plastic rain jacket won't last long. A good Gore-Tex rain jacket can last years. Stuff it in your day pack and bring it everywhere you go.
Headlamp
Nothing compares to watching sunrise or sunset in Grand Canyon. But if you wake up before dawn — or hang around after dusk — you'll need a headlamp to navigate trails along the rim. It should go without saying, but you DO NOT want to take a wrong step in Grand Canyon! A good headlamp or flashlight can literally save your life.
Binoculars
Grand Canyon is one of the best places in the world to see California condors, the largest birds in North America. Other majestic animals include bighorn sheep, elk, mule deer, and mountain lions.
If you're interested in wildlife watching, you'll want a good pair of binoculars. Thanks to recent advances in optical technology, good binoculars are more affordable than ever. Both the Nikon Prostaff 3S 8×42 and Bushnell 8×42 are terrific options.
Warm Jacket
In the desert, hot summer days quickly turn into cool nights. In spring and autumn, daytime temperatures are sometimes cold, and freezing temperatures are common in winter. No matter when you visit, pack a warm jacket.
I personally like puffy jackets that you can compress with a stuff sack, then store at the bottom of your day pack.
And speaking of day packs…
Day Pack
You'll need someplace to store all this essential gear. Invest in a good daypack, fill it with everything you need, and you'll be ready to explore Grand Canyon!
Plan the perfect trip to Grand Canyon!
Order Grand Canyon: The Complete Guide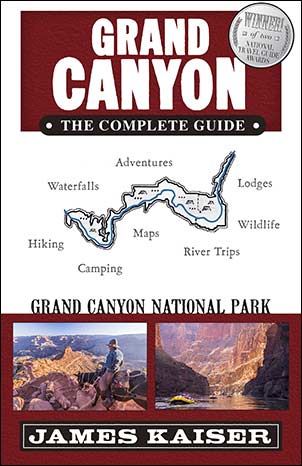 My award-winning, full-color Grand Canyon guidebook is filled with insider tips. Save time & money. Plan the ultimate Grand Canyon adventure!