January is a great time to visit Costa Rica. Because it's the dry season, you'll enjoy sunny days and little rain throughout much of the country. And after the first week of January — one of the most popular times to visit Costa Rica thanks to New Years — prices drop from "peak season" to "high season."
Costa Rica Weather in January
January is the second month of the dry season in Costa Rica. Even in La Niña years, when the rainy season extends longer than average, January is sunny and dry along the entire Pacific coast. This makes it one of the best months to visit Costa Rica.
Visitors can lounge on the beach all day in the North Pacific (Tamarindo, Nosara, Santa Teresa) and Central Pacific (Manuel Antonio, Uvita). Even the lush south Pacific (Osa Peninsula, Corcovado National Park, Drake Bay), which is famously rainy, enjoys lots of sunshine in January.
The only exception to sunny days in January is the Caribbean coast. Along the northern Caribbean coast, home to Tortuguero National Park, January is one of the rainiest months of the year. But along the southern Caribbean coast, home to beautiful beaches in Puerto Viejo and Cahuita, it's much less rainy.
Note: Because January is part of the dry season, it's considered "summer" in Costa Rica. As a result, January is summer vacation for Costa Rican schoolchildren. Expect bigger crowds at popular beaches, particularly along the northern and central Pacific coasts, which are popular with Costa Rican families.
See Also
Costa Rica in December
Costa Rica in February
January Rainfall in Costa Rica
Rainfall varies dramatically throughout Costa Rica in January. The rainfall map below shows which regions experience the most rain.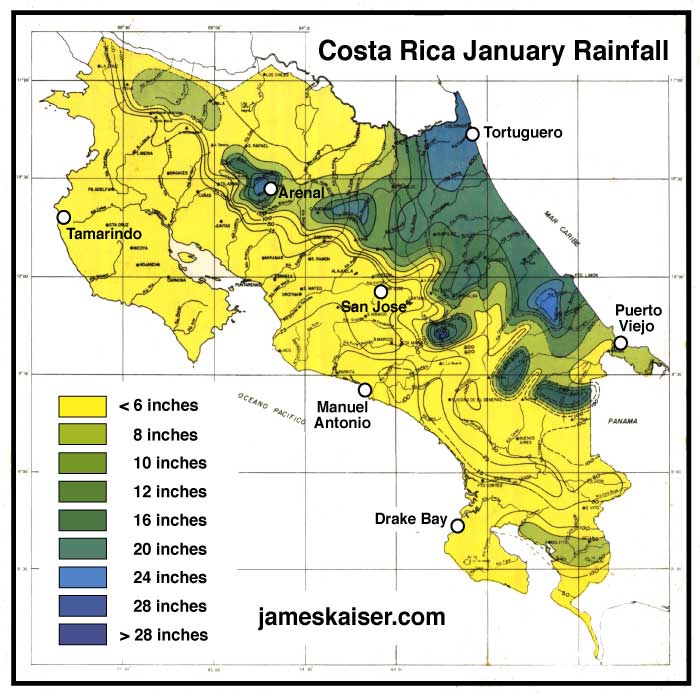 Learn more about Costa Rica's Rainy Season.
January Temperatures in Costa Rica
Pacific Coast: 69˙- 91˙ F (21˙- 33˙ C)
San José: 59˙- 73˙ F (15˙- 23˙ C)
Caribbean Coast: 68˙- 88˙ F (20˙- 31˙ C)
Sunrise and Sunset in January
Sunrise: 5:55am – 6:00am
Sunset: 5:30pm – 5:45pm
Papagayo Winds
In the northwest Pacific (Tamarindo, Playa Flamingo, Playa de Coco) January also brings the Papagayo winds. These strong winds, which reach speeds of 50mph with gusts topping 100 mph (a speed normally found only in major hurricanes), blow along Costa Rica's north Pacific coast for days at a time. Although the Papagayo Winds are dangerous for boaters, they delight surfers with powerful offshore winds.
January Holidays & Festivals in Costa Rica
New Years
New Years is largely a family affair in Costa Rica. The stroke of midnight brings fireworks and lots of unusual traditions. See New Years in Costa Rica
Fiesta de los Diablitos
Costa Rica's most famous indigenous ceremony is held in late December / early January. See Fiesta de los Diablitos
Palmares Festival
Palmares is like a rural county fair, but for all of Costa Rica, and with a tropical twist. The two-week celebration, held in mid-January, draws over one million visitors — roughly one-fifth of Costa Rica's total population. The Palmares Festival includes concerts, dancing, games, food, bullfights, and lots of drinking. The small town of Palmares is about a one-hour drive west of San José.
Santa Cruz Festival
Held the second week of January, this festival celebrates the ranching / vaquero ("cowboy") culture of Costa Rica's Guanacaste region. Held in the town of Santa Cruz on the Nicoya Peninsula.
Día de Santo Cristo de Esquipulas
This religious festival includes a traditional ox cart parade in Alajuelita.
Plan the Perfect Trip to Costa Rica
Order Costa Rica: The Complete Guide!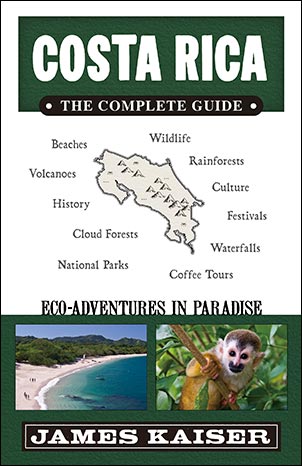 The #1 Costa Rica guidebook.Full-color and filled with insider tips.Plan the ultimate Costa Rica adventure!