Manuel Antonio is one of Costa Rica's most popular national parks — and there's a good reason for that. It offers everything people love about Costa Rica: spectacular beaches, calm turquoise water, lush rainforest and abundant wildlife.
Best of all, the park is incredibly accessible. No backbreaking travel or rugged hiking is required. Instead, Manuel Antonio's beautiful beaches are just a 25-minute stroll from the park entrance, and you'll see lots of incredible wildlife along the way. If you're traveling with kids, Manuel Antonio is a terrific destination.
This online guide explains the basics of visiting Manuel Antonio National Park. I've saved the best travel tips – including expensive scams to avoid – for my guidebook, Costa Rica: The Complete Guide.
Top Manuel Antonio Travel Tips
• Manuel Antonio National Park is closed Mondays. Plan accordingly.
• Arrive when the park opens at 7am. You'll beat the mid-morning crowds and enjoy cooler hiking temperatures.
• Buy tickets ($16) at the Coopealizana booth, 1 block north of the park entrance.
• Only hire certifited guides. As you approach the park, lots of people will offer "professional" guide services. Ask to see their ICT (Institute of Costa Rica Tourism) card. If they don't have a card, they're not certified — and they're probably not a good guide.
• Bring a picnic lunch. When everyone else gets hungry and leaves, you'll enjoy low afternoon crowds. But never leave food unattended — white-faced monkeys will steal it!
Getting to Manuel Antonio
There are several ways to get to Manuel Antonio: flying, driving, public bus, private shuttle, Uber. For a discussion of the various options, including my recommendations, see Best Ways to Get to Manuel Antonio.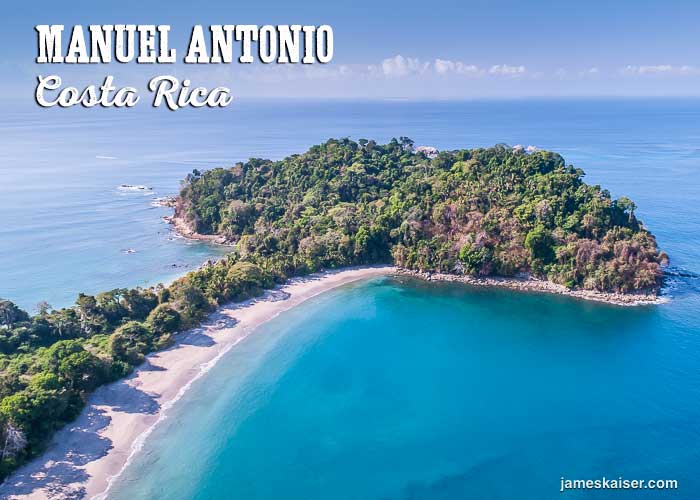 Manuel Antonio National Park
At 1,983 hectares (7.7 square miles), Manuel Antonio is one of the smallest national parks in Costa Rica. But it protects an impressive range of biodiversity. There are over 100 mammal species — including three of Costa Rica's four monkey species — and over 180 bird species, including the fiery-billed aracari and mangrove hummingbird. All this wildlife is drawn to the park's lush rainforest, which you can explore via a series of well-maintained hiking trails.
If there's a downside to Manuel Antonio it's the mid-morning crowds. Arrive early, however, and you'll wonder what all the fuss is about. By 10am crowds tend to concentrate at Playa Manuel Antonio, the park's most famous beach. Plan on exploring other beautiful parts of the park during this time.
Average Temperature: 27˙C (80˙F)
Average Annual Rainfall: 3.875 meters (12.7 feet)
Manuel Antonio Hotels
Learn more about Manuel Antonio's Best Hotels.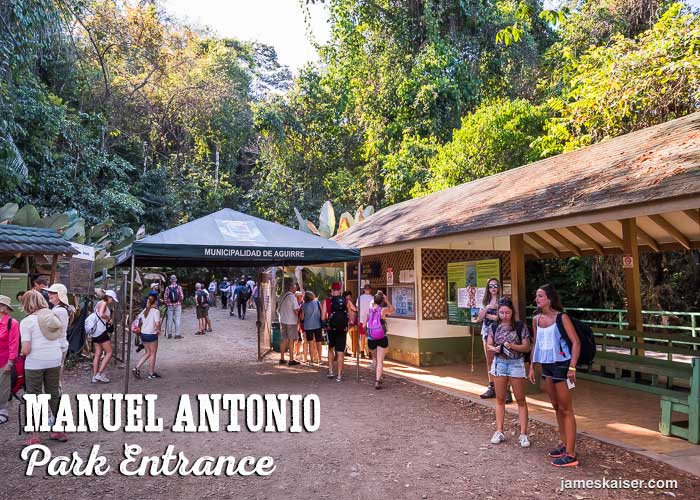 Park Entrance & Tickets
The park's main entrance is set back about a block from the southern end of Playa Espadilla. It's best to take a taxi or the public bus to the park entrance, but there are two reputable parking areas nearby. The park is open 7am–4pm, Tuesday–Sunday.
Buy park tickets ($16 per person) at the Coopealianza building (above) near the park entrance. Look for the blue sign with the pentagram logo.
Important Note: To reduce crowding the park only admits 600 people on weekdays and 800 on weekends. During peak season (Christmas, Easter) arrive as early as possible.
Professional Guides
After buying tickets, you'll probably be swarmed by guides offering their services. Should you hire a guide? If you want to see monkeys, you can easily do that on your own. For harder to spot animals—sloths, birds, snakes, insects—a good guide is invaluable. They carry powerful spotting scopes, and they know amazing facts about local wildlife.
The going rate for 2–3 hours is about $25 per person, but groups can often negotiate lower rates. Before hiring a guide, make sure they have an official ICT card. I list some of Manuel Antonio's best guides in my book Costa Rica: The Complete Guide.
Manuel Antonio Wildlife Watching
Wildlife watching is one of the highlights of any visit to Manuel Antonio. Despite the park's accessibility and popularity, it remains a terrific place to see wildlife in Costa Rica.
Monkeys
Manuel Antonio is home to three of Costa Rica's four monkey species.
The park's most famous (and adorable) monkey is
Central American squirrel monkey
(
Saimiri oerstedii
). Once common in Costa Rica and Panama, squirrel monkeys are now endangered. Much of their former range has been destroyed due to deforestation. Today squirrel monkeys live only in the rainforest around Manuel Antonio and
Corcovado National Park
.
---
Mantled howler monkeys (Alouatta palliata) are another common sight. Their booming roar is one of Costa Rica's most memorable sounds. Lasting 4 – 5 seconds, it is audible from several kilometers away, even through dense jungle. Despite this intimidating roar, howler monkeys spend most of their time napping on tree branches.
---
White-faced capuchin monkeys (Cebus capucinus) are the most commonly spotted monkeys in Manuel Antonio National Park. That's because they have no fear of humans, and they delight in stealing visitors' food. Watch out! White-faced monkeys are the smartest monkeys in Costa Rica. They've even learned how to open backpacks.
---
The only Costa Rican monkey species not found in Manuel Antonio is the Spider monkey (Ateles geoffroyi).
Sloths
Both two-toed sloths (Choloepus hoffmanni) and three-toed sloths(Bradypus variegatus) dangle from the trees in Manuel Antonio National Park. Famous for their slow motion lifestyles, sloths are called osos perezosos ("lazy bears") in Spanish.
To conserve energy, sloths have the lowest body temperature of any mammal. They are vegetarians that digest leaves, branches and twigs through a process of bacterial fermentation. Their multi-chamber stomachs can take up to a month to digest low-nutrient plant matter.
Birds
There are over 180 bird species in Manuel Antonio National Park, including:
• Chestnut-mandibled toucan (Ramphastos ambiguus)
• Brown pelican (Pelecanus occidentalis)
• Mangrove hummingbird (Amazilia boucardi)
• Fiery-billed aracari (Pteroglossus frantzii)
• Magnificent frigatebird (Fregata magnificens)
• Red-legged honeycreeper (Cyanerpes cyaneus)
• White-necked puffbird (Notharchus hyperrhynchus)
• Passerini's tanager (Ramphocelus passerinii)
• Black-hooded antshrike (Thamnophilus bridgesi)
Is Manuel Antonio too crowded?
In my opinion, Manuel Antonio is not too crowded. But I'll let you be the judge of that.
Below are two photos, taken on a Sunday in March. A peak day during peak season. The first photo is Playa Manuel Antonio, the park's most popular beach, at 9:00am. The second photo is Playa Manuel Antonio at 10:00am, when the crowds are near their peak.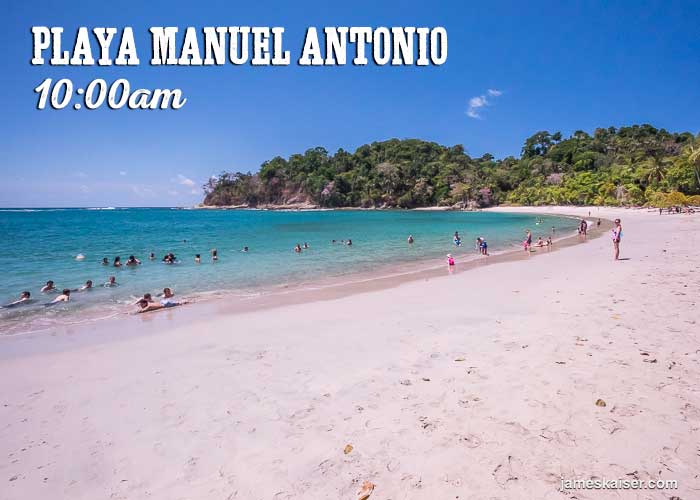 If you think Playa Manuel Antonio is too crowded at 10am, there are several great uncrowded beaches in other parts of the park.
Manuel Antonio Beaches
For many visitors, Manuel Antonio's stunning beaches are the park's main draw. After passing through the entrance, follow the wide path 2.2 km (1.4 miles) to Playa Manuel Antonio, the loveliest beach in the park. This gentle crescent of sand wraps 400 meters (1,312 feet) around a calm bay surrounded by lush vegetation. A series of offshore rocks shelters the beach from powerful waves, making this a great place for swimming and snorkeling.
If Playa Manuel Antonio is too crowded, three are two other beautiful beaches in the park that are far less crowded…
Continued in Costa Rica: The Complete Guide
Manuel Antonio Photos
Playa Manuel Antonio, located just east of Playa Espedilla Sur, is one of the most beautiful beaches in Costa Rica.
Sheltered by Punta Catedral, Playa Manuel Antonio is famous for gentle waves, making it one of the best beaches for families in Costa Rica.
Uncrowded beaches are easy to find in the eastern sections of Manuel Antonio National Park.
Hiking trails lead to beautiful viewpoints, like this mirador overlooking Puerto Escondido.
Manuel Antonio at sunset.
Discover the best tours and adventures in Manuel Antonio!
Plan the Perfect Trip to Costa Rica
Order Costa Rica: The Complete Guide!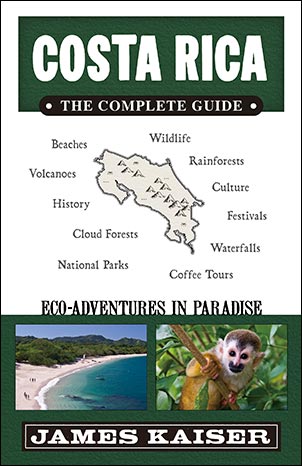 The #1 Costa Rica guidebook.Full-color and filled with insider tips.Plan the ultimate Costa Rica adventure!