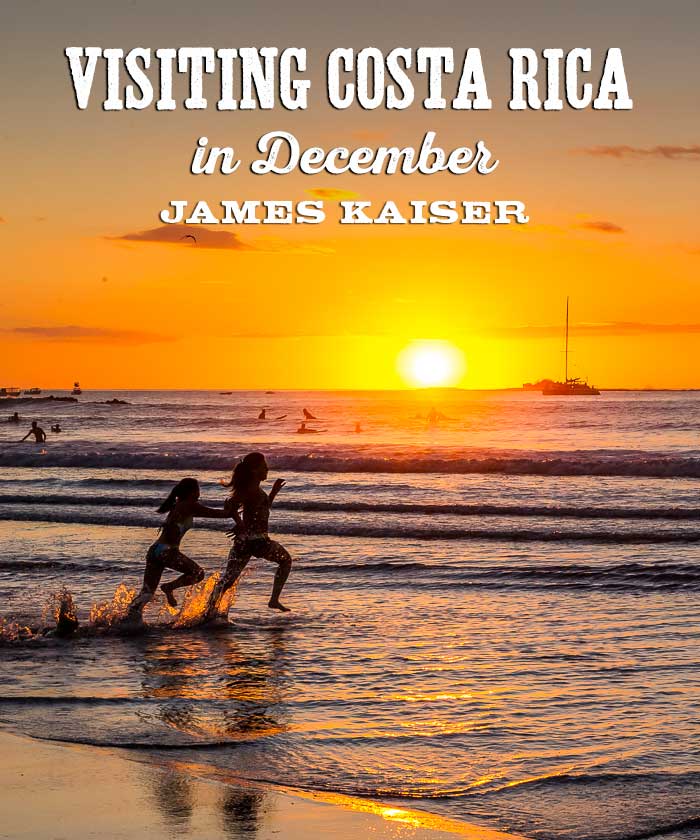 Costa Rica in December has great weather. Because it's the end of the rainy season and the start of the dry season, the entire country is lush and green. But there's a big difference between traveling to Costa Rica in early December and traveling in late December.
Costa Rica Weather in early December
Visit Costa Rica in early December and the rainy season still lingers in the south Pacific (Osa Peninsula, Corcovado, Drake Bay). By this point, however, the dry season has arrived in the Central Pacific (Manuel Antonio, Uvita) and North Pacific (Nicoya Peninsula, Tamarindo, Nosara). Early December is also the start of the dry season in San Jose and the Central Valley.
These weather patterns can shift, however, due to El Niño or La Niña. During El Niño years, Costa Rica experiences higher temperatures, shorter rainy seasons and greater drought. In La Niña years, Costa Rica experiences longer rainy seasons and higher than average rainfall.
The best thing about early December: low prices and greater availability at hotels. By late December the situation changes dramatically.
Costa Rica Weather in late December
In all but the wettest years, late December marks the dry season along the entire Pacific coast. This also coincides with Christmas, school vacation, and millions of North Americans daydreaming of tropical vacations.
Not surprisingly, late December is considered one of the best times to visit Costa Rica. It's peak travel season — both for foreigners and Costa Ricans alike.
In late December Costa Rica hotels are booked months in advance. Even if you can find a room, expect to pay "peak season" prices.
Restaurants and tours are also packed, and renting a car can be tricky. This is a great time to check out some of Costa Rica's uncrowded hidden gems, which I cover in my book Costa Rica: The Complete Guide
Despite the crowds, there's nothing like saying Feliz navidad or Feliz año nuevo on a beautiful beach with palm trees swaying in the tropical breeze.
See Also
Costa Rica in November
Costa Rica in January
December Rainfall in Costa Rica
The rainfall map below shows which Costa Rica regions experience the most rain. Yellow is 6 inches or less. Green is 8 inches or more. Blue is 20 inches or more.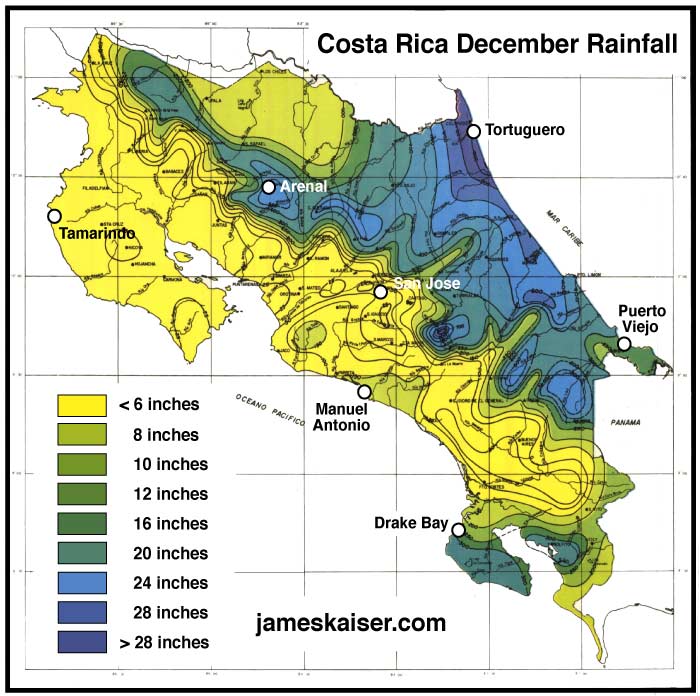 Learn more about Costa Rica's Rainy Season.
December Temperatures in Costa Rica
Pacific Coast: 69˙ – 89˙ F (21˙ – 32˙ C)
San José: 59˙ – 73˙ F (15˙ – 23˙ C)
Caribbean Coast: 69˙ – 88˙ F (21˙ – 31˙ C)
Sunrise & Sunset in December
Sunrise – 5:45am – 5:55am
Sunset – 5:15pm – 5:30pm
The Papagayo Winds
December marks the start of a weather phenomenon called the Papagayo Winds. These strong winds, which reach speeds of 50 mph with gusts topping 100 mph (a speed normally found only in major hurricanes), blow along Costa Rica's north Pacific coast for days at a time. Although the Papagayo Winds are dangerous for boaters, they delight surfers with powerful offshore winds.
December Holidays and Festivals in Costa Rica
Christmas
Costa Rica is very Catholic, and Christmas is one of the most important holidays of the year. See Christmas in Costa Rica
New Years
New Years is largely a family affair in Costa Rica. The stroke of midnight brings fireworks and lots of unusual traditions. See New Years in Costa Rica
Fiesta de los Diablitos
Costa Rica's most famous indigenous ceremony is held in late December / early January. See Fiesta de los Diablitos
Plan the Perfect Trip to Costa Rica
Order Costa Rica: The Complete Guide!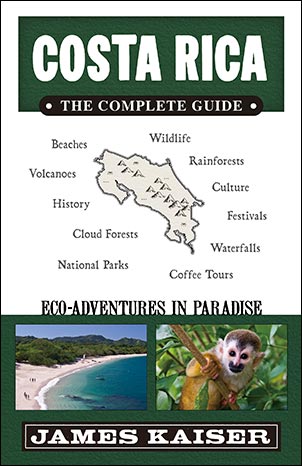 The #1 Costa Rica guidebook.Full-color and filled with insider tips.Plan the ultimate Costa Rica adventure!