Costa Rica weather consists of two seasons: dry and rainy. The dry season lasts from December to April, and the rainy season lasts from May to November.
Dry season is called verano ("summer") and rainy season is called invierno ("winter"). This is often confusing to visitors from other countries, where "summer" and "winter" months are reversed.
Within Costa Rica, however, there's significant variation in weather. Along the north Pacific coast — the driest part of Costa Rica — the dry season lasts six months (November to May), and average annual rainfall is 1.7 meters (5.6 feet).
In the South Pacific – one of the rainiest places in Costa Rica – the dry season lasts just three months (January to March), and average annual rainfall is 5 meters (16.5 feet). The Caribbean coast, meanwhile, has no clearly defined dry season, and average annual rainfall is 3.5 meters (11.5 feet).
See also Best Times to Visit Costa Rica
Costa Rica Weather & Seasons
Several factors influence Costa Rica weather patterns, including seasonal temperatures and fluctuating trade winds.
During much of the dry season, trade winds (called alisios) arrive from the northeast. Alisios carry moist air from the Caribbean, which brings regular rain to Costa Rica's east coast.
As moist air blows over the tall mountains that run through the center of Costa Rica, it cools and condenses. Heavy rain falls on the Caribbean slope, and relatively dry air flows down the Pacific slope.
This effect, common in mountains throughout the world, is called a "rain shadow." As dry air blows across Costa Rica's Pacific coast, it blocks moist air that would otherwise arrive from the Pacific. One major exception is the South Pacific, where the Talamanca Mountains create a wind vortex that scoops in moist air from the Pacific, creating more rain.
During Costa Rica's rainy season, the northeast trade winds diminish and moist air arrives from the Pacific, bringing rain to much of the country.
In the depths of the rainy season — September and October — the rain shadow effect is reversed. In those months the entire Pacific coast is rainy, while the Caribbean coast is sunny and dry.
Costa Rica Weather by Month
For detailed weather descriptions by month, click on the following links:
Temperatures in Costa Rica
Because Costa Rica is located just 10 degrees north of the equator, temperatures are relatively constant throughout the year. In most places temperatures change more throughout the day than throughout the year.
Within Costa Rica, however, temperatures vary significantly with elevation. Along the coast temperatures average between 25–34˚C (77–93˚F). At mid-level elevations temperatures average between 17–26˚C (63–79˚F). And at the highest elevations temperatures average between 5–10˚C (41-50˚F). Chirripo, Costa Rica's highest peak at 3,819 meters (12,526 feet), experiences freezing temperatures as well as the occasional light snowfall.
Map of Average Temperatures in Costa Rica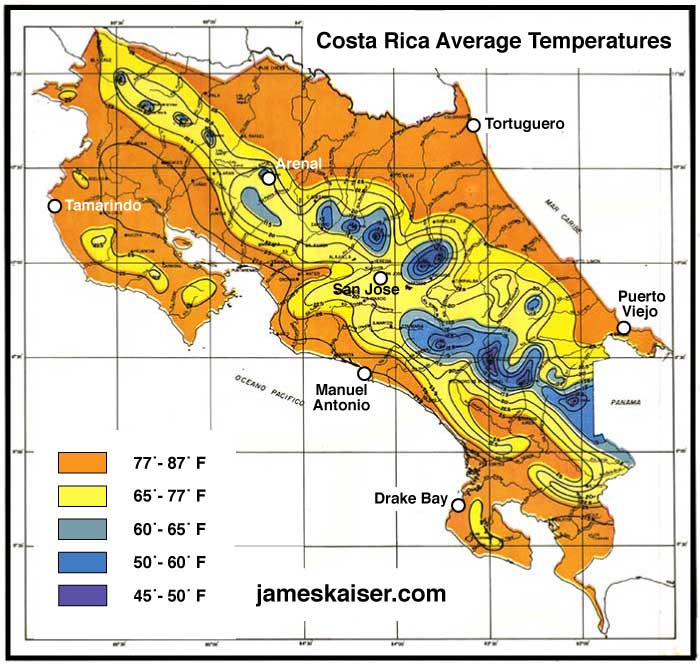 Map of Average Annual Rainfall in Costa Rica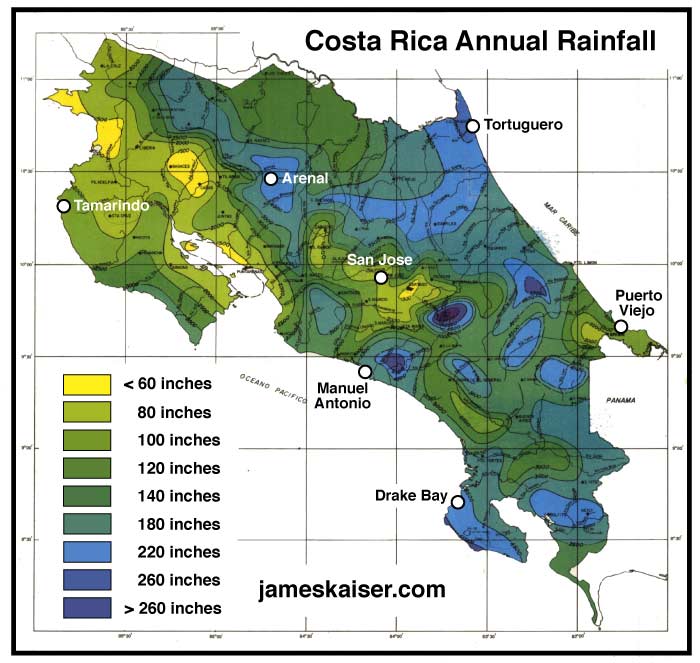 Learn more about Costa Rica Weather!
496 pages, full-color
Order Costa Rica: The Complete Guide
"This is my favorite guide book ever ... We discovered so many things we'd have otherwise missed!" —Lindzee McCain, May 2017
View on Amazon