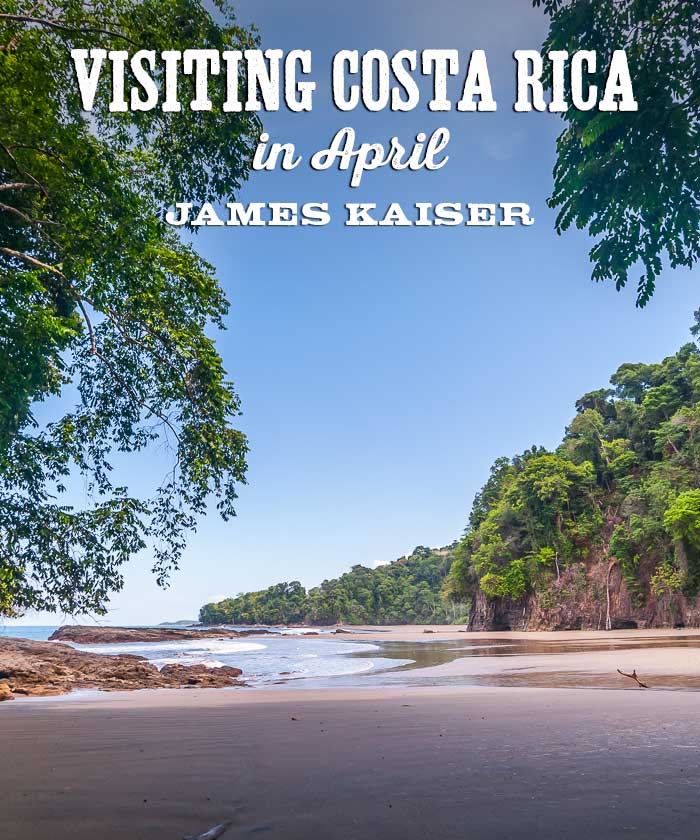 April is one of the best months to visit Costa Rica. It's last month of the dry season, so there's still plenty of sunshine. When Easter and Semana Santa ("Holy Week") fall in April, expect big crowds during one of Costa Rica's most important holidays. By late April, however, the crowds start to let up.
Costa Rica Weather in April
April is the end of the dry season in Costa Rica. It's one of the hottest months of the year, with plenty of sun in the Central Mountains and along most of the Pacific Coast. The only exception is the southern Pacific Coast (Drake Bay, Corcovado), where the rainy season arrives early. In this lush region April means sunshine in the morning with occasional light rain in the afternoon. Towards the end of April the Central Pacific (Manuel Antonio, Dominical, Uvita) also begins to experience more rain.
Along the northern Pacific coast (Nicoya Peninsula, Tamarindo, Nosara) conditions remains very dry in April. Be prepared for dust in the air on busy dirt roads. Because this region is classified as tropical dry forest, many trees have dropped their leaves entirely. If you're looking for lush rainforest, head further south. That said, April also means beautiful flowering trees throughout much of the Nicoya Peninsula.
Over on the Caribbean coast (Tortuguero, Cahuita, Puerto Viejo), April means more rain than previous months. April is less rainy than the rainiest months, however, so it's still a good time to visit the Caribbean coast.
See Also
Costa Rica in March
Costa Rica in May
Hotel Reservations in April
If Easter and Semana Santa (Holy Week) falls in early April, book your hotel reservations as far in advance as possible. Easter is tied with Christmas as the busiest travel week of the year. In addition to gringos fleeing winter, there are lots of vacationing Costa Rican families. This creates enormous competition for good hotels, with peak season prices reflecting that.
April Rainfall in Costa Rica
The rainfall map below shows which Costa Rica regions experience the most rain.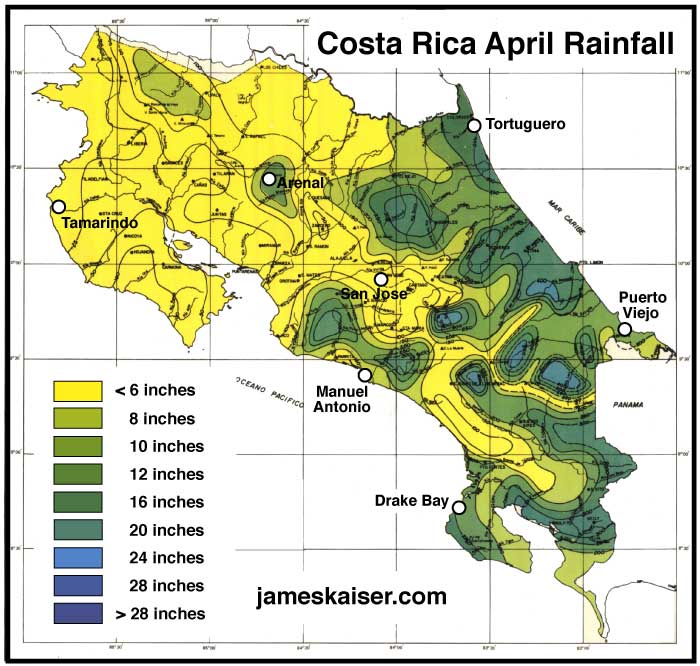 Learn more about Costa Rica's Rainy Season.
April Temperatures in Costa Rica
Pacific coast: 71˙ – 96˙ F (22˙ – 37˙ C)
San José: 60˙ – 78˙ F (16 – 26˙ C)
Caribbean coast: 71˙ – 87˙ F (22˙ – 31˙ C)
Sunrise and Sunset in April
Sunrise: 5:35am – 5:25am
Sunset: 5:45pm – 5:50pm
Costa Rica Holidays & Festivals in April
Easter & Semana Santa ("Holy Week")
In Costa Rica, as in much of Latin America, Easter and Semana Santa contend with Christmas as the most popular holidays of the year. See Easter in Costa Rica
Día de Juan Santamaría: April 11
Juan Santa María was a young drummer boy who played a pivotal role in Costa Rican history. Día de Juan Santamaría (Juan Santamaría Day) is one of Costa Rica's most patriotic holidays, with festivals and parades in cities and towns throughout the country. See Juan Santamaría Day.
Plan the Perfect Trip to Costa Rica
Order Costa Rica: The Complete Guide!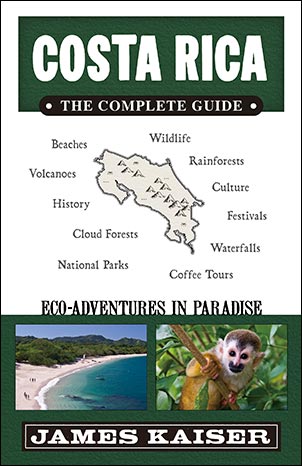 The #1 Costa Rica guidebook.Full-color and filled with insider tips.Plan the ultimate Costa Rica adventure!