March is one of the best months to visit Costa Rica. It's the driest month of the dry season, with plenty of sunshine throughout the country. Early March is less crowded than late March, when Spring Breakers descend from the north. And when Easter (Semana Santa) falls in late March, Costa Rica is even more crowded.
Costa Rica Weather in March
March is the heart of the dry season, with nearly all regions — including the rainy Caribbean — experiencing lower than average rainfall. Only the tallest mountains receive more than 10 inches of rain.
March is particularly hot and dry in northwest Costa Rica (Tamarindo, Nosara, Playa del Coco) — the driest region in the country. If you're visiting a beautiful beach, a dry climate is great. What's less fun is driving on dirt roads, which kick up a lot of dust. Many motorcycle and ATV riders wear bandanas and ski goggles to protect their faces. Some towns even spray sugar water on the roads to create hardpack. (It sounds strange, I know, but in the US and Canada we season our roads with plenty of salt.)
Northwest Costa Rica (aka Guanacaste) is home to tropical dry forest, and by March many trees have dropped their leaves. Leafless trees are not what many people expect when they visit a tropical country like Costa Rica. On the plus side, many dry forest trees are covered in beautiful flowers in March. If you're looking for lush green rainforest, head further south on the Pacific coast (Manuel Antonio, Uvita, Corcovado) or visit the Caribbean coast.
See Also
Costa Rica in February
Costa Rica in April
March Crowds in Costa Rica
Late March experiences a visitation bump thanks to Spring Break in the U.S. Beaches famous for social life (Tamarindo, Manuel Antonio, Jacó) draw the college crowd, while ecotourism destinations (Monteverde, Tortuguero, Drake Bay) swell with vacationing families.
Easter, known locally as Semana Santa ("Holy Week"), is celebrated the first Sunday after the first full moon of spring. When Easter falls in late March, things can get very crowded. Semana Santa is one of the most popular holidays in Costa Rica (see below), when thousands of families head to the beach. The best hotels are often booked months in advance, and many charge "peak season" prices. The celebration begins the week before Easter. Thursday through Sunday are the busiest days.
March Weather in Costa Rica
The rainfall map below shows which Costa Rica regions experience the most rain.
Learn more about Costa Rica's Rainy Season.
March Temperatures in Costa Rica
Pacific coast: 86 – 96 F (30 – 37 C)
San José: 75 – 85 F (24 – 29 C)
Caribbean coast: 80 – 88 F (27 – 31 C)
Sunrise and Sunset in March
Sunrise: 5:40am – 5:50am
Sunset: 5:45pm – 5:50pm
Costa Rica Holidays & Festivals in March
Easter (Semana Santa)
In Latin America Easter (Semana Santa) contends with Christmas as the most popular holiday of the year. See Easter in Costa Rica
Día de los Boyeros
Boyeros ("Oxcart drivers") are one of Costa Rica's most iconic cultural figures. For decades they guided colorfully painted ox carts filled with coffee to coastal ports. Although trucks transport coffee today, Costa Rica still celebrates its Boyero heritage with oxcart parades. Costa Rica's most famous Boyero parade is held the second Sunday in March in the mountain town of San Antonio de Escazú.
Día de San José
March 19 is the day of Saint John, honoring the patron saint of Costa Rica's capital and largest city. Special masses are held throughout the country.
Plan the Perfect Trip to Costa Rica
Order Costa Rica: The Complete Guide!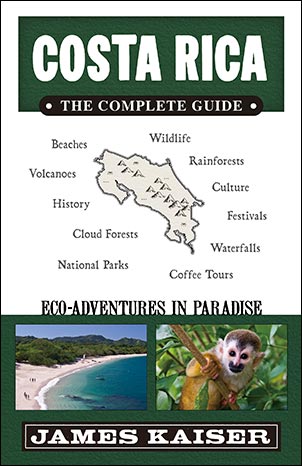 The #1 Costa Rica guidebook.Full-color and filled with insider tips.Plan the ultimate Costa Rica adventure!