What better place to celebrate Christmas than Costa Rica?
Sure, there's no snow, reindeer, or chimneys for jolly fat gringos to slide down. But you can experience a white sand beach Christmas. And experiencing a holiday like Christmas in a foreign country is a terrific cultural experience.
Christmas in Costa Rica
The party kicks off in mid-December when the Festival de la Luz ("Festival of Lights") rolls through downtown San José. This vibrant electro-parade features floats covered in multi-colored lights and lots of loud Latin music.
Mid-December also marks the end of the Costa Rican school year. Years ago, Costa Rica school vacation was timed to coincide with the coffee harvest so kids could help in the field. Imagine being a kid and having Christmas and school vacation happen at the same time. No wonder Costa Rica is one of the happiest countries in the world.
The final weeks before Christmas are all about shopping for gifts. As in North America, shops and malls are packed in December. All Costa Rican workers receive an annual bonus in December, which helps pay for Christmas gifts.
Christmas Eve in Costa Rica
Costa Ricans celebrate Christmas Eve (Noche Buena) by gathering for a family feast that includes roast pork leg, tamales and eggnog (rompope) spiked with rum.
More important than a Christmas tree is an elaborate Nativity Scene (portal). Not a quaint tabletop affair, some portals can take up half a room.
After dinner, the family puts Niño Dios (baby Jesus) to bed in the manger and then heads to Midnight Mass. The ceremony, locally called Misa de Gallo ("Rooster Mass"), generally lasts until 2am.
Christmas Day in Costa Rica
Christmas Day is spent relaxing with family. Children play with the presents they received from Niño Díos ("Baby Jesus"). In Costa Rica children traditionally write letters to Jesus, not Santa, to ask for presents. But Santa, known locally as Colacho, is becoming more popular.
Post-Christmas Celebrations
December 26 is the annual tope ("horse parade") in downtown San Jose. Over 3,000 horses parade down the streets, and the event is carried live on Costa Rica TV.
The days after Christmas are also filled with corridas de toros ("bullfights") in Zapote, just east of downtown San José. Unlike bloody Spanish bullfights, Costa Rica's version has a unique pacifist twist: instead of people chasing the bull, the bull chases the people.
Who needs reindeer when you've got horses and bulls?
Most importantly, the week after Christmas is a time for relaxing with family and friends. In Costa Rica, that often means heading to a beautiful beach.
Feliz navidad, mae!
---
Plan the Perfect Trip to Costa Rica
Order Costa Rica: The Complete Guide!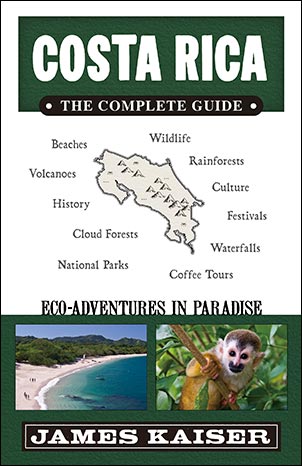 The #1 Costa Rica guidebook.Full-color and filled with insider tips.Plan the ultimate Costa Rica adventure!
---
See Also