Costa Rica's rainy season (aka "Green Season") lasts from May to November. But these "wet" months are actually a great time to visit.
Because the rainy season starts soft and gradually builds over time, the early months are relatively dry. You'll enjoy plenty of sunshine (especially in the morning) with minimal crowds and low season prices.
Costa Rica is home to dozens of microclimates, which offer pockets of sunshine even during the rainiest months. In fact, the two rainiest months throughout most of Costa Rica – September and October – are actually the two sunniest months on the Caribbean coast.
This page explains why some regions in Costa Rica are sunny when others are rainy. It also reveals the best places to visit – even during the depths of the rainy season.
Costa Rica's Rainy Season
Countries in northern latitudes often enjoy four seasons: spring, summer, fall and winter. In tropical Costa Rica, however, there are just two seasons: summer ("verano") and winter ("invierno"). Summer is the dry season (December – April) and winter is the rainy season (May – November). This is often confusing to visitors because it's the opposite of summer and winter in other countries.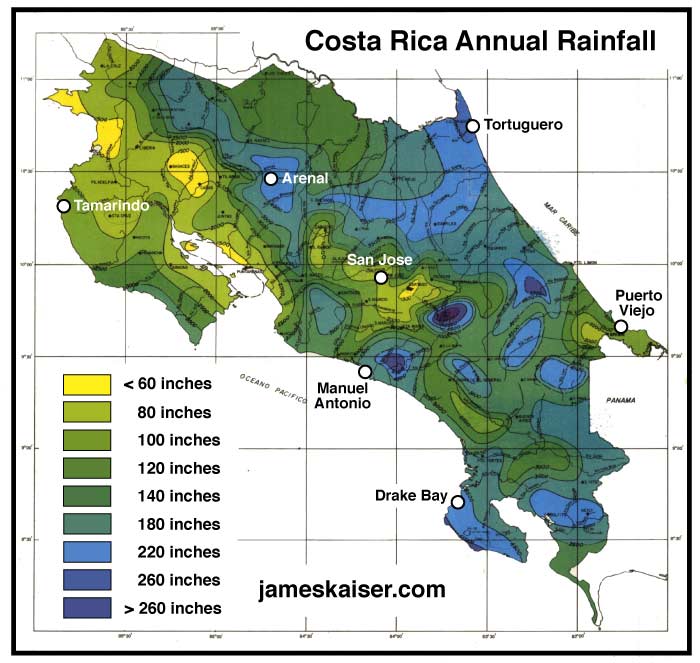 The rainfall map above shows which regions in Costa Rica receive the most rain. This map is misleading, however, because it shows annual averages. In Costa Rica, there is tremendous rainfall variation from month to month. Take a look at the two maps below, which show Costa Rica rainfall in January and October.
In Costa Rica, knowing when to go is just as important as knowing where to go.
See Best Times to Visit Costa Rica for a detailed summary of the best months to visit.
What Causes the Rainy Season in Costa Rica?
Costa Rica's rainy season is caused by several factors. These include seasonal temperature variations and changes in wind direction. In general, each of these factors follows fairly predictable patterns.
Between May and September, earth's northern hemisphere receives more direct sunlight than the southern hemisphere due to the tilt of earth's axis. In the northern tropics – the area between the equator and the Tropic of Cancer – this creates intense warming of the land and ocean. As hot humid air rises up, it cools and condenses. Eventually the moisture precipitates out as rain. This effect is the main driver of Costa Rica's rainy season.
---
Plan the Perfect Trip to Costa Rica
Order Costa Rica: The Complete Guide!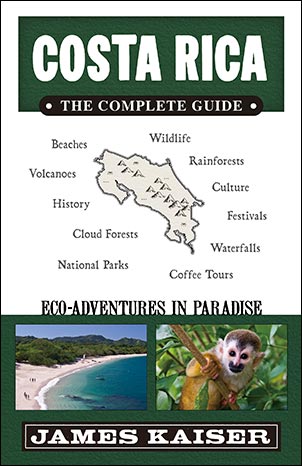 "This is my favorite guide book ever … We discovered so many things we'd have otherwise missed!"
—Lindzee McCain
"One of the best travel books I've ever bought."
—Camille T
---
Trade Winds & Rain
Rainfall is also influenced by wind, which blows northeast across Costa Rica for much of the year. As warm, moist Caribbean air flows up and over the tall mountains that run through the center of Costa Rica, it cools and condenses. Heavy rain falls on the eastern slope of the mountains, while relatively dry air flows down to the Pacific coast. This "rain shadow" creates dry conditions throughout much of Costa Rica. It also blocks moist air that would otherwise drift in from the Pacific.
During the rainy season, however, this situation is reversed. As northeast trade winds weaken and southern trade winds strengthen, moist Pacific air flows west. The rain shadow is reversed. As a result, the Pacific coast is drenched in rain, while the Caribbean coast is sunny and dry.
Costa Rican Words for Rain
Costa Rica can be very rainy, so it's no surprise that Costa Ricans have many different words for lluvia ("rain"). My favorites include:
• Aguacero – a tropical downpour that features intense bursts of heavy rain.
• Temporales – prolonged periods of rain during rainy season.
• Pelo de Gato ("Cat's Hair") – a fine misty rain often encountered in the mountains.
What are the Best Places to Visit During Costa Rica's Rainy Season?
That depends on when you visit. There's tremendous variation from month to month. I like to break Costa Rica's rainy season into three parts: Early, Mid, and Late.
---
Early Rainy Season – May, June
Because Costa Rica's rainy season starts soft, early May is often indistinguishable from the dry season. By late May and June light afternoon showers are common, but mornings are generally sunny. This is a good time to visit northwest Costa Rica (Tamarindo, Nosara, Santa Teresa), the Central Pacific (Manuel Antonio, Uvita), and the mountains (Monteverde, Arenal). In the South Pacific (Drake Bay, Corcovado), heavy afternoon rains are common starting in early May.
---
Mid Rainy Season – July, August
The rains increase in July and August, making this a good time to visit relatively dry northwest coast. In the Central Pacific, South Pacific and mountains, mornings are generally sunny, but heavy rains are common in the afternoon.
There is, however, an important exception to this pattern. For several weeks in mid- to late-July, Costa Rica enjoys the effects of a dry weather phenomenon called veranillo ("little summer"). This "mini dry season" shifts from year to year. Some years veranillo happens in early July. Other years it stretches into early August.
---
Late Rainy Season – September, October, November
September and October are the depths of the rainy season. During this time, it's best to avoid the Pacific coast entirely (unless you're a surfer in search of big swells). In the South Pacific, September and October are so rainy that many hotels simply shut down. But these are the two best months to visit the beautiful Caribbean coast, which is relatively sunny and dry.
The rainy season can sometimes last into mid-November. By late-November, however, the worst is over in the mountains and along much of the Pacific coast. The dry season often arrives by late November in the North Pacific. In the South Pacific, however, the rainy season can last until mid-December.
Plan the Perfect Trip to Costa Rica
Order Costa Rica: The Complete Guide!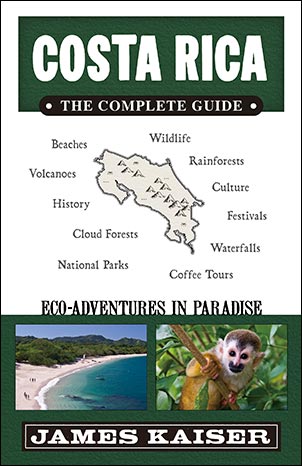 "This is my favorite guide book ever … We discovered so many things we'd have otherwise missed!"
—Lindzee McCain
"One of the best travel books I've ever bought."
—Camille T