Costa Rica's Caribbean coast has some of the country's best beaches.
The southern Caribbean — Cahuita to Manzanillo — boasts beautiful white sand beaches, turquoise water and pristine coral reefs. When seas are calm, it's one of the best places to snorkel and scuba dive in Costa Rica.
The northern Caribbean coast – Tortuguero, Parismina — has mostly dark sand beaches. Although not great for swimming, these beaches are famous for wildlife and ecotourism.
See also: Costa Rica's Best Pacific Beaches
Costa Rica's Best Caribbean Beaches
Cahuita: Playa Blanca & Playa Vargas
Cahuita National Park is home to two of Costa Rica's best Caribbean beaches. The park protects a lush peninsula surrounded by an extensive coral reef. Spend the morning snorkeling offshore, then spend the afternoon enjoying Playa Blanca (above), which stretches south from Kelly Creek Entrance Station to the tip of the peninsula. Playa Vargas, located on the other side of the peninsula, is equally beautiful with fewer crowds.
Lying between the two beaches is a large swath of pristine rainforest. As you stroll alongside the jungle look for monkeys, sloths and other amazing animals. It's often worth hiring a good naturalist guide to point out hard-to-spot animals. Then, when the sun goes down, head to the nearby village of Cahuita to listen to live Calypso music.
---
Puerto Viejo
Just down the coast from Cahuita is Puerto Viejo, a bustling town popular with backpackers who come in search of lazy days and a Rasta-infused nightlife. Beautiful Caribbean beaches surround downtown Puerto Viejo. Colorful corals lie just offshore. Lie on the warm sand and gaze across the turquoise water. As waves lap the shore, reggae music drifts through the air.
Feeling hungry? Wander into town to sample local food like Beans and Rice (cooked in fresh coconut milk), Patty (a spicy meat pastry) or Rondón (a savory seafood stew).
---
Playa Cocles
Located just east of Puerto Viejo, Playa Cocles is a stunning crescent of light sand that attracts a steady stream of backpackers, surfers and party people recovering from last night. Fortunately, this big Caribbean beach has plenty of space to spread out. Lying just offshore, towards the western end of Playa Cocles, is a small island called Pirripli Key.
According to local legend, Pirripli Key is home to buried pirate treasure. After the pirates buried the treasure centuries ago, the pirate captain asked for a volunteer to guard it until he returned. The unfortunate sailor who stepped forward was killed, and his soul now guards the island.
---
Playa Chiquita
Playa Chiquita is one of the region's less famous beaches — which is exactly why some people love it. If you're looking to avoid the crowds, this is the beach to visit. As its name implies, Playa Chiquita is relatively small. The beach is broken up by a series of exposed coral reefs, which uplifted during a 7.6-magnitude earthquake in 1991. A few corals form protected tide pools that are perfect for lounging.
Playa Chiquita is located about three miles south of Puerto Viejo. The entrance is easy to miss. For detailed directions to Playa Chiquita, see Costa Rica: The Complete Guide
---
Punta Uva
South of Puerto Viejo a narrow road twists through the jungle on its way to the Gandoca-Manzanillo Wildlife Refuge. Along the way you'll pass a number of great restaurants and eco-lodges. The real highlight, however, lies at the end of the unmarked dirt roads that head to Punta Uva. Home to two spectacular beaches separated by a lush promontory, Punta Uva is one of the most enchanting destinations on Costa Rica's Caribbean coast. Golden sand, pristine water, coral reefs, palm trees, monkeys — what's not to love?
As you wander around Punta Uva, keep your eyes out for great green macaws in the trees. These magnificent parrots, native to the region but highly endangered, were recently reintroduced as part of a captive breeding program.
---
Manzanillo
The tiny village of Manzanillo is located eight miles southeast of Puerto Viejo — literally at the end of the road. The large beautiful beach and laid-back vibe are the main draw for most visitors. The village, which is home to about 300 people, feels delightfully trapped in time. The beach in front is a broad crescent of golden sand that stretches over two miles. Lying just offshore are beautiful coral reefs. If the water is calm, you can rent snorkel gear and explore the reefs up close.
---
Discover the best of Costa Rica's Caribbean Coast
Plan the Perfect Trip to Costa Rica
Order Costa Rica: The Complete Guide!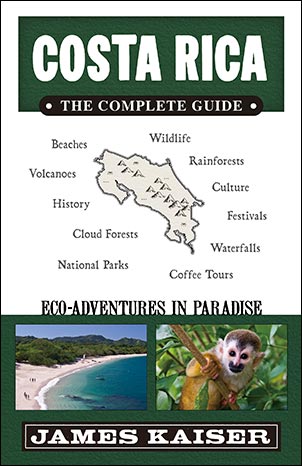 The #1 Costa Rica guidebook.Full-color and filled with insider tips.Plan the ultimate Costa Rica adventure!