Puerto Viejo has incredible beaches, delicious food, and a dread-locked, tropical Rasta vibe. For those looking to get away from corporate sorts and package tours, this Caribbean village is a countercultural breath of fresh air. A place where bicycles outnumber cars, hammocks are more important than air-conditioning, and yoga is a way of life.
Beaches and social life are the town's main draw. But there are plenty of additional activities. Surfing, snorkeling, boat trips, wildlife sanctuaries, chocolate tours, day trips to indigenous communities. You could easily spend a month here and not run out of things to do.
Of course, much depends on the weather, which is always prone to rain. But if you visit during a stretch of beautiful sunny days, you might quit your job and join Puerto Viejo's tight-knit community of expats, many of whom came here on vacation and never left.
Getting to Puerto Viejo
There are several ways to get to Puerto Viejo, including driving, public bus, private shuttle and Uber. For a discussion of the various options, including my recommendations, see Best Ways to Get to Puerto Viejo.
Downtown Puerto Viejo
The layout of Puerto Viejo is simple — virtually everything lies along a 13-km (8-mile) road. Although people often refer to the entire stretch of road as Puerto Viejo, the name technically refers only to the grid of streets set back from a sandy, palm-fringed point. The main road through town is packed with restaurants, shops and bars. Set back from the hustle and bustle is a quiet residential community.
Beaches Southeast of Puerto Viejo
If you're looking for parties and nightlife, downtown is the place to be. If you're looking for someplace more peaceful, head southeast along the main road. The further you go, the less developed it gets. You'll pass a series of beautiful beaches — Playa Cocles, Playa Chiquita, Punta Uva — before ending up at Manzanillo, a tiny Afro-Caribbean village delightfully trapped in time.
For most of the 20th century, Puerto Viejo was largely disconnected from the outside world. These days, the secret is out. Puerto Viejo is now one of Costa Rica's most popular backpacker destinations. But despite all the changes, the town still remains delightfully low-key, which is why so many visitors keep coming back.
Crime & Safety in Puerto Viejo
These days, nothing bothers Puerto Viejo's residents more than the town's reputation for crime. Although locals admit crime does happen, they insist the reputation is based more on racial stereotypes than actual statistics.
I don't think anyone should stay away from Puerto Viejo because of it's reputation for crime, which is overblown and does have a racial element. But crime is more of a problem here than other Costa Rican beach towns. Never leave valuables unattended, don't wander around lonely streets at night (especially in downtown Puerto Viejo), and don't walk the jungle path between downtown and Playa Cocles, where theft is common. Ask your hotel for other tips.
Follow this advice and you should have a safe and wonderful vacation.
Puerto Viejo Photos
Lanchas ("long boats") are used by local fisherman and tour guides.
White sand beaches are surrounded by coral reefs. When the water is calm, you can snorkel just offshore.
Sandy beaches surround "downtown"
There's no better way to beat the heat than cooling off in the Caribbean.
Salsa Brava – Puerto Viejo's legendary surfing wave.
A local shows off his catch of the day.
Artisanal chocolate producers offer samples of their locally grown treats.
Discover the best of Puerto Viejo
Plan the Perfect Trip to Costa Rica
Order Costa Rica: The Complete Guide!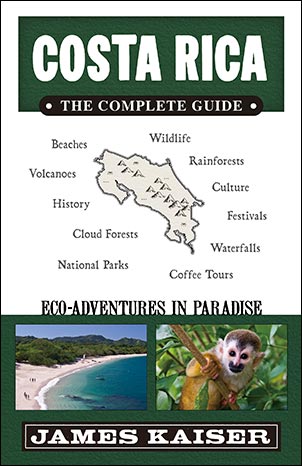 The #1 Costa Rica guidebook.Full-color and filled with insider tips.Plan the ultimate Costa Rica adventure!