Arenal is Costa Rica's most famous volcano. In a country filled with incredible volcanoes, that's saying something.
Few volcanos in the world claim such a perfect conical shape, and few have delighted so many visitors. It started in 1968, when Arenal erupted after lying dormant for nearly 500 years. For the next four decades, the volcano spewed out a steady stream of lava and hot rocks. This attracted a steady stream of tourists who delighted in watching the glowing eruptions (from a safe distance, of course).
Arenal Eruptions & Activity
Then, in 2010, Arenal went quiet. The eruptions stopped, and as of this writing Arenal Volcano is officially considered "inactive." According to scientists, the last time Arenal stayed inactive for this long, it stayed inactive for several hundred years.
Is the party over?
Not necessarily.
The volcano could rumble back to life at any moment. But let me be honest: even when Arenal was active, seeing it glow was a hit or miss proposition. Because clouds cover the volcano for much of the year, simply catching a glimpse of the erupting peak always required a certain amount of luck.
The glowing lava could only be seen at night (assuming it was a clear night) and only on the volcano's northern or western slope (depending on which way the lava was flowing). Unless you were staying at a hotel with clear views of the lava on a cloudless night, chances are you wouldn't catch a decent glimpse of the eruption.
If you did get lucky, however, watching Arenal erupt was one of Costa Rica's most enchanting experiences.
Visiting Arenal Volcano
Arenal Volcano is a fascinating, beautiful place. But if you visit with expectations of dramatic glowing eruptions, you'll likely end up disappointed­.
So why visit Arenal? Because the region around the volcano is filled with family-friendly eco-adventures. The rugged topography serves up some of the best whitewater rafting and canyoning in Costa Rica, plus canopy tours, waterfall hikes and great wildlife watching.
Arenal is also surrounded by a number of beautiful hotsprings, which means you can finish your action-packed day soaking in a naturally heated pool, cocktail in hand.
View The Best Arenal Hot Springs
---
Arenal Volcano National Park
The views of Arenal from the nearby town of La Fortuna are impressive, but if you're interested in the volcano's geology it's worth visiting Arenal Volcano National Park.
Located near the western base of the volcano — about a 25-minute drive from downtown La Fortuna — the park offers dramatic views of Arenal's charred western slope, which has experienced multiple eruptions since 1968.
To get to the park entrance, follow the main road north from La Fortuna. About 5 minutes past Tabacón Spa & Resort, you'll reach a junction marked by a blue and white police station on the right. Head left on the dirt road that heads towards El Castillo. The park entrance is located roughly 2.1 km (1.3 miles) down the dirt road on the left.
Hiking Trails
In addition to dramatic views (on clear days, at least), the park offers 4.8 km (3 miles) of hiking trails.
The most popular trail is the 2 km (1.2 mile) Las Coladas Trail, which heads to the remnants of a 1992 lava flow. Walking on top of the cooled black lava is a truly unique experience. At the end of the trail, an elevated viewpoint offers dramatic views of both the volcano and Lake Arenal.
When you head back, it's worth taking the 1.8-km (1.1-mile) El Ceibo Trail, which passes by two impressive trees: a giant ceibo and a massive strangler fig. The park also offers a covered viewpoint and the 1-km (0.6-mile) Heliconia Trail.
Local, bilingual guides offer guided tours of the park's trails. Although the trails are easy to follow on your own, a guide is worth it if you want to learn about the geologic history of the park.
Sadly, the national park doesn't offer any detailed information about the volcano — no visitor center, no interpretive signs, no brochures, nada. Unless you hire a guide, you won't learn much about the volcano.
Arenal 1968
Another alternative to Arenal National Park is the privately owned Arenal 1968. Located just north of the national park entrance, Arenal 1968 offers over 30 kms (18.6 miles) of hiking/biking trails, including trails that pass over the original 1968 lava flow. There's also a trail that passes by Lake Los Patos, which was created after the 1968 eruption. Guided hikes are available, though they are best reserved in advance.
Arenal Observatory Lodge
Another great place to check out is the Arenal Observatory Lodge. This private lodge—the only hotel located inside the park—was originally built in 1987 as a Smithsonian Institute scientific research station. It has since been converted into an upscale hotel.
Perched safely on a bluff just 2.7 kms (1.7 miles) south of the volcano, it offers stunning views of Arenal. There's a small museum and over 10 km (6.2 miles) of hiking trails, including a trail to a lovely waterfall and a trail to the top of Cerro Chato. Non-guests can enjoy the hotel's museum and trails for $8 per person. The lodge is about a 10-minute drive past the park entrance.
Arenal Volcano Geology
Although the exact details of Arenal's inner workings remain a mystery, the volcano is the result of tectonic plate movement.
As the Cocos Plate (located off the Pacific Coast) collides with the Caribbean Plate (which includes Costa Rica), underground rocks melt and rise into a magma chamber below Arenal. When pressure on the magma becomes too great, the volcano erupts.
Arenal Volcano is roughly 7,000 years old. It has erupted multiple times, and eruptions seem to follow a somewhat predictable cycle. Small eruptions occur every 300–400 years and large eruptions occur every 600–800 years.
No wonder Costa Rica's indigenous Malekus tribe believed the god of fire lived inside the volcano. The Spanish name Arenal ("sand pit") is derived from the sandy deposits left by volcanic debris.
On July 29, 1968, Arenal erupted after lying dormant for roughly 450 years.
At 7:30am an enormous crater (Crater A) blasted open halfway up the volcano's western flank, resulting in a "pyroclastic flow." Giant rocks whizzed through the air at 500 meters (1,640 feet) per second, and a molten ash cloud raced down the slopes at 150 kilometers (93 miles) per hour. The ash cloud, which reached temperatures up to 1,000˚C (1,832˚F), vaporized everything in its path, including trees, houses and people. Rocks ejected from the volcano landed up to 5 kilometers (3.4 miles) away and left impact craters up to 25 meters (82 feet) in diameter.
Over the next three days Arenal continued to erupt. Two additional craters (B and C) blasted open on the volcano's western flank, and vast quantities of ash and rocks rained down over the region. By the time the volcano settled down, Arenal had destroyed…
Continued in Costa Rica: The Complete Guide
Arenal Volcano Photos
Arenal Volcano erupting in 2008. Glowing hot rocks launched out of the cone and tumbled down the charred slopes.
Viewing the western flank of Arenal from the remnants of the 1968 lava flow.
Arenal Volcano viewed from downtown La Fortuna, Costa Rica.
The peak of Arenal Volcano is actually two peaks: an ancient cinder cone (front) that formed prior to 1968, and a newer, taller cinder cone (rear) that formed between 1968 and 2010.
La Fortuna Waterfall – one of the most beautiful waterfalls in Costa Rica – is located southeast of Arenal Volcano.
A gorgeous swimming area located just downstream of La Fortuna Waterfall.
The southern flank of Arenal Volcano, viewed from the Arenal Observatory Lodge.
Exploring the lush rainforest surrounding Arenal Volcano from a suspension bridge at Arenal Hanging Bridges.
Kids explore giant trees in the rainforest near Arenal Volcano.
Over half a dozen natural hot springs are scattered around the base of Arenal Volcano.
Plan the Perfect Trip to Costa Rica
Order Costa Rica: The Complete Guide!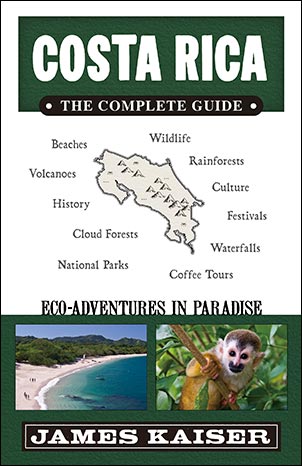 The #1 Costa Rica guidebook.Full-color and filled with insider tips.Plan the ultimate Costa Rica adventure!