The best volcanoes to visit in Costa Rica are:
1. Arenal
2. Poas
3. Irazu
4. Rincon de la Vieja
5. Turrialba
Costa Rica Volcanoes
Arenal is the most famous volcano in Costa Rica. But after decades of steady eruptions, it suddenly went quiet in 2010. Arenal Volcano is now considered dormant.
At Poás and Irazú you can drive to the rim of the volcano and peer into the crater. For many people, staring into the heart of a volcano is a highlight of visiting Costa Rica.
For decades you could also visit the crater of Turrialba Volcano, but access is currently limited due to increased volcanic activity. Some volcanologists think Turrialba could be the new Arenal.
Before I tell you more about Costa Rica's best volcanoes, let's talk about why they formed in the first place.
Why does Costa Rica have so many volcanoes?
Costa Rica is home to over 200 volcanic features. Why is there so much volcanic activity? Because Costa Rica is part of the Central American Volcanic Arc, a 1,500-km (932-mile) chain of volcanoes that stretches from Guatemala to Panama. The arc has the greatest density of volcanoes in the world — roughly one volcano every 35 kilometers (22 miles). It is the most volcanically active region in the Western Hemisphere.
The Central American Volcanic arc formed due to plate tectonics. Specifically, the Cocos Plate, which underlies the Pacific Ocean west of Central America, is slowly slipping under the Caribbean Plate, which underlies Central America and much of the Caribbean.
This process, called subduction, is responsible for the region's frequent earthquakes and regular volcanic activity. As the edge of the Cocos Plate pushes deep underground it melts, sending giant plumes of magma rising under Central America. When these magma plumes break the surface, they form volcanoes.
Of Costa Rica's four mountain ranges, two — the Central Mountain Range and the Guanacaste Mountain Range — are volcanic in origin.
Best Volcanoes to Visit in Costa Rica
1. Arenal Volcano
Arenal is the most famous volcano in Costa Rica. That's because, between 1968 and 2010, it ejected a steady stream of lava and hot rocks. This delighted visitors, who watched the glowing eruptions safely from afar, then relaxed in natural hot springs nearby. Between the nightly fireworks and the soothing hot springs, tourism boomed. By the mid-2000s dozens of hotels surrounded Arenal Volcano. Then, in 2010, the eruptions suddenly stopped. Arenal went dormant, and it has remained dormant ever since.
Is the party over? Not necessarily. Arenal could rumble back to life at any moment. In the meantime, however, it remains a terrific destination. The massive volcano, which towers above the nearby town of La Fortuna, remains a breathtaking sight. And the area around Arenal is filled with outdoor adventures. There are waterfalls, swimming holes, hiking trails, whitewater rafting trips, zip lines — and don't forget those terrific hot springs. You can also visit Arenal Volcano National Park, which protects the blackened remains of historic lava flows.
Learn more about visiting Arenal Volcano.
2. Poás Volcano
This dramatic volcano towers above Costa Rica's densely populated Central Valley. Both its massive, lake-filled crater and the surrounding cloud forest are protected as Poás Volcano National Park. Due to its proximity to San José — just 45 km (28 miles) from downtown — Poás is the most visited national park in Costa Rica. Over 300,000 people visit each year. If you're looking to escape the gritty, urban sprawl of the Central Valley, Poás makes a great day trip.
You can drive to the top of Poás, which rises 2,708 meters (8,885 feet) above sea level and is often covered in clouds. The peak is surrounded by cloud forest, but the main attraction is the volcano's massive crater, which measures measures 1,320 meters (4,331 feet) across and 300 meters (984 feet) deep. The crater's barren lunar landscape is a stark contrast to the lush vegetation surrounding it.
It's often claimed — falsely — that Poás is one of the largest volcanic craters in the world. Poás does, however, contain one of the world's most acidic crater lakes. The lake rests upon a cooled column of magma roughly 500 meters (1,640 feet) deep. This, in turn, rests upon a chamber of molten and semi-molten magma. Both the depth of the lake and its color vary due to rainfall and volcanic conditions.
Learn more about visiting Poás Volcano in my guidebook Costa Rica: The Complete Guide
Poás Volcano Eruptions
Over the past two centuries, Poás Volcano has erupted several times. A small museum near the park entrance displays photos of recent rumblings. A 1910 eruption produced an ash cloud 8 kilometers (5 miles) high that deposited roughly 640,000 tons of ash over the Central Valley. The last major eruption, in 1953, produced an ash cloud 7 kilometers (4.3 miles) high. It also sculpted the current crater. Minor eruptions are far more common. On Christmas Day 2009, a minor eruption launched a mixture of ash and water 550 meters (1,800 feet) in the air.
3. Irazú Volcano
Irazú is the tallest volcano in Costa Rica, towering 3,432 meters (11,260 feet) above sea level. Although the origin of the name Irazú is unknown, it is most likely derived from indigenous words that mean "earthquake" and "thunder."
Irazú National Park lies 14 km (8.7 miles) northeast of Cartago. A paved road heads 27 km (17 miles) from downtown Cartago and climbs 2,000 meters (6,562 feet) to the rim of the volcano. From downtown Cartago the drive takes about 45 minutes. On clear days, as you drive up Irazú Volcano, you'll enjoy spectacular views of the valley below.
From the park entrance a path heads to a viewpoint where you can peer into the depths of the lake-filled crater, which measures 1,050 meters (3,445 feet) across and 300 meters (984 feet) deep. On clear days it's possible to see both the Caribbean and Pacific from the top of Irazú, but on most days thick clouds cover the volcano by 10am. Needless to say, it's best to arrive early.
Irazú Volcano Eruptions
Over the past 300 years, Irazú has erupted over 20 times. The most recent eruption occurred on March 19, 1963. This date coincided with the arrival of U.S. President John F. Kennedy. As crowds of adoring Costa Ricans mobbed the Catholic Kennedy in San José, ash ejected by Irazú rained down over the Central Valley. In places the ash layers were 0.5 meters (1.6 feet) thick. Some ash even drifted as far away as Tamarindo, over 200 km (124 miles) distant. Since that fateful eruption Irazú has mellowed out considerably. Gently smoking fumaroles are the most exciting volcanic activity these days.
4. Rincón de la Vieja Volcano
Rincón de la Vieja Volcano rises 1,916 meters (6,286 feet) feet above sea level in dry, dusty northwest Costa Rica. Located 25 kilometers (15.5 miles) from the town of Liberia, the volcano is protected by 34,000-acre Rincón de la Vieja National Park.
The literal translation of Rincón de la Vieja is "Old Woman's Corner." But in this case it's best translated as "Witch's Hideout." After spending some time in the park, you'll understand why. A wide range of unusual volcanic features — bubbling mud pots, sulfurous hot springs, steamy pits — give the park an eerie, haunted feel. This is Costa Rica's version of Yellowstone, providing an unusual glimpse of earth's inner workings.
Over 40 km (25 miles) of hiking trails crisscross the southern half of the park, providing access to geological oddities, beautiful waterfalls and the crater of the park's namesake volcano, which rises 1,916 meters (6,286 feet) above sea level. Private tour operators offer a range of outdoor adventures such as canopy tours, horseback riding and whitewater inner tubing. However you choose to wear yourself out, you can finish the day at one of the soothing thermal pools located just outside the park.
The most challenging trail in the park heads to the lake-filled crater of Rincón de la Vieja volcano. The trail is 8 kms (5 miles) long, rises roughly 1,000 meters (3,281 feet) and takes about eight hours round-trip. As of this writing, however, the trail was closed due to volcanic activity. If the trail is open, I highly recommend going with a guide who can safely lead you to the top.
5. Turrialba Volcano
Turrialba is one of the least visited volcanoes in Costa Rica — despite its location just 10 kilometers (6.2 miles) from popular Irazú Volcano. Reached via a series of bumpy dirt roads, Turrialba rises 3,340 meters (10,958 feet) above sea level. Its slopes are surrounded by cool cloud forests and dairy farms, which produce the region's famous Turrialba cheese. If you're looking for a rugged, rustic mountain destination with beautiful scenery and zero crowds, Turrialba is hard to beat. From Cartago it's a roughly 1.5-hour drive.
If you'd like to see Turrialba Volcano, the best way is to visit the Turrialba Lodge, a working cattle farm with impressive views of the volcano. This is the only hotel anywhere near the park. It offers a variety of guided tours, but bring warm clothes. Temperatures near Turrialba often drop below freezing at night.
Turrialba Volcano Eruptions
Turrialba Volcano erupted in 1864, and over the next four years it ejected massive amounts of ash over Costa Rica. Then the volcano went quiet for roughly 140 years. Not long ago, you could drive up a steep, rugged road on the side of the volcano and hike to the rim. From there you could gaze into the 50-meter (154-foot) deep crater, which is filled with smoking fumaroles.
Then, in 2009, Turrialba rumbled back to life, belching thick clouds of ash and vapor. In response the government closed Turrialba National Park, and for the most part it has remained closed since then. In September 2016 Turrialba erupted, launching rocks 4 kilometers (2.5 miles) high. Ash blanketed San José and the Central Valley, forcing Juan Santamaria International Airport to temporarily shut down.
Interestingly, Turrialba Volcano has been active over roughly the same time period that Arenal Volcano has been inactive. Are the two events correlated? Scientists don't know. In 2017, however, volcanologist Eliecer Duarte suggested that Turrialba might be the "new Arenal." Duarte noted that recently there has been an increase in luminous materials near the peak, and this activity poses no danger to visitors watching safely from afar.
Plan the Perfect Trip to Costa Rica
Order Costa Rica: The Complete Guide!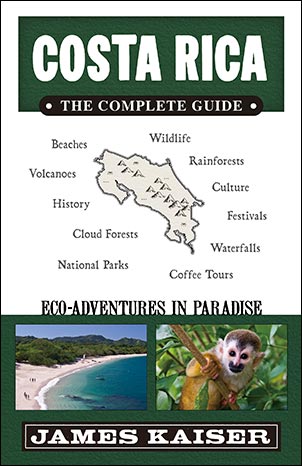 The #1 Costa Rica guidebook.Full-color and filled with insider tips.Plan the ultimate Costa Rica adventure!