February is one of the best months to visit Costa Rica. Situated in the middle of Costa Rica's dry season, it's less rainy than other popular months. And because peak season has passed, it's often easier to make reservations at a great hotel.
Costa Rica Weather in February
February is one of the driest months in Costa Rica. Even the notoriously rainy Caribbean coast (Tortuguero, Puerto Viejo, Cahuita) enjoys relatively more sunny days. The entire Pacific coast, from Tamarindo to Manuel Antonio to Drake Bay, is blessed with lots of sunshine.
On Costa Rica's northwest Pacific coast (Nicoya Peninsula, Tamarindo, Nosara), February marks the start of the really dry season. This region, often referred to as Guanacaste, is the driest part of Costa Rica. The natural vegetation is tropical dry forest. Many trees drop their leaves during the dry season and dirt roads — of which there are many — start to become dusty. If you're looking for beautiful beaches and lots sunshine, this is the place to be. If you're looking for lush, green vegetation filled with tropical biodiversity, you'll want to head further south along the Pacific coast.
The only regions in Costa Rica that experience notable rainfall in February are the Caribbean coast and high mountains. As moist Caribbean air blows west, clouds form and condense in the mountains. High elevation destinations like Monteverde, Zona de los Santos, and Chirripo experience a mix of sunny and rainy days.
In early February Costa Rican children are still on "summer" vacation. Expect bigger crowds at popular beaches, particularly along the northern and central Pacific coasts, which are popular with Costa Rican families. The new Costa Rican school year starts in mid-February.
See Also
Costa Rica in January
Costa Rica in March
February Rainfall in Costa Rica
The rainfall map below shows which Costa Rica regions experience the most rain.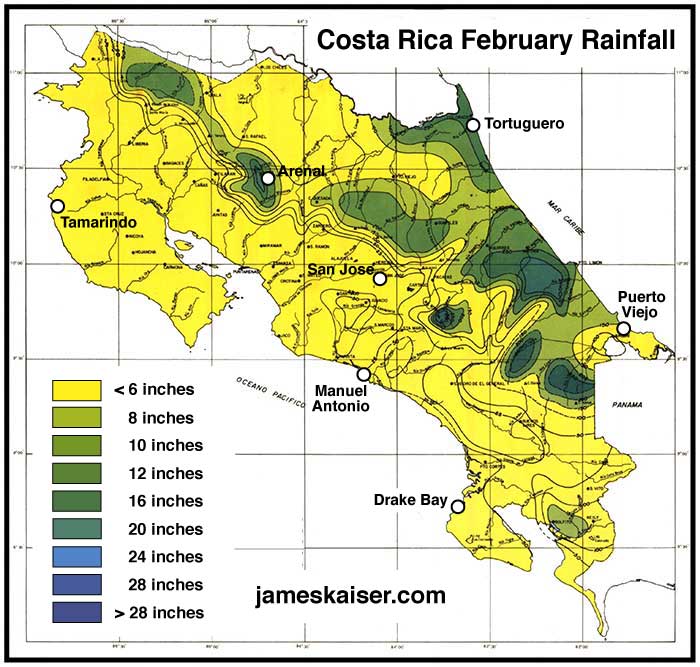 Learn more about Costa Rica's Rainy Season.
February Temperatures in Costa Rica
Pacific Coast – average daytime highs: 86 – 94 F (30 – 35 C)
San José – average daytime highs: 75 – 85 F (24 – 29 C)
Sunrise and Sunset in February
Sunrise: 5:55am – 6:00am
Sunset: 5:45pm – 5:50pm
Papagayo Winds
These strong winds, which affect Costa Rica's northern Pacific coast, reach speeds of 50mph with gusts topping 100 mph (a speed normally found only in major hurricanes). The Papagayo winds can sometimes blow for days at a time. Although dangerous for boaters, surfers love their powerful offshore winds.
February Holidays & Festivals in Costa Rica
San Isidro del General Fiestas
San Isidro de General, located in the Talamanca foothills between the Zona de los Santos and the Pacific coast, celebrates its agricultural traditions in early February.
Fiesta de los Diablitos
Costa Rica's most famous indigenous celebration, the Fiesta de los Diablitos ("Festival of Little Devils") is held in Rey Curre in early February.
Liberia Fiestas
The Liberia Fiestas celebrate Guanacaste's cowboy culture with a horse parade, bull riding, rodeo, and lots of live music. Held in late February.
Envision Festival
Costa Rica's own version of Burning Man, Envision Festival is held in late February. Each year thousands of international soul seekers descend on the small town of Uvita for four days of yoga, fire dancing and live music.
Puntarenas Carnival
The Pacific port town of Puntarenas hosts Costa Rica's largest Carnival celebration in late February.
Plan the Perfect Trip to Costa Rica
Order Costa Rica: The Complete Guide!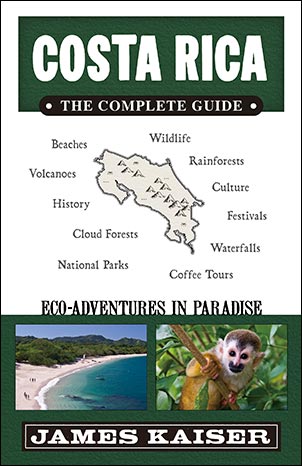 The #1 Costa Rica guidebook.Full-color and filled with insider tips.Plan the ultimate Costa Rica adventure!