May is one of the best months to visit Costa Rica. Although it's officially the start of the seven-month rainy season, early May really isn't that rainy. Most days are sunny with occasional afternoon showers. May is also a great month for reduced crowds, increased hotel availability and low season discounts.
Costa Rica Weather in May
May officially marks the end of the dry season in Costa Rica. But Costa Rica's rainy season starts soft and gradually builds over time. As a result, early May is often indistinguishable from the dry season. Only by the end of May do the afternoon rains become more consistent. But remember: weather in Costa Rica is highly variable depending on what region you visit. (See rainfall map below.)
Northwest Costa Rica is the driest part of the country. In May sunny days dominate near the Nicaraguan border. The Nicoya Peninsula (Tamarindo, Nosara, Montezuma) experiences slightly more rain in May. The mountains around Rincon de la Vieja National Park, meanwhile, experience significantly more rain in May.
May still offers plenty of sunshine along the Central Pacific coast. Towns farther north (Manuel Antonio, Jaco) are generally a bit drier than towns farther south (Dominical, Uvita). Expect sunny mornings with occasional afternoon showers.
In the South Pacific — one of the wettest regions in Costa Rica — the rainy season officially arrives by May. You can still enjoy beautiful sunny mornings, but be prepared for medium to heavy rain in the afternoon.
Along the Caribbean coast, which is generally wetter than the Pacific coast, May rainfall remains largely unchanged from previous months.
No matter where you visit in May, you won't find big crowds. May falls in the magical zone between gringos escaping winter and gringos enjoying summer vacation. This means reduced visitation throughout Costa Rica. It's a great time to visit some of Costa Rica's most popular destinations like Tamarindo, Manuel Antonio, and Arenal Volcano.
See Also
Costa Rica in April
Costa Rica in June
Hotel Reservations in May
May is a terrific month to look for hotels in Costa Rica because it's the first month of the low season (aka "green season"). This means reduced prices and increased availability at hotels throughout the country. Compared to high season prices, room rates are often 20% to 30% cheaper in May.
May Rainfall in Costa Rica
The rainfall map below shows which Costa Rica regions experience the most rain.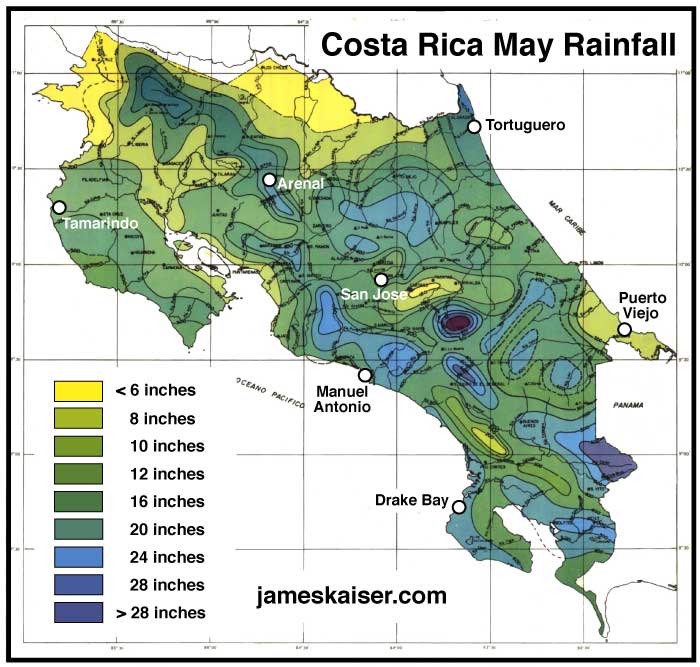 Learn more about Costa Rica's Rainy Season.
May Temperatures in Costa Rica
Pacific coast: 71 – 90˙ F (22 – 32˙ C)
San José: 62 – 78˙ F (17 – 26˙ C)
Caribbean coast: 71 – 87˙ F (22 – 31˙ C)
Sunrise and Sunset in May
Sunrise: 5:15am – 5:20am
Sunset: 5:50pm – 6:00pm
Costa Rica Holidays and Festivals in May
Workers Day (Labor Day): May 1
This national holiday is a time for workers to relax and/or protest at parades/marches held throughout Costa Rica.
Plan the Perfect Trip to Costa Rica
Order Costa Rica: The Complete Guide!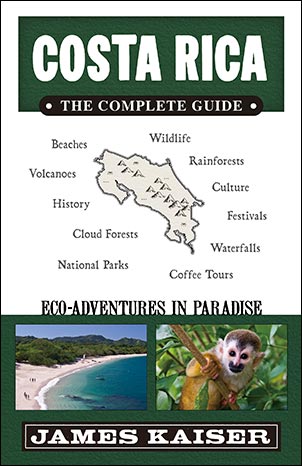 The #1 Costa Rica guidebook.Full-color and filled with insider tips.Plan the ultimate Costa Rica adventure!