November can be a great month to visit Costa Rica. Although the rainy season still lingers in early November, by the end of the month the dry season has often arrived. Best of all, November in Costa Rica means limited crowds and low season prices!
Costa Rica Weather in November
Costa Rica's rainy season technically lasts from May through November. But November is a transition month. The exact timing of rainy season varies considerably throughout the country. Dry season often arrives in Northwest Costa Rica by mid-November. In the much wetter South Pacific, however, dry season might not arrive until mid-December.
The start of the dry season is also influenced by El Niño and La Niña. During El Niño years, Costa Rica's rainy season starts later and ends earlier. During La Niña years, Costa Rica's rainy season starts earlier and ends later.
See Also
Costa Rica in October
Costa Rica in December
Best Places to Visit in November
The best place to visit in Costa Rica in November is the northern Pacific coast. This is the driest region in the country. Great beach towns to visit include Tamarindo, Playa Flamingo and Playa del Coco. Be aware that the southern Nicoya Peninsula (Montezuma, Santa Teresa) is slightly wetter, and the rainy season often ends a bit later there.
The Central Pacific (Manuel Antonio, Uvita) is more of a gamble in November. Some years there's plenty of sunshine by mid-November. In wet years, however, the rainy season can linger until late November. Most years you can expect a mix of sunny mornings and rainy afternoons in the Central Pacific.
In San Jose and the Central Valley, the dry season often arrives by mid-November. That said, conditions can sometimes remain windy and overcast until early December.
Places to avoid in early November include the South Pacific (Drake Bay, Corcovado) and high-elevation Mountain towns (Monteverde, San Gerardo de Dota, Chirripo). In dry years those areas are great places to visit in late November. In wet years, however, the rainy season can linger through mid-December.
Thanksgiving in Costa Rica
For better or worse, Costa Rica was not founded by Puritans, so they don't celebrate Thanksgiving. That said, with so many US expats living in Costa Rica there's strong demand for turkey, stuffing and cranberry sauce in late November. Supermarkets in upscale San Jose neighborhoods often carry traditional ingredients for Thanksgiving dinner.
If you don't mind spending Thanksgiving in the tropics, this is a great time to visit Costa Rica. Late November is the end of the rainy season, and many popular areas are sunny and dry. Best of all, because Costa Ricans aren't on vacation and most gringos are in the US, there are limited crowds and low season prices!
November Rainfall in Costa Rica
The rainfall map below shows which Costa Rica regions experience the most rain. Yellow is 6 inches or less. Green is 8 inches or more. Blue is 20 inches or more.
Learn more about Costa Rica's Rainy Season.
November Temperatures in Costa Rica
Pacific Coast: 71˙ – 86˙ F (22˙ – 30˙ C)
San José: 60˙ – 75˙ F (16˙ – 24˙ C)
Caribbean Coast: 69˙ – 85˙ F (21˙ – 29˙ C)
Sunrise & Sunset in November
Sunrise:: 5:30am – 5:40am
Sunset: 5:10pm – 5:15pm
November Holidays and Festivals in Costa Rica
November is a very quiet month for holidays and festivals in Costa Rica. This becomes obvious just after Halloween, when Christmas decorations start to appear throughout the country.
Plan the Perfect Trip to Costa Rica
Order Costa Rica: The Complete Guide!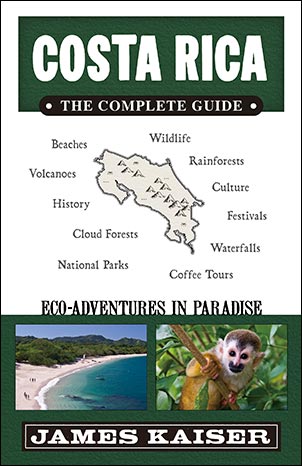 The #1 Costa Rica guidebook.Full-color and filled with insider tips.Plan the ultimate Costa Rica adventure!