October weather is terrific in Costa Rica — despite what you might have heard!
Yes, October is the rainiest month of the year on the Pacific coast. But on the gorgeous Caribbean coast — home to some of the best beaches in Costa Rica — October is one of the driest, sunniest months of the year.
Costa Rica Weather in October
Visit Costa Rica's Caribbean coast in October and you'll enjoy beautiful weather and limited crowds. This is one of the best months to visit terrific destinations like Tortuguero National Park and Puerto Viejo. And because seas are often calm in October, it's a great time to snorkel in Cahuita National Park or scuba dive offshore Punta Uva.
On Costa Rica's Pacific Coast, however, it's a completely different story. October means the depths of the rainy season. That said, the amount of rain varies significantly by location. In the South Pacific — one of the wettest regions in Costa Rica — many hotels and businesses shut down for all of September and October. In the North Pacific — the driest region in Costa Rica — you'll still encounter plenty of rain in October. But northern beach towns like Tamarindo and Playa Flamingo experience much less rain than locations further south.
As for Costa Rica's Mountains: avoid them in October! Constant rain and chilly temperatures are no way to spend a vacation.
See Also
Costa Rica in September
Costa Rica in November
October Rainfall in Costa Rica
The rainfall map below shows which Costa Rica regions experience the most rain. Yellow is 6 inches or less. Green is 8 inches or more. Blue is 20 inches or more.
Learn more about Costa Rica's Rainy Season.
October Temperatures in Costa Rica
Pacific Coast: 71˙ – 86˙ F (22˙ – 30˙ C)
San José: 60˙ – 77˙ F (16˙ – 25˙ C)
Caribbean Coast: 71˙ – 87˙ F (22˙ – 31˙ C)
Sunrise & Sunset in October
Sunrise:: 5:25am – 5:30am
Sunset: 5:15pm – 5:30pm
October Holidays and Festivals in Costa Rica
Carnavales de Límon
For years the biggest celebration on the Caribbean coast was Carnavales de Límon, a vibrant parade in the port town of Limon. Heavily influenced by Afro-Caribbean culture, the parade normally fell on the weekend closest to October 12. In 2015 Carnavales de Límon was cancelled due to lack of funding and organization. Sadly, the tradition appears to have ended.
Halloween
Over the past few decades, Halloween has become increasing popular in Costa Rica, especially among young people. The excuse to dress up in costumes and party is just too tempting to resist, although Trick or Treating has not yet caught on. Some Costa Ricans bemoan yet another cultural invasion from the US, so they've tried to co-opt Halloween with a new holiday: Dia de la Mascarada.
Dia de la Mascarada
Costa Rica's Día de la Mascarada ("Day of the Masquerade") is held on October 31. First established in 1996, it was partly a celebration of traditional Costa Rican mascaradas — and partly a way to counter the growing influence of Halloween. The largest Día de la Mascarada celebration is held in Cartago.
Mascaradas feature a troupe of dancers wearing giant paper-mache heads depicting devils, animals, celebrities and La Giganta ("The Giant Woman"). As dancers twirl around and interact with children, a band called a cimarrona plays percussion and brass instruments. Cimarrona means "wild," which accurately describes the loud, boisterous music.
Plan the Perfect Trip to Costa Rica
Order Costa Rica: The Complete Guide!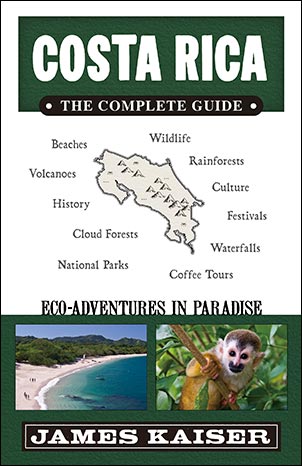 The #1 Costa Rica guidebook.Full-color and filled with insider tips.Plan the ultimate Costa Rica adventure!