Easter and Semana Santa ("Holy Week") are among the most important holidays in Costa Rica. As in most of Latin America, Semana Santa rivals Christmas as the biggest celebration of the year. It's a fascinating time to visit — and one of the busiest weeks of the year.
Semana Santa in Costa Rica
Semana Santa is officially celebrated the week before Easter Sunday. Thursday and Friday are the official holidays, but many Costa Ricans take the entire week off. Religious processions reenacting Jesus' journey to his crucifixion are held in most towns. This is a very serious event, with devout Costa Ricans lining the streets as the procession slowly moves past.
The bigger the city, the more elaborate the procession. Downtown San José hosts the biggest Semana Santa procession in Costa Rica.
Note: public transportation is limited during Semana Santa. Traffic jams are common on major highways, and alcohol sales are limited in certain areas (see below).
When is Easter in Costa Rica in 2020?
Easter in Costa Rica in 2020 is Sunday, April 12. Semana Santa ("Holy Week") in 2018 is celebrated Sunday, April 5 through Sunday, April 11.
Easter is celebrated the Sunday following the full moon on or after the spring equinox. The exact date changes each year based on lunar cycles. Easter always falls on a Sunday between March 22 and April 25.
Can I buy beer, wine & alcohol in Costa Rica during Semana Santa?
Alcohol sales were once prohibited throughout Costa Rica from midnight on Ash Wednesday through midnight on Good Friday. In most tourist areas, however, this is no longer the case.
By the mid-2000s bars, restaurants and supermarkets had grown tired of losing potential sales to thirsty gringos. So in 2012 a law was passed allowing individual municipalities to make their own rules.
Today popular tourist areas like Manuel Antonio and Tamarindo sell beer, wine and alcohol during Semana Santa. Ask your hotel about local rules. If alcohol sales are still prohibited, be sure to stock up on Tuesday or early Wednesday, before the shelves are empty.
---
Plan the Perfect Trip to Costa Rica
Order Costa Rica: The Complete Guide!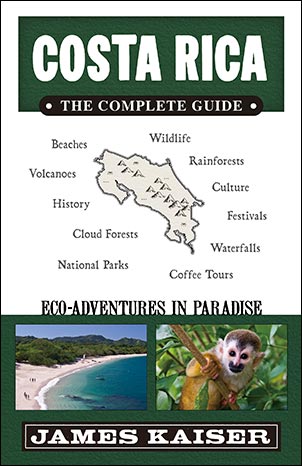 The #1 Costa Rica guidebook.Full-color and filled with insider tips.Plan the ultimate Costa Rica adventure!