Costa Rica's best hidden beaches are hard to find — that's why they're hidden!
But they're definitely worth the effort.
With the proper equipment and a sense of adventure, you can easily avoid the crowds and find your own private slice of paradise. For more information on these hidden beaches, including detailed directions, check out my guidebook Costa Rica: The Complete Guide.
Best Hidden Beaches in Costa Rica
Playa Arcos
Playa Arcos is one of the best hidden beaches in Costa Rica. Surrounded by steep hills covered in dense jungle, it's part of Marino Ballena National Park in Uvita. The easiest access is via La Cusinga Eco-lodge, which is perched on a nearby hill. The lodge has a short hiking trail to the beach. It's best to visit this beach as low tide.
Playa Ventanas
Playa Ventanas ("Windows Beach") gets its name from two adjacent sea caves that you can explore at low tide. Located near the village of Ojochal, the beach is accessible via the farm of a local family that charges a few bucks for parking. At low tide the beach is big and beautiful. At high tide it's barely there. Be sure to plan your visit accordingly.
Playa Barrigona
Located just north of the popular town of Sámara, Playa Barrigona is one of the best-kept secrets in Costa Rica. At one point Mel Gibson owned 500 acres of jungle surrounding Playa Barrigona. Although surrounded by private property, the beach itself is open to the public and accessible via a bumpy dirt road. During the rainy season a small waterfall sometimes forms on the cliffs near the beach.
Playa Cocolito
Located a short hike from Drake Bay, Playa Cocalito is the perfect place to escape the crowds and play castaway. The trail to Cocalito, which crosses a suspension bridge and passes through lush jungle, is a great place to see white-faced monkeys and scarlet macaws.
Playa Matapalo
Despite being situated between the popular beach towns of Manuel Antonio and Dominical, Playa Matapalo has managed to stay under the tourist radar. If you're looking for peace, quiet and spectacular sunsets, you'll definitely find them here. There are even a handful of small, reasonably-priced hotels along the beach where you can fall asleep to the sound of crashing waves.
Playa Ventanas (Playa Grande)
Locals know that Playa Grande offers a far more relaxed experience than its famous neighbor Tamarindo (aka "Tama-gringo"). But venture beyond the northern tip of Playa Grande and you'll discovered rarely-visited Playa Ventanas, a magnificent crescent of golden sand.
Playa Esterillos
Although located halfway between Jacó and Manuel Antonio — two of the most popular destinations in Costa Rica — Playa Esterillos is a big, beautiful beach with virtually no development.
Playa Biesanz
Manuel Antonio is home to some of Costa Rica's most famous—and popular—beaches. To escape the crowds, head to nearby Punta Quepoa, a small peninsula that shelters lovely Playa Biesanz. A short trail to the beach starts near the Hotel Parador.
Explore Costa Rica's best hidden beaches
Plan the Perfect Trip to Costa Rica
Order Costa Rica: The Complete Guide!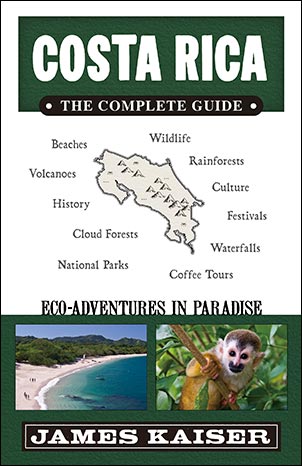 The #1 Costa Rica guidebook.Full-color and filled with insider tips.Plan the ultimate Costa Rica adventure!