Avoiding the crowds in Grand Canyon National Park is easy, even during peak season in June, July and August. Grand Canyon is big – almost 2,000 square miles – yet most tourists flock to a handful of famous viewpoints on the South Rim. Visit those viewpoints at the wrong time and you'll encounter big crowds. But follow the suggestions below and it's easy to avoid the crowds in Grand Canyon.
How to Avoid the Crowds in Grand Canyon
Visit in Spring, Fall or Winter
Grand Canyon's peak season is between Memorial Day and Labor Day. If you visit outside the popular summer months you'll likely avoid the crowds, even at famous sights. Fall, winter and spring are all great times to visit Grand Canyon. Spring (March, April, May) is one of the best times to visit Grand Canyon because the crowds are low and the desert wildflowers are blooming. Fall (September, October, November) has great temperatures and soft, beautiful light. Winter (December, January, February) is a beautiful and peaceful time in Grand Canyon. Winter is also a great time to hike to the bottom of the Canyon, where temperatures are much warmer than on the rim.
Of course, some people can only visit Grand Canyon National Park in June, July and August. The good news: There are still plenty of great ways to avoid the crowds in the summer!
Head to the North Rim
Grand Canyon's South Rim is the most famous and popular part of the park. That's partly because the viewpoints are spectacular, but it's mostly because the South Rim is close to Interstate 40! Trust me, the views from Grand Canyon's North Rim are just as spectacular as the South Rim. But because the North Rim is located along the Arizona Strip — the remote area along Arizona's northern border with Utah — it has just 1/10th the visitors of the South Rim. Granted, the North Rim is harder to get to if you're driving from Phoenix or Flagstaff. But if you're driving to Grand Canyon from Las Vegas, it's the same distance to the South and North Rim.
Go For a Hike
Hiking is one of the best ways to avoid the crowds in Grand Canyon. Most visitors only experience Grand Canyon from the rim. If you're looking to get away from the crowds, this is great news. Go for a hike and the crowds will thin out immediately. Choose a challenging trail and you'll wonder where everyone went. In addition, hiking trails offer some of Grand Canyon's most spectacular views. Even the popular Rim Trail offers opportunities for solitude if you hike away from Grand Canyon Village.
A few famous hiking trails, such as the upper reaches of the Bright Angel Trail, are almost always crowded, but the crowds thin out the further down you go. You can also beat the crowds by hiking in the early morning. Which brings me to my next tip…
Wake up Early
Sunrise is an incredible experience in Grand Canyon. But most visitors sleep right through it. Wake up early and you'll avoid the crowds, even at the most popular viewpoints. And don't forget your camera. Early morning light is terrific for photos. You might even catch some stunning natural effects. One morning on the South Rim I awoke to a fresh blanket of snow and wispy clouds drifting through the Canyon.
Pack a Picnic
Grand Canyon's restaurants are often crowded at mealtime. Long lines are common, even at cafeterias serving mediocre food. Pack a picnic basket instead. It'll save you time, frustration, and it will probably be cheaper and healthier. Best of all, you can enjoy a picnic al fresco at a beautiful Grand Canyon viewpoint — while everyone else is waiting in line.
Enjoy the Stars at Night
After a long day of sightseeing, most Grand Canyon visitors go to bed. But nighttime is when Mother Nature puts on one of her finest displays. Grand Canyon enjoys some of the darkest skies in America. If you're not admiring the stars overhead, you're literally missing half the show. Don't know much about astronomy? Grand Canyon often offers free astronomy talks. The park also hosts the annual Grand Canyon Star Party in June. During this time Arizona astronomy clubs set up telescopes for public viewing on both the South and North Rims.
Plan the perfect trip to Grand Canyon!
Order Grand Canyon: The Complete Guide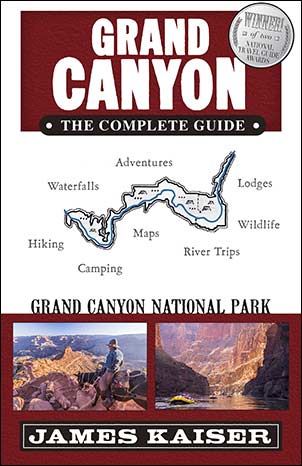 My award-winning, full-color Grand Canyon guidebook is filled with insider tips. Save time & money. Plan the ultimate Grand Canyon adventure!