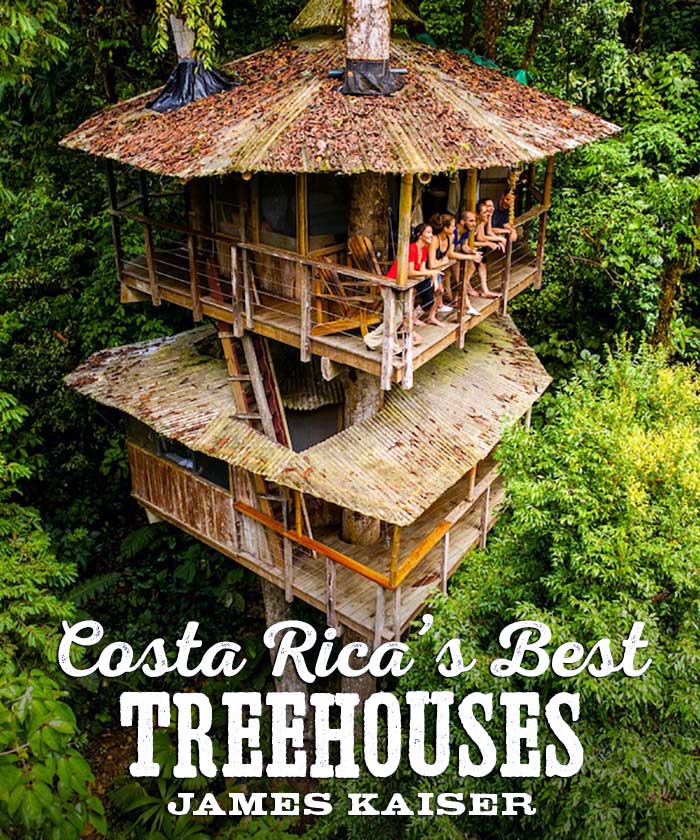 Costa Rica is blessed with some of the most beautiful rainforests in the world. And there's no better way to experience that natural beauty than spending the night in a treehouse!
There's nothing like falling asleep in the jungle, listening to the symphony of natural sounds outside. In fact, it's been proven that listening to rainforest sounds helps you sleep.
Spending the night in a treehouse takes that experience to a whole new level.
Sleeping IN the Rainforest
Tropical rainforests cover just 6% of earth's surface. But they contain roughly half of the world's species. And most of that biodiversity is found in the canopy – the leafy, green roof of the rainforest.
Treehouses bring you closer to the canopy. During the day you can birdwatch or look for monkeys and sloths. At night, you'll luxuriate in a natural, tropical symphony.
And most important … spending the night in a treehouse is just plain fun!
Costa Rica's Best Treehouses
In this guide I'll show you the best Costa Rica treehouses where you can spend the night. From luxury tree houses with bathrooms and kitchens to rugged, middle-of-nowhere platforms accessible only by rope, it's easy to find the treehouse of your dreams in Costa Rica.
And perhaps most important – all of the treehouses listed below are committed to environmental sustainability.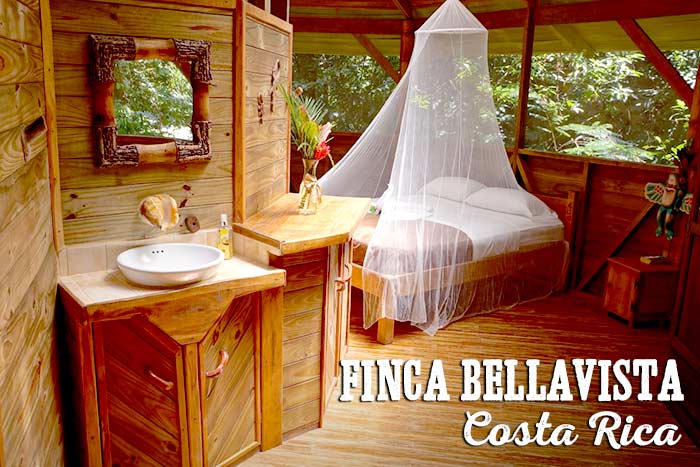 Finca Bellavista
Located in Costa Rica's lush South Pacific, Finca Bellavista Treehouse Community is home to over a dozen remarkable treehouses. The story of this Ewok-inspired jungle village is nearly as impressive as the treehouses themselves.
In 2006 Erica Andrews and Mateo Hogan discovered 62 acres of magical rainforest marketed for sale as a timber harvest site. Rather than watch logging companies clear cut the property, they rescued it by creating a sustainable treehouse village.
Today Finca Bellavista stands guard over 600 acres. The property includes hiking trails, ziplines and a stunning waterfall. Thier organic garden provides fresh fruits and vegetables. Yoga and massage are also available.
All Finca Bellavista treehouses are privately owned, but many are rented out nightly. Guests enjoy sit down breakfast and dinner, plus take-out lunch. You can check out their amazing options here.
If the idea of sustainable, off-the-grid rainforest living appeals to you, a visit to Finca Bellavista is a must. But be careful. After a few nights you might decide to purchase your own private treehouse!
Nature Observatorio
Although second on this list, Nature Observatorio takes top prize for the most adventurous treehouse experience in Costa Rica.
If you've ever wanted to live out a Tarzan and Jane fantasy, this is the treehouse for you.
The adventure starts with a guided hike through the Gandoca-Manzanillo Wildlife Refuge, located on Costa Rica's remote — and gorgeous — southern Caribbean Coast. After 45 minutes you'll reach a 350-year-old nispero tree. There, perched 25 meters (82 feet) above the ground, is a two-story treehouse accessible only by rope.
To reach the treehouse, a guide straps you into a harness. You then have two options: pull yourself up, or be hauled up via mechanical winch. Either way, you'll enjoy 360-degree views of the rainforest as you ascend into the canopy. Keep your eyes out for toucans, monkeys and sloths. As you rise higher and higher, the turquoise Caribbean comes into view.
The bottom floor of the treehouse has hammocks, beanbags, an eco-toilet and a glass shower. Stairs lead to an upper floor with two queen sized beds. Rainwater and solar power keep the treehouse self-sufficient.
Overnight packages include fruits, snacks and a traditional Costa Rica breakfast. Special delivery dinner with wine is also available.
Costa Rica Treehouse Lodge
Looking for luxury (and quick access to great activities and restaurants)? Costa Rica Treehouse Lodge offers upscale, rustic elegance near Playa Chiquita – one of the best beaches on the Caribbean coast.
Located just east of Puerto Viejo, there's no shortage of great things to do. Snorkeling, ziplines, chocolate tours — or just lounging on the powdery, white sand beaches.
The first story of the treehouse is constructed around a marvelous 100-year-old sangrillo tree. The second story, reached by a hanging bridge, is perched on tall stilts and surrounded by lush vegetation.
The treehouse includes two double beds and one single bed. The toilet and shower are built into the deep folds of the sangrillo tree!
For its commitment to the environment, the government awarded Costa Rica Treehouse Lodge five leaves (its highest rating) for sustainable tourism. Solar power, composting and biodegradable cleaning products help reduce environmental impact.
Costa Rica Treehouse Lodge also partners with the non-profit Green Iguana Foundataion, which raises and releases locally endangered green iguanas. Guests are can tour the foundation and learn more about these fascinating animals.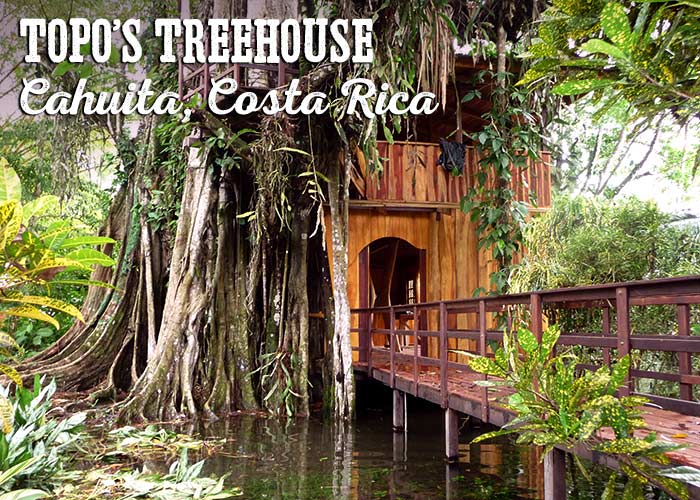 Topo's Treehouse
What Topo's Treehouse lacks in vertical elevation, it more than makes up for with whimsical charm.
Constructed around a dramatic strangler fig, the main entrance is reached by an elevated wooden walkway. If Finca Bellavista feels like an Ewok Village, Topo's Treehouse feels like the Hobbit built his dreamhouse in tropical Degobah.
The treehouse is the brainchild of Slavko "Topo" Topolovsek , a Slovenian/German who traveled the world in search of colorful frogs. Upon visiting Cahuita, he fell in love with its stunning green and black poison dart frogs. He purchased land, built a treehouse, and the rest is history.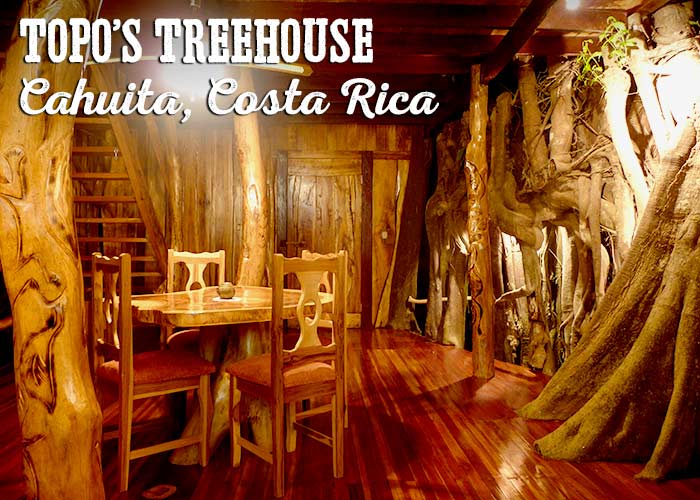 You can still see poison dart frogs — which are harmless, despite their name — in the tropical gardens surrounding the treehouse. Monkeys, sloths and butterflies are also common. Birdwatchers can spot toucans, parrots and hummingbirds.
The first floor of the treehouse features a fully equipped kitchen, dining room, bathroom, terrace and outdoor shower. The second floor has a living room, two bedrooms and an outdoor deck. A third deck, nestled high in the branches of the tree, is great for wildlife watching.
Best of all: the treehouse is just 100 meters from the beach. It's also a short walk away from several terrific restaurants.
Hidden Canopy Treehouses
Located on 13 acres near Monteverde Cloud Forest, Hidden Canopy Treehouses offers six "treehouse chalets." Technically these elevated structures are independent of trees. But the large picture windows make you feel immersed in the forest.
Hidden Canopy's treehouse chalets range in size from 525 to 1,150 square feet. Smaller units have one bedroom; larger units have two. All include bathrooms, outdoor decks and beds made from tree roots. Some also feature stone waterfall showers, jacuzzi tubs and dramatic Gulf of Nicoya views.
Plan the Perfect Trip to Costa Rica
Order Costa Rica: The Complete Guide!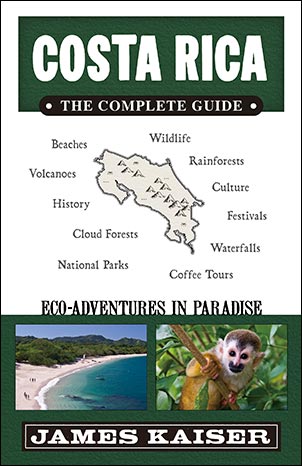 The #1 Costa Rica guidebook.Full-color and filled with insider tips.Plan the ultimate Costa Rica adventure!