Grand Canyon and Zion are two of the most beautiful national parks in America. And lying between them are stunning landscapes, historic monuments, and world-class outdoor adventures.
Choose the right route, and driving between Grand Canyon and Zion becomes its own adventure.
In this guide, I'll show you the best scenic drives between Grand Canyon and Zion. Click on the links below to skip to each individual route.
• Grand Canyon South Rim to Zion (Western Route) 456 miles / 730 kms
• Grand Canyon South Rim to Zion (Eastern Route) 241 miles / 390 kms
• Grand Canyon North Rim to Zion 111 miles / 180 kms
Driving to Zion from Grand Canyon's South Rim
The South Rim is Grand Canyon's most famous and popular destination. It's home to the vast majority of the park's viewpoints, campgrounds, and hotels.
If you're driving to Zion from Grand Canyon's South Rim, you have two options:
• Drive around Grand Canyon's east rim – the fastest, most scenic route
• Drive around Grand Canyon's west rim – a longer route that passes through Las Vegas
Other than distance, what's the difference between the two routes?
The western route is filled with man-made sights and attractions (Route 66, Grand Canyon Skywalk, Hoover Dam, Las Vegas). The eastern route is filled with natural sights and attractions (Horseshoe Bend, Antelope Canyon, The Wave).
Let's start with the western route.
Grand Canyon South Rim to Zion (Western Route)
This route is nearly twice as long as the eastern approach (456 miles vs 241 miles) and slightly less scenic. But it does pass through Las Vegas. Whether or not that's a good thing is up to you to decide.
The route starts at Grand Canyon's South Entrance, near the small town of Tusayan. Follow Arizona State Route 64 (AZ-64) south 52 miles (84 kms) to Williams.
Williams, Arizona
This small town (population 3,000) is located 60 miles (one-hour drive) from Grand Canyon's South Rim. Downtown Williams contains a historic stretch of Route 66, and its quaint Main Street has plenty of retro, road-trip charm. Williams is also the departure point for Grand Canyon Railway, which makes daily trips to Grand Canyon's South Rim.
From Williams, head west on Interstate 40.
Route 66
Route 66 was the first major highway between Chicago and Los Angeles. Completed in 1926, the 2,448-mile (3,940-km) highway became famous following the Bobby Troup hit "Get Your Kicks on Route 66." In the 1960s, however, motorists abandoned Route 66 for the new Interstate Highway System. Once-thriving towns disappeared, and thousands of roadside businesses shut down.
But you can still find a classic stretch of Route 66 about 40 miles (64 kms) west of Williams, just off Interstate 40. Get your kicks in the small town of Seligman—the real-life inspiration for the fictional town of Radiator Springs in the Pixar movie Cars. While there, visit Delgadillo's Snow Cap Drive-In, a classic Americana burger joint open since 1953. From Seligman, Route 66 arcs northwest 85 miles (137 kms) before rejoining Interstate 40.
Havasu Canyon
Havasu Canyon is Grand Canyon's largest side canyon—and one of the most beautiful destinations in the Southwest. A bright blue river flows through the center of the canyon, tumbling over a series of stunning red rock waterfalls en route to the Colorado River.
But this is no roadside attraction. That's because there's literally no road to Havasu Canyon. There are only three ways to get there: foot, mule or helicopter. You'll need a minimum of two days (preferably three) to visit Havasu Canyon. But trust me, it's worth it.
There's a comprehensive guide to Havasu Canyon in my book Grand Canyon: The Complete Guide. You can also read my post about visiting Havasu Canyon.
Grand Canyon West
Although Grand Canyon West is technically part of Grand Canyon, it's not part of Grand Canyon National Park. The land belongs to the Hualapai tribe, and it lures a steady stream of day-trippers from Las Vegas.
Grand Canyon West offers lodging, restaurants and helicopter rides. Its most famous attraction, however, is the Grand Canyon Skywalk, a semi-circular glass walkway that extends 70 feet beyond the rim of Grand Canyon. For a steep fee, you can stroll across the glass walkway and gaze 4,000 feet down to the Colorado River.
Kingman, Arizona
In the town of Kingman (population 30,000) exit Interstate 40 and turn onto Highway 93. Follow Highway 93 northwest towards Las Vegas.
Hoover Dam
This engineering marvel, located 25 miles (40 kms) southeast of Las Vegas (just off Highway 93), plugs the Colorado River and backs up Lake Mead. Hoover Dam was built in the 1930s, and its ingenious construction and monumental Art Deco architecture still inspire awe. If you visit, be sure to sign up for a tour of the dam.
Las Vegas
Las Vegas would induce sensory overload anywhere in the world. But watching The Strip's carnival skyline shimmer into view after a long drive through the desert is an experience worthy of Mad Max. From Las Vegas to Zion it's just 160 miles (260 kms)—a roughly 2.5-hour drive. To continue on this route, see my guide to driving from Las Vegas to Zion National Park.
Grand Canyon South Rim to Zion (Eastern Route)
This is my favorite driving route between Zion and Grand Canyon. And not just because it's the fastest. This epic road trip passes through colorful deserts and classic Southwestern scenery along the way.
Little Colorado River Gorge
Your driving adventure begins at Desert View near the eastern boundary of Grand Canyon National Park. Exit the park at Grand Canyon East Entrance, then follow Arizona State Route 64 roughly 30 miles (48 kms) as it twists towards Highway 89.
This land belongs to the Navajo Nation. Look north and you'll catch dramatic glimpses of the Little Colorado River Gorge. The Little Colorado River is Grand Canyon's largest tributary, and its gorge is basically a "mini Grand Canyon" just east of the park. Both the Hopi and Zuni tribes believe their ancestors emerged from a sacred opening deep within the gorge.
Continue to the junction with Highway 89 and turn north.
Cameron Trading Post
Open since 1916, the Cameron Trading Post offers beautiful, authentic crafts from local tribes. Navajo rugs, Hopi pottery, and turquoise jewelry are just some of the items available. The most impressive objects are found in the art gallery, which displays dozens of antique crafts. Grab a bite at the Cameron Trading Post restaurant, which serves the best food for miles. Try the tasty Navajo tacos.
From the Cameron Trading Post, continue north on Highway 89.
Tuba City
Navajo Nation encompasses over 27,000 square miles (71,000 square kilometers) in northern Arizona, and Tuba City is its largest town. Home to about 9,000 mostly Navajo residents, Tuba City is located 11 miles east of Highway 89 (15-minute drive).
Tuba City is a great place to learn about the Navajo people. You can visit the Navajo Interactive Museum, which explores the tribe's culture and traditions, or the Navajo Code Talkers Museum, which tells the fascinating story of Navajo soldiers who used their language as a secret code during WWII.
From Tuba City, head back to Highway 89 and drive 68 miles (110 kms) north to Page.
Horseshoe Bend
One of the most photographed spots on the Colorado River, Horseshoe Bend is exactly what it sounds like: a dramatic, horseshoe-shaped bend in the river. A public viewpoint is located south of Page, Arizona, just off Highway 89.
Antelope Canyon
This extraordinary slot canyon is a visual extravaganza. Narrow sandstone walls twist and curve in a thousand impossible ways, sculpted by millennia of flash floods. Visiting Antelope Canyon feels like stepping inside a Georgia O'Keeffe painting.
For many people, particularly photographers, Antelope Canyon is a must-see destination. Note that it is located on Navajo Nation land, and you can only visit with a Navajo guide.
Lake Powell
This manmade reservoir, backed up by Glen Canyon dam, twists and turns through fabulous rock formations. There are over 90 major side canyons, and over 2,000 feet of shoreline. One of the best ways to enjoy Lake Powell is renting a houseboat and setting off on an overnight voyage.
From Page, continue northwest on Highway 89 and cross the border into Utah.
The Wave
Arizona is filled with quirky geology. But The Wave might be the quirkiest geologic formation of all. Located in the Paria Canyon-Vermilion Cliffs Wilderness, just south of the Utah border, The Wave is a rolling, undulating mass of sandstone that seems sprung from the mind of Salvador Dalí.
You'll need a permit to visit Coyote Buttes North, the technical name of the area that includes The Wave. The Bureau of Land Management limits visitation to just 20 people per day. Half of the permits are issued four months in advance in an online lottery. The other half are issued the day before at the Grand Staircase-Escalante National Monument visitor center in Kanab, Utah.
Kanab, Utah
This is the last "big" town (population 5,000) before Zion National Park. As such, it's a good place to load up on groceries and camping supplies.
Kanab was known as "Little Hollywood" in the 1940s, 50s and 60s thanks to dozens of Westerns filmed nearby. These days, it's an outdoor adventure hotspot thanks to its location near Zion, Grand Canyon, Bryce Canyon, and Grand Staircase-Escalante.
From Kanab continue northwest on Highway 89.
Coral Pink Sand Dunes State Park
These pink sand dunes are located about 9 miles (15 kms) west of Kanab off Highway 89. The park covers 3,000 acres, and over 90% of the dunes are open to off-road vehicles. Keep your eyes out for the Coral Pink Sand Dunes tiger beetle, which is found nowhere else in the world.
Continue north on Highway 89 until you reach Mt. Carmel Junction. Turn left onto Utah State Route 9, and follow it 13 miles (21 kms) to Zion National Park's East Entrance.
Driving to Zion from Grand Canyon North Rim
From Grand Canyon Lodge, drive north 44 miles (71 kms) on AZ-67 to Jacob Lake.
Jacob Lake
This tiny town (really just two motels and a gas station) has the last gas until Fredonia, 30 miles (48 kms) away. Stop by the Jacob Lake Inn restaurant, which serves the best food for miles. Try the house specialty Kaibab Jagerschnitzel.
From Jacob Lake, turn left onto Highway 89A.
Le Fevre Overlook and Rest Area
After driving through a forest of tall ponderosa pines, you'll start descending from the Kaibab Plateau into the arid desert below. Be sure to stop at Le Fevre Overlook, which provides terrific views of the region. This is a great place to observe the Grand Staircase, a series of dramatic rock layers that starts in Bryce Canyon and drops to the bottom of Grand Canyon. In the distance, you can see the cliffs of Zion.
Fredonia
This small town (population 1,500) has gas stations if your tank is running low. The next gas is in the larger town of Kanab, 7 miles (11 kms) north.
From Fredonia, continue north on Highway 89. Information on Kanab and Coral Pink Sand Dunes can be found in the Grand Canyon South Rim to Zion section above.
Plan the Perfect Trip to Zion!
Order Zion: The Complete Guide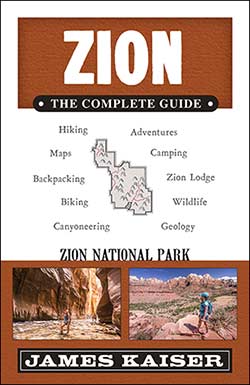 The #1 Zion guidebook.Full-color and filled with insider tips.Plan the ultimate Zion adventure!