New Years (Año Nuevo) in Costa Rica is one of the country's biggest fiestas. Costa Ricans love to celebrate New Years, although they celebrate differently from revelers in North America.
Celebrating New Years in Costa Rica
New Years in Costa Rica is definitely a family affair. Costa Ricans typically gather with family at home, then enjoy a late dinner around 10pm. Unlike in North America, young adults do not spend New Years with friends. As a result, nearly all bars and restaurants in Costa Rica shut down by midnight. The only exception is in popular tourist areas, which are filled with vacationing gringos. But even then many bars and restaurants close early so Costa Rican workers can spend New Years with family.
Some families head to Costa Rica's beautiful beaches to celebrate New Years. After enjoying a family dinner, they head to the beach to count down to midnight.
No matter where you find yourself, expect plenty of fireworks. You can also expect to see many drunk people doing many foolish things with fireworks. As in much of Latin America, personal safety takes a back seat to having a good time.
Check out my Costa Rica travel guide for helpful, unbiased travel info.
Costa Rica New Years Traditions
Costa Rica, like much of Latin America, has lots of quirky New Years traditions. These include:
• Wearing yellow underwear for good luck
• Wearing red underwear to find a romantic partner
• Walking a suitcase around the block to bring travel
• Throwing water over the shoulder to discard bad memories
• Eating 12 grapes at midnight – one for each month — for good luck
Feliz Año Nuevo!
However you celebrate New Years in Costa Rica, be sure to wish people Feliz año nuevo!
And make sure you pronounce the "ñ" — as in "Feh-leez Ann-yo Nu-wave-oh."
If you pronounce it "Feh-leez A-no Nu-wave-oh," you won't be wishing someone "Happy New Year!" … you'll be wishing them "Happy Anus!" And then you'll definitely have to throw some water over your shoulder.
---
Plan the Perfect Trip to Costa Rica
Order Costa Rica: The Complete Guide!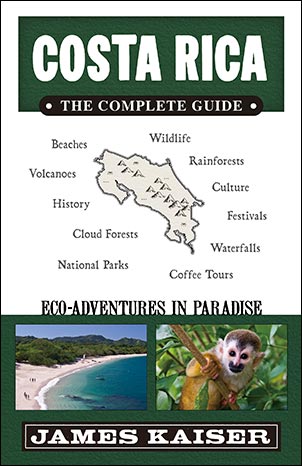 The #1 Costa Rica guidebook.Full-color and filled with insider tips.Plan the ultimate Costa Rica adventure!