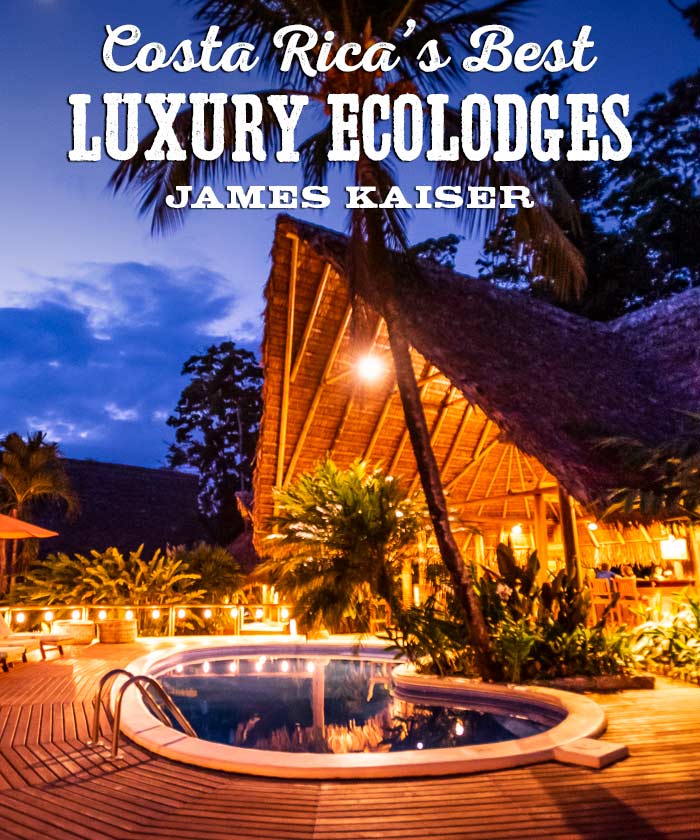 Costa Rica has some of the world's best luxury eco lodges. From lush rainforests to cool cloud forests to pristine beaches, there are exceptional ecolodges scattered throughout this tiny tropical paradise.
Don't let the word "eco" fool you. These are some of the most luxurious places to stay anywhere in Costa Rica. If you're looking for rustic elegance and tropical charm, look no further than these deluxe ecolodges.
Of course, the word "eco lodges" has no exact definition. Any hotel in Costa Rica can put up a sign that says "eco lodges" — and many do just that. On this page luxury ecolodge is defined as a deluxe lodge:
• Located in a relatively remote area
• Surrounded by lots of tropical nature
• Genuinely concerned with environmental sustainability
Almost all of the eco lodges listed below have been certified (the highest rating) for sustainable tourism by the Costa Rican government.
This list is divided into three sections:
Best Luxury Eco Lodges, Mountains
• Pacuare Lodge – Pacuare River
• El Silencio – Bajos del Toro
Best Luxury Eco Lodges, Pacific Coast
• La Paloma – Drake Bay
• Lapa Rios – Cabo Matapalo
• Bosque del Cabo – Cabo Matapalo
• Playa Nicuesa – Golfito
• Punta Islita – Playa Islita
Best Luxury Eco Lodges, Caribbean Coast
• Tortuga Lodge – Tortuguero
Costa Rica's Best Luxury Eco Lodges in the Mountains
Certified by Costa Rica Sustainable Tourism
Located on the lush banks of the Pacuare River, the Pacuare Lodge is one of my favorite eco lodges in Costa Rica. It's only accessible by raft, which means getting there isn't easy. But that's exactly what makes the Pacuare Lodge so special. The adventure begins near the town of Turrialba, where you'll board whitewater rafts paddled by professional guides. As the Pacuare flows towards the Caribbean, you'll descend through dramatic river canyons before arriving at the lodge.
The main building, an open-air stunner, is a mix of indigenous design and tropical luxury. Enjoy cocktails as you watch toucans fly over the river. At night, when you sit down to dinner, candles and lamps provide the only illumination. Private cabins are scattered around the well-tended property, including some with private pools.
You'll be tempted to kick back and relax, but the lodge offers great outdoor activities. You can zipline through the surrounding rainforest, rappel down nearby canyons, or hike to an indigenous village in the mountains high above the lodge.
After spending one to three nights at the lodge, you'll depart by raft in the morning. This is where the Pacuare River really gets good. You'll enjoy a mix of class III and IV rapids as you pass by magnificent waterfalls that tumble directly into the river. Along the way your guides will point out wildlife, including poison dart frogs, found along the banks of the river. The only downside? When the adventure ends.
Certified by Costa Rica Sustainable Tourism
Located just 90 minutes from San Jose's international airport, El Silencio offers quick access to Costa Rica's largest city. But the eco lodge's 500 private acres feel wild and remote. Nestled in a peaceful mountain valley between Poás Volcano and Juan Castro Blanco National Park, it's surrounded by cloud forests and beautiful waterfalls. The closest village, Bajos del Toro, is an authentic Costa Rican pueblo that revolves around agriculture.
El Silencio's stylish architecture blends clean modernism with natural elements. Individual cabins offer peace, privacy and beautiful views. Riverside suites include a private deck with rocking chairs and a jacuzzi. Private Villas feature two bedrooms, a full kitchen, a private deck with jacuzzi, and a lounge area with panoramic windows and a gas fireplace (perfect for days when clouds and mist drift through the valley).
Despite its remote location, El Silencio has no shortage of activities. A private trail system leads to several beautiful waterfalls, and guided activities include horseback riding, coffee tours, and day trips to Arenal Volcano. Or you can relax at the Esencia Spa, which offers massage, body wraps and hot stone treatments.
Costa Rica's Best Luxury Eco Lodges on the Pacific Coast
La Paloma
One of the most beautiful eco lodges in Costa Rica, La Paloma is located near Drake Bay at the northern tip of the Osa Peninsula. Drake Bay is one of the most remote destinations in Costa Rica. The only road to this small village passes through dense jungle and requires multiple river crossings. Most visitors arrive by boat or plane. What's the draw? Easy access to Corcovado National Park, which National Geographic once called "the most biologically intense place on earth."
Upon arriving at La Paloma, guests enter a world of rustic luxury. The 14-acre property is perched on a cliff overlooking the Pacific Ocean, not far from the Agujitas River. Seven bungalows, including two-story ranchos that sleep up to six, are crafted out of tropical hardwoods, with private balconies offering beautiful ocean views. As you watch the sun dip below the horizon, keep your eyes out for endangered scarlet macaws – rare in most of Costa Rica but common in Drake Bay.
Guided boat tours depart Drake Bay for Corcovado early in the morning, then return in the late afternoon. Other activities offered by La Paloma include snorkeling or scuba diving at Isla de Caño (located 10 miles offshore), horseback riding, kayaking and ziplining.
Certified by Costa Rica Sustainable Tourism
At the southern tip of the Osa Peninsula lies Cabo Matapalo, which rivals Drake Bay when it comes to remote tropical beauty. And Lapa Rios, one of the best ecolodges in Costa Rica, offers easy access to everything that makes Cabo Matapalo special: pristine rainforest, staggering wildlife and quiet, uncrowded beaches.
Located on a private reserve, Lapa Rios protects over 1,000 acres of rainforest. Over 300 bird species have been observed nearby. Seventeen open-air bungalows dot the hill above the main lodge, offering terrific views of the rainforest and the Golfo Dulce. Each bungalow includes an outdoor deck with lounge chairs, hammocks and a rain head shower. Communal amenities include a saltwater pool and a dramatic spiral staircase that rises to a canopy rooftop with 360-degree views.
Not surprisingly, daily activities revolve around enjoying the spectacular natural setting. Guided tours include birding, wildlife watching, marine mammals, waterfall adventures, surfing and more. Yoga, Reiki and Chi Kung are also offered.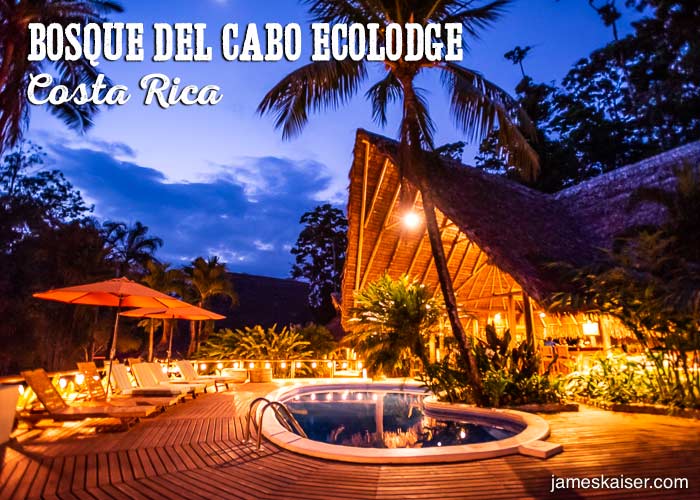 Rising hundreds of feet above sea level, Cabo Matapalo is a large bluff that marks the southernmost point of the Osa Peninsula. To the southwest: the Pacific Ocean. To the northeast: the Gulfo Dulce ("Sweet Gulf"), one of four tropical fjords in the world. Perched near the top of Cabo Matapalo is Bosque del Cabo, which offers some of the finest views on the Osa Peninsula.
Protecting over 750 acres of rainforest, Bosque del Cabo offers ten thatched-roof bungalows set among lush gardens and hiking trails. Each bungalow includes hammocks, outdoor showers and gorgeous ocean views. Two rental houses with bedrooms and full kitchens are also available. During the day the lodge offers adrenaline-fueled eco-adventures, or you can just kick back and relax in the solar-powered pool. At night you'll watch moonlight shimmer on the ocean while a warm tropical breeze flows through the surrounding rainforest.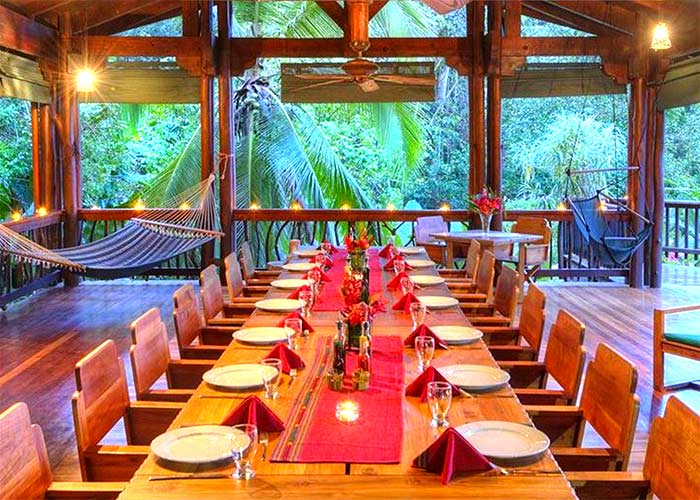 Certified by Costa Rica Sustainable Tourism
Across the bay from the Osa Peninsula lies one of Costa Rica's most spectacular eco lodges: Playa Nicuesa. Set on a private 165-acre preserve, Playa Nicuesa is sandwiched between the lush rainforests of Piedras Blancas National Park and the calm, turquoise waters of the Golfo Dulce. Accessible only by boat, this remote paradise is the perfect place to escape the crowds while surrounded by Costa Rica's natural tropical beauty.
Playa Nicuesa offers both private cabins and guest houses, all of which feature "jungle chic" decor. Each accommodation has hardwood floors, private open-air showers, and wrap-around terraces with rainforest views. Guests enjoy locally grown food in the treehouse-style restaurant.
Located off the grid in a pristine wilderness, Playa Nicuesa takes sustainability seriously. The lodge is constructed from salvaged Costa Rican hardwoods. Electricity is generated by solar panels, and a backup generator runs on vegetable oil. There's even a daily Sustainability Tour that explains all aspects of the lodge (recycling, composting, passive solar drying, etc.).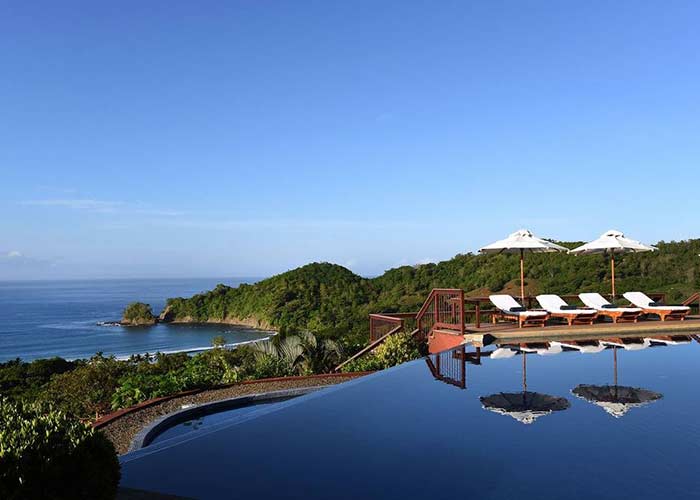 The Nicoya Peninsula is famous for beautiful beaches, but many of those beaches are surrounded by hotels. There aren't a whole lot of what I'd call luxury eco lodges. Punta Islita is a rare exception. Located in a beautiful-but-overlooked part of the Nicoya Peninsula, a few miles south of Playa Sámara, it offers beautiful ocean views and easy access to a nearly deserted beach. Punta Islita works closely with local communities to promote education.
Some might call Punta Islita a remote luxury hotel, but its stunning location and commitment to the environment makes it a luxury ecolodge in my eyes. In addition to impressive sustainable practices, they protect nesting sea turtles and endangered scarlet macaws. They're a major partner of the Ara Project, which has reintroduced over 100 macaws in Costa Rica.
Punta Islita's main lodge, which features an open-air, poolside restaurant, offers sweeping views over the Pacific Ocean. The hill below features deluxe rooms and villas with private pools. Local adventures include hiking, ziplining, horseback riding and sea turtle tours.
Costa Rica's Best Luxury Eco Lodges on the Caribbean Coast
Tortuguero National Park is one of the most enchanting destinations on Costa Rica's Caribbean coast, and Tortuga Lodge is the most luxurious place to stay in Tortuguero. From the moment your boat pulls up to their private dock, you'll be treated to exceptional hospitality.
The lodge is a collection of two-story buildings modeled after historic banana plantations. Each room is filled with beautiful tropical hardwoods and lots of windows to let in the warm Caribbean breeze. This is rustic tropical luxury at its finest. The lodge restaurant, perched on the edge of Tortuguero's famous river canal, serves "what a Costa Rican grandmother would cook if she was also a creative and contemporary professional chef."
During the day guests can explore Tortuguero's famous jungle rivers with a trained naturalist guide. At night Tortuga lodge offers two turtle nesting tours: standard tours (available to guests at all local hotels) or a special "Boutique Turtle Tour" on a remote beach where few tourists go.
Plan the Perfect Trip to Costa Rica
Order Costa Rica: The Complete Guide!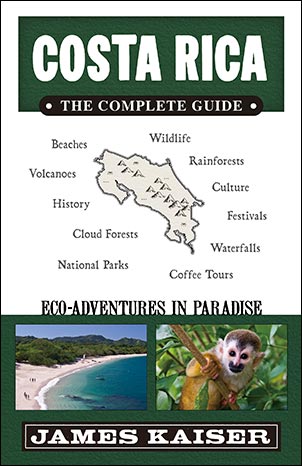 The #1 Costa Rica guidebook.Full-color and filled with insider tips.Plan the ultimate Costa Rica adventure!