The people of Costa Rica, who call themselves Ticos, are famous for their cheerful outlook, their conflict-averse nature and their laid-back approach to life. These cultural traits, combined with the country's relatively high standard of living, have led some researchers to conclude that Costa Rica is the "Happiest Country on Earth."
But beyond the stereotype of the happy, peaceful Tico—which is heavily promoted by politicians, tourist brochures and the Ticos themselves—lies a far more complex reality.
Costa Rica Culture & Traditions
Costa Rica's mythic self-image revolves around campesinos ("rural peasants") and boyeros ("ox-cart drivers"). These two archetypes, generally portrayed as light-skinned and living in the mountains, occupy an outsized role in Costa Rican culture.
Boyeros gather in parades throughout the year, proudly showing off their elaborately painted oxcarts. At patriotic events, parents often dress their children as campesinos­. Boys are dressed in a white shirt, white hat, red bandana, painted on moustache and mini-machete. Girls are dressed in long white dresses with vibrant satin colors and flowers in their hair.
Even though three-quarters of Ticos now live in areas classified as urban, the celebration of campesinos and boyeros reflects the rural, self-sufficient mindset that still forms the bedrock of Costa Rican culture—even in the age of highways and shopping malls.
Costa Rica Cultural Groups
Of course, Costa Rica is more than just light-skinned mountain farmers. Eight indigenous groups are scattered throughout the country, and a vibrant Afro-Caribbean population lives along the Caribbean coast. In Guanacaste, a dry, dusty province in northwest Costa Rica, a typical Tico is a brown-skinned sabanero ("cowboy") roaming the plains on horseback.
All of these traditional cultural groups, combined with a steady stream of immigrants and expats from Nicaragua, Colombia, the United States and Canada make up the modern social fabric of Costa Rica.
Latin American Influence
As part of Spanish-speaking Latin America, Costa Rica shares much of its culture — food, music, literature — with the region as a whole. Like most Latin Americans, Ticos generally take a laid-back, relaxed approach to life. The spirit of mañana — putting things off for another day — is a constant theme, and personal warmth is generally given higher priority than personal achievement.
Both Catholicism and machismo (male chauvinism) form a large part of the culture, though both are less prevalent than they were a generation ago.
Costa Rican Family Life
Like most Latin Americans, Ticos consider family to be the most crucial aspect of their lives. Nothing—not work, not school, not friends—is more important than family. Many Ticos cannot conceive of the fractured family structures in the U.S., where children happily choose to move away from their hometowns.
In Costa Rica, many children live with their parents until they are married, at which point some build a house on their parents' property or purchase a house nearby. If children do move away from home, some talk with their parents on the phone several times a day.
Ticos spend the vast majority of their free time with extended family, and family time on Sunday is sacrosanct. The family is the bedrock of Costa Rican society—a steady, reliable source of support in an uncertain world…
Continued in Costa Rica: The Complete Guide
Costa Rican Holidays
Christmas in Costa Rica
New Years in Costa Rica
Learn more about Costa Rican Culture
Plan the Perfect Trip to Costa Rica
Order Costa Rica: The Complete Guide!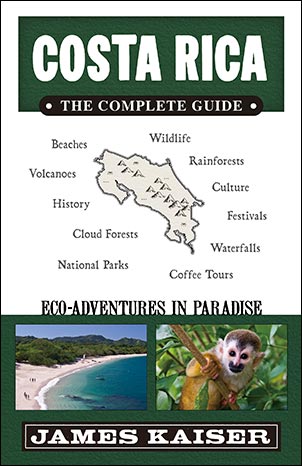 The #1 Costa Rica guidebook.Full-color and filled with insider tips.Plan the ultimate Costa Rica adventure!