Listed below are the best hotels and lodges in Yosemite National Park. Lodging options range from budget tent cabins in Curry Village to luxurious $1,000 per night suites at the historic Ahwahnee Hotel. Be aware that during peak season in June, July and August it can be hard to find a place to stay in Yosemite National Park. Even in May and October it's worth making reservations as far in advance as possible.
If all Yosemite hotels are booked – common during peak season – consider one of the many hotels outside Yosemite.
Yosemite hotel name changes: In 2016 Aramark became the new Yosemite concessionaire, running all hotels in the park. The previous concessionaire, Delaware North Corporation, which had run Yosemite's hotels for 22 years, promptly demanded $44 million for the rights to "intangibles" including Yosemite names they had copyrighted. This included "The Ahwahnee" "Curry Village" and "Yosemite National Park." (You can't make this stuff up, folks.)
The dispute – which you can read about here – is currently in court. In the meantime, the names of most historic hotels have been changed. Thus, the Ahwahnee is now the "Majestic Yosemite Hotel" and Curry Village is now "Half Dome Village."
= Recommended
Yosemite Valley Lodging
Yosemite Valley is the most spectacular part of Yosemite National Park. Seven miles long and less than one mile wide, it's home to sheer granite cliffs and some of the tallest waterfalls in North America. Because Yosemite Valley is the most popular part of the park, competition for rooms is intense, so you'll want to book as early as possible.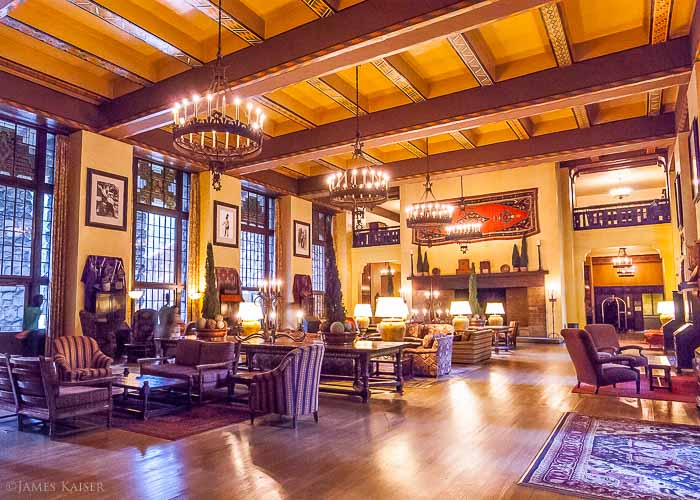 Ahwahnee Hotel
The Ahwahnee Hotel (Currently known as "The Majestic Yosemite Hotel") is the pinnacle of luxury in Yosemite — which isn't surprising given the rates. Standard rooms start at $484 a night during peak season (June, July, August), and luxury suites top $1,000 a night! But for those willing to splurge, you'll be treated to rustic elegance in one of America's finest national park lodges.
There are 99 rooms in the Ahwahnee hotel, plus 24 adjacent cottages. The hotel features a grand dining room (home to the best restaurant in the park) plus the Great Lounge where tea is served every day at 4pm. (Fun fact: the Great Lounge was used as a model for one of the interior sets in Stanley Kubrick's The Shining).
The Ahwahnee opened in 1927, and over the past nine decades it has hosted celebrities including Eleanor Roosevelt, Queen Elizabeth, John F. Kennedy, William Shatner, Leonard Nimoy and Steve Jobs, who was married in a Buddhist ceremony on the back lawn. In mid-December the Ahwahnee hosts the annual Bracebridge Dinner, a medieval-themed Christmas celebration. In November and December the Ahwahnee also hosts Vitners Holidays, special weekend packages that feature wine tastings and gourmet meals.
Yosemite Lodge at the Falls
Yosemite Lodge at the Falls (Currently known as "Yosemite Valley Lodge") is the second-nicest hotel in Yosemite Valley, and its room rates are much easier on the wallet. The hotel's 240 rooms start at $250 in peak season and $120 in the off-season.
Yosemite Lodge is also home to the excellent Mountain Room restaurant, a budget-friendly cafeteria, and a bar that's popular with rock climbers. But Yosemite Lodge's best feature is its stunning location directly across from Yosemite Falls.
If you're visiting in May or June, you'll be treated to incredible views of the thundering waterfall, which at 2,425 feet is the highest waterfall in North America. Yosemite Lodge also serves as a central hub for open-air tram tours and bus tours to Glacier Point and the Mariposa Grove of giant sequoias.
Curry Village
Curry Village (Currently known as "Half Dome Village") is home to 424 canvas tent cabins and 60 wooden cabins at the southeast end of Yosemite Valley. Opinions on Curry Village are wildly divergent. Many people love Curry Village's rustic charm, but if you're looking for luxury and privacy don't book a canvas tent cabin, which are packed together like sardines and less-than-ideal if you've got noisy neighbors.
Canvas tent cabins ($120 night peak season) come with beds that sleep two to five people, and there are shared bath houses with hot showers nearby. Forty six of the wooden cabins have private bathrooms; 12 have no bathrooms but are located near shared bath houses.
Housekeeping Camp
Housekeeping Camp has 266 units that can accommodate up to six people each. Each unit consists of three concrete walls, a concrete floor, a double canvas roof and a curtained wall that separates the sleeping area from a covered patio area.
The best description of Housekeeping Camp comes from the official website: "This is the ideal lodging for those who like to camp outdoors without the hassle of setting up a tent." None of the units have bathrooms, but there are shared bath houses with hot showers. Although hardly luxurious, it does has two great things going for it: the price ($99 peak season, $80 off season) and the location near the banks of the Merced River. There are even great view of Half Dome and Yosemite Falls. Open April through October.
Tioga Road Lodging
Tioga Road twists deep into the heart of Yosemite, climbing thousands of feet into a region known as the High Sierra, home to some of the finest alpine scenery in the park. In the winter Tioga Road shuts down due to heavy snow.
White Wolf Lodge
White Wolf Lodge has 24 canvas tent cabins and four wooden cabins. The tent cabins are similar to those in Curry Village. But unlike Curry Village, which is often crowded and noisy, White Wolf Lodge is located in a remote part of the park 30 miles from Yosemite Valley.
If you like the idea of spending the night in a rustic tent cabin, but want to get away from the crowds, White Wolf Lodge is a great option. It also provides easy access to some of the great hikes (Clouds Rest, North Dome, 10 Lakes) that start off Tioga Road. Each canvas tent cabin comes with beds, bed linens, towels and a wood burning stove. Each wooden cabin has a propane heater and two double beds. Open mid-June to mid-September, conditions permitting.
Tuolumne Meadows Lodging
Lying at an elevation of 8,600 feet, Tuolumne Meadows is the gateway to Yosemite's High Sierra — a stunning wilderness of flowery meadows, snow-capped peaks, and mile upon mile of sparkling granite. Hiking trails radiate out from Tuolumne in all directions, offering hikers and rock climbers access to Yosemite's alpine wonderland. In July and August, when Yosemite Valley is plagued with heat spells and crowds, savvy visitors head to Tuolumne Meadows to cool off high above it all.
Tuolumne Meadows Lodge
Tuolumne Meadows Lodge offers the only overnight accommodations in Tuolumne Meadows. The 69 canvas tent cabins, which can accommodate up to four people each, come with beds, linens, candles and a wood-burning stove. Shared bath houses with hot showers are located nearby. Tuolumne Meadows Lodge also has a charming restaurant serving hearty breakfasts and dinners. If you're interested in exploring the High Sierra's fantastic day hiking options, but don't want to camp or backpack, there's no better place to stay than the Tuolumne Meadows Lodge.
Tuolumne Meadows Lodge website
Wawona Lodging
Located near the southern tip of Yosemite National Park, Wawona isn't nearly as impressive as the rest of the park. There are no sheer cliffs or thousand-foot waterfalls — just a pretty meadow rolling surrounded by forest. But if you're looking for peace and quiet, Wawona is a great choice. The highlight of the area is the Mariposa Grove of giant sequoias (above), the most impressive giant sequoia grove in the park.
Wawona Hotel
This Victoria-era building (Currently known as "Big Trees Lodge"), which is registered as a National Historic Landmark, has over 100 rooms filled with historic charm. Fifty of the rooms have private bathrooms; the rest have shared bathrooms. Prices start at $155 during peak season (June, July, August).
Plan the Perfect Trip to Yosemite!
Order Yosemite: The Complete Guide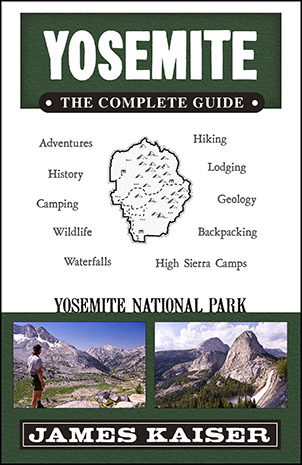 The bestselling guidebook to Yosemite.Full-color and filled with insider tips.Plan the ultimate Yosemite adventure!