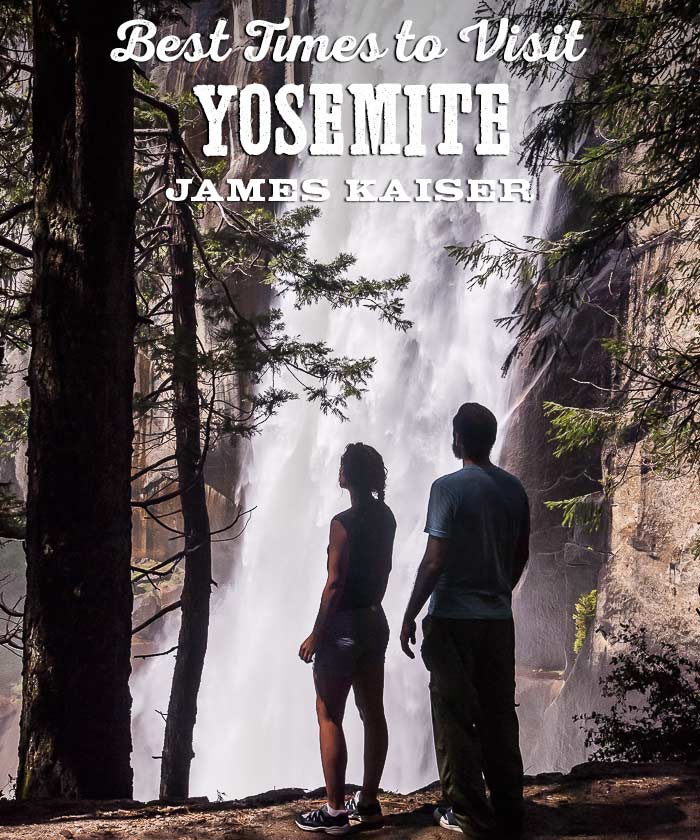 The best time to visit Yosemite National Park depends on what you're looking for.
If you want to see Yosemite Valley's famous waterfalls, May and June are the best months to visit.
Want to hike or backpack in the High Sierra? July and August can't be beat.
Looking to avoid the crowds in Yosemite? September offers great temperatures with far fewer visitors.
And don't forget winter, when the Yosemite Ski Area opens and you might catch a glimpse of the Natural Firefall.
Spring in Yosemite National Park
Spring is by far the best time to visit Yosemite Valley. In May the waterfalls are at their peak, the wildflowers are blooming, and the summer crowds have not yet arrived. Daytime temperatures are often divine, but be prepared for chilly temperatures at night.
In early spring (March, April), Tioga Road and Glacier Point Road are still closed due to lingering winter snow, restricting access to Tuolumne Meadows and Glacier Point. Although both roads generally open by late May, they can stay closed through June following heavy snow years.
Summer in Yosemite National Park
Summer is Yosemite's most popular season in terms of visitation. The park's famous scenery and famously sunny summer weather draw a steady stream of vacationing families.
On many summer weekends, however, Yosemite Valley can be a bit too popular, with long lines and traffic jams forming throughout the day. By mid-summer many of the Valley's famous waterfalls have run dry, and daytime temperatures can soar into the 90s.
For all of these reasons, savvy Yosemite visitors head to Tuolumne Meadows in July and August. While Yosemite Valley (4,000 feet) is hot and crowded, Tuolumne Meadows (8,600 feet) is refreshing and peaceful. Tuolumne Meadows also provides easy access to the spectacular hiking trails in Yosemite's High Sierra.
Fall in Yosemite National Park
Fall is great time to visit Yosemite Valley. The crowds thin out dramatically after Labor Day, and daytime temperatures start to cool down. As a result, September is one of the best months for hiking and rock climbing in Yosemite Valley.
In Tuolumne Meadows, meanwhile, September brings crisp days and freezing nights. Services shut down on Tioga Road by the end of September, and the road closes for winter after the first heavy snow (generally between mid-October and mid-November).
In Yosemite Valley, even the biggest waterfalls have slowed to a trickle by mid-October. But the autumn foliage on the oak trees, maples, and dogwoods is gorgeous.
Winter in Yosemite National Park
Winter is Yosemite's least popular season in terms of visitation, but after a fresh layer of snow the park is spectacular.
Although Tioga Road is completely shut down, cutting off access to Tuolumne Meadows and the High Sierra, Glacier Point Road is plowed as far as the Yosemite Ski and Snowboard Area, a small ski resort with downhill and cross country skiing.
In Yosemite Valley, the Ahwahnee Hotel offers a number of terrific events, including wine tastings, Chefs' Holidays, and the famous Christmas Bracebridge Dinner. During the last two weeks of February, hundreds of visitors come to Yosemite Valley hoping to catch of glimpse of the Firefall, one of Yosemite's most amazing natural spectacles.
Plan the Perfect Trip to Yosemite!
Order Yosemite: The Complete Guide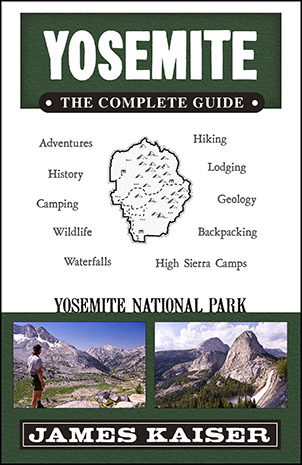 The bestselling guidebook to Yosemite.Full-color and filled with insider tips.Plan the ultimate Yosemite adventure!