Photos from Joshua Tree: The Complete Guide
Prints available for purchase. Email [email protected]
Sunset, Joshua Tree National Park
Hiking Ryan Mountain above the Wonderland of Rocks.
Blooming claret cup cactus, just one of the gorgeous desert wildflowers in Joshua Tree.
Enjoying a quiet moment in the Wonderland of Rocks.
Blooming chia.
Barker Dam—a watery oasis in the desert.
Indian Cove, one of the many fabulous campgrounds in Joshua Tree National Park.
Lost Palms Oasis—the most remote of Joshua Tree's five palm oases.
Teddy bear cholla, one of the weird and wonderful desert plants that thrive in the park.
With thousands of established climbs, Joshua Tree is one of America's premier rock climbing destinations.
Sunrise in Jumbo Rocks campground.
A winter storm blankets Joshua Tree in snow.
Thanks to clear skies and low light pollution, Joshua Tree is one of the best places in Southern California to enjoy the stars.
Blooming ocotillo strike fabulous poses in the Sonoran Desert.
Hiking near White Tank.
Sacred datura, a deadly, hallucinogenic flower used by desert shaman.
Plan the Perfect Trip to Joshua Tree
Order Joshua Tree: The Complete Guide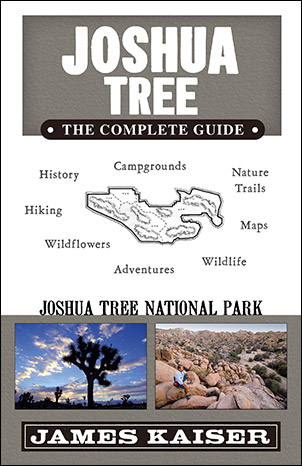 The bestselling Joshua Tree guidebook for over a decade.Full-color and filled with insider tips.Save time & money!