The Watchman Trail is one of the best family hikes in Zion National Park.
Rising to the top of a small plateau just south of the Zion Canyon Visitor Center, this moderate trail offers panoramic views of some of Zion's most dramatic peaks. To the south is The Watchman, which towers 6,545 feet above sea level. To the northwest are the Towers of the Virgin, which rise 4,000 feet above the floor of Zion Canyon.
Tip #1: Avoid hiking in the early afternoon in summer, when hot temperatures peak on the sunny trail.
Tip #2: if the morning shuttle line at the Zion Canyon Visitor Center is long, hiking the Watchman Trail is a great way to spend a few hours while waiting for the shuttle line to shorten.
The Watchman Trail Facts
Rating: Moderate
Hiking Time: 1.5 – 2 hours
Distance: 3.3 miles round-trip
Elevation Change: 368 feet
The Watchman Trailhead
The Watchman Trail starts just north of the Zion Canyon Visitor Center. After following the banks of the Virgin River, it crosses the paved Service Road, then heads up a shrub-covered hill.
Trail Description
As the Watchman Trail rises above the Virgin River, it climbs a series of switchbacks carved into soft, crumbly Moenave Formation rocks. The Moenave Formation rocks formed roughly 210 million years ago when ancient streams and ponds deposited thick sediment layers. Over millions of years, those layers turned into siltstone, sandstone, and shale.
As you rise higher and higher, you'll enjoy great views of the surrounding peaks. Dominating the northwest skyline are the Towers of the Virgin, including West Temple, the highest point in Zion Canyon (7,810 feet). Piñon pines and Utah juniper dot both sides of the trail.
---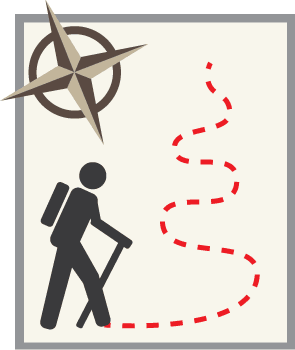 Looking for a Color Topographic Hiking Map of the Watchman Trail?
There's one in Zion: The Complete Guide!
---
After 1.4 miles, you'll reach the top of a broad plateau. The Watchman Trail then makes a 0.4-mile loop around the top, passing a number of great viewpoints along the way.
Follow the plateau loop counter-clockwise, and soon you'll reach a dramatic viewpoint looking south. The jagged peak of The Watchman (6,545 feet) rises above the east bank of the Virgin River. A wide strip of green vegetation marks the river's path. The gateway town of Springdale is located along the west bank of the Virgin River.
As you gaze over the widest part of Zion Canyon, you'll enjoy nearly complete views of Zion's rock layers — from Moenkopi to Temple Cap.
Plan the Perfect Trip to Zion!
Order Zion: The Complete Guide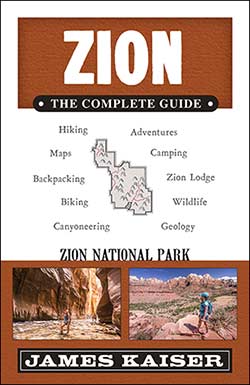 The #1 Zion guidebook.Full-color and filled with insider tips.Plan the ultimate Zion adventure!